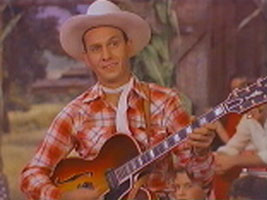 Guitariste Country US né William Lewis Byrd, le 17 Février 1920 à Williamson County (Tennessee). Billy Byrd est décédé le 7 Août 2001 à Nashville (Tennessee).

Billy Byrd was among the first musicians to make the electric guitar "sing" in a country voice, and make the public love it. He was also one of the first country players to make a name for himself with the electric guitar. He was also that rarity in country music, a bandmember who was allowed to "co-star" alongside the singer for whom he was working. As lead guitarist in Ernest Tubb's band from the end of 1949 until 1959, his playing was among the most widely heard in country music, and Tubb always made a point of featuring Byrd prominently in his stage act and on his records, and introducing him by name wherever possible.
William Lewis Byrd was born in Nashville. Whatever the city's musical inclinations, however, his family didn't want to see him become a country musician. A guitarist from age ten on, he displayed an impressive level of skill and technique, and his parents hoped he would pursue a career in classical music. He began playing with his older brother James, and made his radio debut on WLAC in Nashville in 1935. At age 18, he was hired as a backup musician on the Grand Ole Opry, and began working that same year with the Tennessee Valley Boys. Toward the end of the 1930s, he also worked in various dance bands in the Nashville area.
Byrd served in the U.S. Navy as a cook on a destroyer escort. He resumed his career in Nashville after the war, initially as a member of Wally Fowler & His Georgia Clodhoppers, where he remained until 1948. That year he went to Louisiana, joining the Louisiana Hayride and playing with Curly Williams & the Georgia Peach Pickers.
During the fall of 1949, Byrd joined Ernest Tubb's Texas Troubadours, succeeding Tommy "Butterball" Page as lead guitarist on the single "Tennessee Border No. 2." It was as a member of the Texas Troubadours that Byrd became a star, Tubb mentioning Byrd by name ahead of each solo, and his solos were among the prettiest, most fluid, and memorable in country music. Byrd appeared on hundreds of songs, among them "Two Glasses Joe," "Jealous Loving Heart," "Answer the Phone," and "Letters Have No Arms," from 1949 until 1959, and was also prominently featured as part of Tubb's appearances on the Grand Ole Opry and other television shows. His playing made the electric guitar a popular instrument among country audiences, and in 1950 he collaborated with Hank Garland in the design of the Byrdland guitar for Gibson. While in Tubb's band, he played a customized instrument that included the name "Billy Byrd" prominently embossed on the neck.
Byrd also played a considerable number of sessions with other artists, including Tex Ritter, Webb Pierce, Burl Ives, Cowboy Copas, Little Jimmy Dickens, and Eddy Arnold, and shuttled between Tubb's and Red Foley's bands. In addition to the electric guitar, Byrd was also renowned for his skill on the mandolin, the banjo, and the bass. In 1959, Byrd, who didn't enjoy touring, left the Texas Troubadours to pursue a solo recording career with the newly formed Warner Bros. label — where he recorded three albums through 1964 — and he moved to California to join fiddle player Gordon Terry.
Byrd later moved back to Nashville to continue as a session musician, and was also featured throughout the early and mid-'60s as a guitarist on the local morning television program The Eddie Hill Show. He briefly rejoined the Texas Troubadours — who sorely missed his playing — at the end of the 1960s, but touring had never agreed with Byrd, and he left once again in 1970. He returned again in the early '70s, before leaving for the last time in 1973, although he played on one last single with Tubb in 1974. He also later participated on Pete Drake's Ernest Tubb tribute album, The Legend and the Legacy.
Byrd's best work, apart from his solo albums, can be heard on any Ernest Tubb record cut between 1949 and 1959. The two Bear Family Ernest Tubb boxes covering this period are virtually a celebration of Billy Byrd's playing.
https://en.wikipedia.org/wiki/Billy_Byrd
Talents : Guitar, Tenor Banjo, Mandolin, Bass Guitar
Style musical : Traditional Country, Honky Tonk, Instrumental

https://youtu.be/CfwPiFHHOb4
Years in activity :
| | | | | | | | | | | | |
| --- | --- | --- | --- | --- | --- | --- | --- | --- | --- | --- | --- |
| 1910 | 20 | 30 | 40 | 50 | 60 | 70 | 80 | 90 | 2000 | 10 | 20 |
DISCOGRAPHY
Single & EP
| | | | |
| --- | --- | --- | --- |
| 1953 | SP DELTA 421 (US) | . | Little Carol Ann Moses (Of Vicksburg) / No Price Tag |
| 1959 | EP WARNER BROS. WEP 6029 (UK) | | I LOVE A GUITAR - Slipping Around / Byrdland Guitar / Hey Good Lookin' / Candy Kisses |
| 1962 | EP REPRISE RVEP. 60022 (F) | | Heartaches By The Number / Oh, Lonesome Me / You Win Again / Have You Ever Been Lonely |
| 1967 | EP 33 t. WARNER BROS. BP-4259 (JAP) | | I Really Don't Want To Know / Any Time / Candy Kisses / Your Cheatin' Heart |
Albums
09/1959
LP 12" WARNER BROS.

W-1327 (mono) / WS-1327 (stereo) (US)

I LOVE A GUITAR - Slipping Around / Your Cheatin' Heart / Any Time / I Love You So Much It Hurts / Trouble In Mind / Byrdland Guitar / Candy Kisses / Fallen Star / Just A Little Lovin' / Hey, Good Lookin' / Half As Much / Walking The Floor Over You
08/1962
LP 12" REPRISE

R-6040 (mono) / R9-6040 (stereo) (US)

LONESOME COUNTRY SONGS - PLAY IT, BILLY BYRD -

Oh, Lonesome Me / Heartaches By the Number / Have You Ever Been Lonely / I Miss You Already / That's What It's Like to Be Lonesome / Born To Lose / I Really Don't Want To Know / Am I That Easy To Forget / Lonely Street / I Can't Help It / 4 Walls
1964
LP 12" SCRIPTURE 109 (US)
GOSPEL GUITAR - BILLY BYRD WITH THE RANGERS - Leaning On The Everlasting Arms / Beautiful Isle Of Somewhere / Peace In The Valley / What A Friend / Mansion Over The Hilltop / Precious Memories / Where Could I Go / Sweet Hour Of Prayer / Power In The Blood / Old Rugged Cross / Life's Railway To Heaven / Brighten The Corner
12/1964
LP 12" WARNER BROS.

W-1576 (mono) / WS-1576 (stereo) (US)

THE GOLDEN GUITAR OF BILLY BYRD - Born To Lose / You Win Again / Candy Kisses / Have You Ever Been Lonely / Slipping Around / I Can't Help It / Your Cheatin' Heart / I Really Don't Want To Know / Half As Much / Heartaches By The Number / I Love You So Much It Hurts / Four Walls
© Rocky Productions 8/05/2005