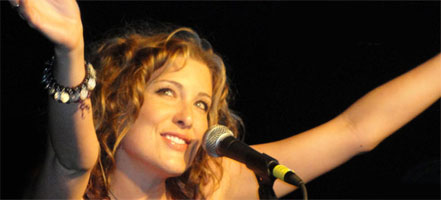 Chanteuse Country US originaire de Lawrence (Kansas).

Country singer Sarah Buxton spent several years working as a songwriter (Keith Urban's version of her song "Stupid Boy" dominated the country charts in 2007) and backing vocalist for the likes of Kenny Rogers, John Corbett, and Cowboy Troy before finding success as a solo artist. A native of Lawrence, KS, she moved to Nashville in her late teens to attend Belmont University, where she also formed the short-lived group Stoik Oak. Buxton became discouraged by a series of travails, including bad gigs and a failed marriage, before her mentor — John Rich of the country duo Big & Rich — convinced her to focus on a solo career instead. Possessing an appealingly hoarse singing voice akin to Melissa Etheridge and a no-nonsense lyrical persona somewhat along the lines of Gretchen Wilson, Buxton soon signed to Lyric Street Records, the country imprint of Disney's Hollywood Records division.
Buxton's debut single, "Innocence," was released in September 2006 and reached the low thirties on the country charts. That same fall, Keith Urban hit the Top 10 with his own rendition of Buxton's "Stupid Boy," which had originally appeared on her digital EP Almost My Record. Urban's cover fared extremely well and eventually won a Grammy Award, and Buxton began receiving new requests from a number of artists, all of whom wanted to collaborate with a hit-making songwriter. She spent several years working with everyone from Dierks Bentley to Kenny Rogers before taking some personal time to finalize her solo debut, the self-titled Sarah Buxton, which was released in early 2010.
http://www.myspace.com/sarahbuxton
Talents : Singer, Songwriter
Style musical : Country-Pop

http://www.youtube.com/watch?v=kFztoerL8SI
Years in activity :
| | | | | | | | | | | |
| --- | --- | --- | --- | --- | --- | --- | --- | --- | --- | --- |
| 1910 | 20 | 30 | 40 | 50 | 60 | 70 | 80 | 90 | 2000 | 10 |
DISCOGRAPHY
Singles & EP
07/2007
CD LYRIC STREET ? (US)
American Daughters / That Kind Of Day / Innocence / Love Is A Trip / Stupid Boy
12/2008
DI LYRIC STREET ? (US)
.
Space

[original version]

06/2009
DI LYRIC STREET ? (US)
.
Outside My Window
03/2010
CD LYRIC STREET ? (US)

Space / American Daughters / That Kind Of Day / Innocence / Love Is A Trip / Stupid Boy
Album
02/2010
CD LYRIC STREET 5061 (US)
SARAH BUXTON - American Daughters / Outside My Window / Radio Love (with Jedd HUGHES) / For Real / Wings (with Jedd HUGHES) / Love Like Heaven / Space / Innocence / That Kind Of Day / Stupid Boy / Big Blue Sky
02/2010
2 CD LYRIC STREET ? (US)
SARAH BUXTON AND THE PAJAMA SESSIONS :

CD 1 : American Daughters / Outside My Window / Radio Love (with Jedd HUGHES) / For Real / Wings (with Jedd HUGHES) / Love Like Heaven / Space / Innocence / That Kind Of Day / Stupid Boy / Big Blue Sky
CD 2 : THE PAJAMA SESSIONS - American Daughters / Outside My Window / Radio Love (with Jedd HUGHES) / For Real / Wings (with Jedd HUGHES) / Love Like Heaven / Space / Innocence / That Kind Of Day / Stupid Boy / Big Blue Sky
© Rocky Productions 12/12/2011