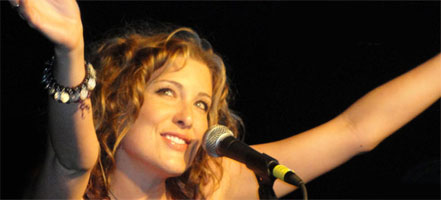 Chanteuse Country US née le 3 Juillet 1980 à Lawrence (Kansas). Sarah Buxton est marié avec Tom Bukovac.

From the start, Sarah Buxton's sensitive, clever songs earned her a place within Nashville's music industry. In the hands of Keith Urban, "Stupid Boy," an observant tale of how men unwittingly break women's hearts, turned into Buxton's career-making hit in 2007, establishing her as a powerful songwriter with commercial appeal while also opening a door to be a recording artist. While her eponymous 2010 album didn't tear up the charts, she did make it to number one duetting with David Nail on 2011's "Let It Rain," then resurfaced in 2013 singing backing vocals for Florida Georgia Line's "Dayum, Baby." By that point, Buxton had eased back behind the scenes, working successfully as a songwriter for the Music City soap opera Nashville, a position she maintained through much of the 2010s. She revived her performing career in 2019 and kicked off the next decade with a pair of EPs including 2022's Moonriser.
A native of Kansas, Sarah Buxton began singing and playing music as a child, sustaining her interest throughout high school. Upon her graduation, she moved to Nashville, Tennessee, where she attended Belmont University. While she was a student, she fronted the Southern rock group Stoik Oak, a band that gigged regionally. John Rich, a veteran of Lonestar who was experiencing a renaissance through his duo Big & Rich, encouraged Buxton to pursue a solo career, so she signed with the publisher Song Planet in 2000 while working as a studio backup singer.
With a few credits to her name, Buxton signed to Lyric Street Records in 2004, releasing the single "Innocence" in the summer of 2006; it peaked at 31 on Billboard's Country charts. In 2007, Keith Urban took "Stupid Boy" -- a song Buxton co-wrote with Deanna Bryant and Dave Berg -- to number three on Billboard Hot Country Songs; it would later win him a Grammy for Best Male Country Vocal Performance. Its success gave Buxton's performing career a boost. Lyric Street released the digital EP Almost My Record in July 2007 and its accompanying single reached 26 on Billboard's Country charts.
Buxton concentrated on her recording career throughout 2008 and 2011, making guest appearances on records by other artists and releasing a series of singles. She duetted with Dierks Bentley on "Sweet & Wild," a new song attached to his 2008 greatest-hits album Every Mile a Memory, then released "Space" in 2008 and "Outside My Window" in 2009. The latter peaked at 23 -- her highest solo chart position -- and set up the February 2010 release of her eponymous debut album. Two months after the record was released, Lyric Street shuttered, leaving Buxton without a label. In the wake of this news, she paired with Jedd Hughes -- a singer who appeared on her album -- in a duo called Buxton Hughes, but it was short-lived. Buxton rebounded in 2011 by duetting with David Nail on "Let It Rain," a single which topped Billboard's country charts. That same year, she released "I Need a Hero (Music Inspired by the Motion Picture Footloose)," but it -- like its accompanying film, a reboot of the 1984 Kevin Bacon movie -- didn't make an impression.
While Buxton worked to right herself as a performer, she wrote behind the scenes, placing songs on albums by Urban, the Band Perry, Big & Rich, Trisha Yearwood, Chris Lane, and Florida Georgia Line. Urban took "Put You in a Song" to two on Billboard's Hot Country Songs in 2010, the Band Perry sent "Don't Let Me Be Lonely" to two on Billboard's Country Airplay in 2013, and FGL brought "Sun Daze" to number one Country Airplay in 2014; the latter duo also credited Buxton for her backing vocals on 2013's "Dayum, Baby."
Buxton began writing for Nashville, the prime-time drama that debuted on ABC, in 2012. "Nothing in This World Will Ever Break My Heart Again," a song which she co-wrote with Kate York for season one, received an Emmy nomination for Outstanding Original Music and Lyrics in 2013. Nashville stayed on the air until 2018, during which time Buxton continued to write for the show. After its completion, Buxton revived her performing career, releasing the singles "Only the Truth" and "Say My Name" in 2019, followed a year later by an EP, Signs of Life. Another EP, Moonriser, appeared in March 2022.
http://www.myspace.com/sarahbuxton
Talents : Vocals, Songwriter
Style musical : Country-Pop

http://www.youtube.com/watch?v=kFztoerL8SI
Years in activity :
| | | | | | | | | | | | |
| --- | --- | --- | --- | --- | --- | --- | --- | --- | --- | --- | --- |
| 1910 | 20 | 30 | 40 | 50 | 60 | 70 | 80 | 90 | 2000 | 10 | 20 |
DISCOGRAPHY
Singles & EP
| | | | |
| --- | --- | --- | --- |
| 2007 | CD LYRIC STREET BVPR000332 (US) (promo) | . | That Kind Of Day / That Kind Of Day / That Kind Of Day |
| 07/2007 | CD LYRIC STREET ? (US) | | American Daughters / That Kind Of Day / Innocence / Love Is A Trip / Stupid Boy |
| 2010 | CD LYRIC STREET BVPRO001732 (US) (promo) | | Space / Space / Space / Space |
| 2010 | CD LYRIC STREET PRCD-11808-2 (US) (promo) | . | Innocence / Innocence / Innocence |
| 2010 | CD LYRIC STREET BVPR002322 (US) (promo) | . | Outside My Window (single version) / Outside My Window (single version) / Outside My Window (single version) |
Albums
2006 ?
CD

Not On Label

(Sarah Buxton self-released)

Songwriter Demos -

Shine On / Back Home : American Daughters / Full Grown Woman / He Just Doesn't Get It / Stupid Boy / Cowboyz / Throwing Rocks At The Moon / Just A Crazy Dream / My God
2006
CD LYRIC STREET PRCD-11790-2 (promo)

Advance Album Music - American Daughters / Cowboys / Full Grown Woman / That Kind Of Day / Innocence / Love Is A Trip / Back Home / He Just Doesn't Get It / Shine On / Crazy Dream / Stupid Boy

02/2010
CD LYRIC STREET 5061 (US)
SARAH BUXTON - American Daughters / Outside My Window / Radio Love (with Jedd HUGHES) / For Real / Wings (with Jedd HUGHES) / Love Like Heaven / Space / Innocence / That Kind Of Day / Stupid Boy / Big Blue Sky
© Rocky Productions 10/09/2022