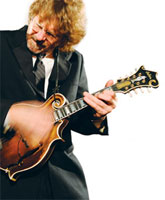 Mandoliniste Bluegrass né le 13 Avril 1952 à Bowling Green (Kentucky).

Sam Bush extended the musical capabilities of the mandolin and the fiddle to incorporate a seamless blend of bluegrass, rock, jazz, and reggae. As the founder and leader of the New Grass Revival, Bush pioneered and guided the evolution of modern hill country music. Together with the bluegrass supergroup Strength in Numbers, he pushed the traditions even further. During a five-year stint with the Nash Ramblers, he provided a diverse range of textures for the songs of Emmylou Harris. On his own, Bush has continued to explore an eclectic musical spectrum.
Bush was exposed to country music and bluegrass at an early age through his father's record collection and, later, by Flatt & Scruggs' television show. Buying his first mandolin at the age of 11, his musical interest was further piqued when he attended the Roanoke Bluegrass Festival in 1965. A child prodigy on the fiddle, he placed first at the national fiddle contest in Weister, ID, three times in a row. Together with childhood friends Wayne Stewart and Alan Munde, later of Country Gazette, he formed a band and recorded his first album, Poor Richard's Almanac, in 1969. The same year, he made his debut appearance on the Grand Ole Opry.
Attending the Fiddlers Convention at Union Grove, NC, in 1970, Bush overheard the pioneering progressive bluegrass band the New Deal String Band. Inspired by their rock-flavored approach to bluegrass, he formed the New Grass Revival in 1972. Over the next 17 years, Bush and the New Grass Revival revolutionized the music of the hill country, incorporating everything from gospel and reggae to rock and modern jazz into their tradition-rooted sound.
The New Grass Revival went through numerous personnel changes, with Bush remaining as the sole original member. Bassist and vocalist John Cowan joined in 1973, with banjo ace Béla Fleck and acoustic guitarist Pat Flynn being enlisted in the early '80s. In 1980, the group toured with Leon Russell, opening the shows and backing Russell during his headlining set. A live performance at the Perkins Palace in Pasadena, CA, was released as Leon Russell & the New Grass Revival: The Live Album in 1981.
Beginning in 1980, Bush and Cowan periodically jammed with the Nashville-based Dockbusters Blues Band. Bush recorded his debut solo album, Late as Usual, four years later. In 1989, Bush and Fleck joined Mark O'Connor, Jerry Douglas, and Edgar Meyer in an all-star bluegrass band, Strength in Numbers, at the Telluride Bluegrass Festival in Colorado. When Fleck and Cowan elected to leave the New Grass Revival in 1989, Bush disbanded the group and joined Emmylou Harris' Nash Ramblers. He toured and recorded with Harris and the band for the next five years.
In 1995, Bush worked as a sideman with Lyle Lovett and Bela Fleck's Flecktones. He formed his own band, featuring Cowan and ex-Nash Ramblers Jon Randall and Larry Atamanuick, shortly before recording his second solo album, Glamour & Grits, in 1996. He released his next album, Howlin' at the Moon, in 1998, with many of the same players and special guests, including Harris, Fleck and J.D. Crowe.
In the winter of 1997, Bush and the New Grass Revival reunited for an appearance on The Conan O'Brien Show as the backup band for Garth Brooks. On March 28, 1998, Bush's hometown of Bowling Green, KY, honored him with a special "Sam Bush Day" celebration.
Bush continued to be a much in-demand session player as the 21st century dawned, and continued to release solo projects. Ice Caps: Peaks of Telluride appeared in 2000 from Sugar Hill, followed by a collaboration with David Grisman, Hold On, We're Strummin', from Acoustic Disc in 2003. Two more solo efforts appeared from Sugar Hill, King of My World in 2004 and Laps in Seven in 2006. On the Road, was released. In 2009, the ironically titled Circles Around Me offered several instrumentals showcasing his unparalleled skills on the mandolin. He was presented with a Lifetime Achievement Award by the Americana Music Association that same year.
In 2010, the Kentucky state legislature passed a resolution that named his hometown of Bowling Green as the "Birthplace of Newgrass," and Bush himself as "Father of Newgrass." He hosted the 22nd annual International Bluegrass Music Association Awards in 2011 and continued to play locally and on the festival circuit. In 2014, he and Kathryn Caine co-released A Very Love and Mercy Christmas, a collection of songs played during Sunday services at Christ Episcopal Church in Charlottesville, Virginia. A year later, a documentary film, Revival: The Sam Bush Story co-directed by Kris Wheeler and Wayne Franklin, was released on the festival circuit. In the summer of 2016, Sugar Hill issued Storyman, comprised of 11 new original songs. The album featured guest vocal appearances from Harris, Alison Krauss, and Deborah Holland.
https://en.wikipedia.org/wiki/Sam_Bush
Talents : Mandolin, Fiddle, Vocals
Style musical : Bluegrass, Country Folk, Instrumental Country

https://youtu.be/eryxQ4DOnyI
Years in activity :
| | | | | | | | | | | | |
| --- | --- | --- | --- | --- | --- | --- | --- | --- | --- | --- | --- |
| 1910 | 20 | 30 | 40 | 50 | 60 | 70 | 80 | 90 | 2000 | 10 | 20 |
DISCOGRAPHY
Albums
02/1976
LP 12" FLYING FISH

HDS 701 (US)

HDS SESSIONS - Vassar CLEMENTS, Jethro BURNS, Sam BUSH, Norman BLAKE, David HOLLAND, Butch ROBBINS & Tut TAYLOR - Sweet Georgia Brown / Sauerkraut 'n Solar Energy / The Old Brown Case / Take The "A" Train / Going Home / McKinley's Blues / Oconee / Vassar And Dave
1977
LP 12" OMAC 2 (US)
IN CONCERT - Byron BERLINE, Sam BUSH & Mark O'CONNOR -

Huckleberry Hornpipe

/

Patty On The Turnpike

/

Beaumont Rag

/

Teardrops In My Eyes

/

Cattle In The Cane

/

John Hardy

/

Alabama Jubilee

/

I Am A Pilgrim

/

Big Sandy

/

Gold Rush

/

Sally Goodin

/

Birmingham Fling

1977
LP 12" Ridge Runner RRR-0007 (US)

| | |
| --- | --- |
| | Sam and Alan - Together Again for the First Time - Sam Bush, Alan Munde - Stymied / Benjalin / Forked Deer / Small Change / Clear Skies / Old Widow Woman / Cattle In the Cane / Counterblast Rag / Town And Country Fiddler / Fosler's Reel / Panhandle Country / Howdy In Hickman County / Eleanor Rigby |

1985
CD ROUNDER 195 (US)
LATE AS USUAL - Big Mon / Last Letter Home / Norman And Nancy / Russian Rag / Leather Britches / Diadem / Sailin' Shoes / Crooked Smile / Broadway / Samantha Lynn / Funk 55
04/1996
CD SUGAR HILL 3849 (US)
GLAMOUR & GRITS - Whayasay / Same Ol' River / All Night Radio / Stingray / The Ballad Of Spider John / Watson Allman / Is This Love / Brilliancy / Spooky Lane / Ol' Joe Clark / The Lord Came Unto Me / (One Night In Old) Galway
04/1998
CD SUGAR HILL 3876 (US)
HOWLIN' AT THE MOON - Ozzie & Max / Howlin' At The Moon / Big Rabbit / Face Tomorrow / Funk 42 / Hold On / Cloverleaf Rag / Beaver Creek Mansion / Crossing The Transippi / Go With The Flow / Harbor Docks / Mr. Freddie / Song For Roy / Take Me Out To The Ball Game
07/2000
CD SUGAR HILL 3917 (US)
ICE CAPS - PEAKS OF TELLURIDE - Pastor Mustard : Introduction (Dan SADOWSKY & Pastor MUSTARD) / Girl From The North Country / Big Mon / Same Ol' River / Angel To Be / Speak Of The Devil / Memphis In The Meantime / Lane, Spooky / The Ice Caps Are Melting / Lee Highway Blues / Pastor Mustard: Heen (Dan SADOWSKY & Pastor MUSTARD) / Hungry For Your Love / Sailin' Shoes / I Put A Spell On You / Celebrate / Stingray
09/2003
CD ACOUSTIC DISC 54 (US)
HOLD ON, WE'RE STRUMMIN' - Sam BUSH & David GRISMAN - Hartford's Real / Swamp Thing / Intimo / Jamgrass 741 / Sea Breeze / Old Time Medley / Weeping Mandolin Waltz / Arachnid Stomp / Crusher And Hoss / The Old South / Mando Space / Ralph's Banjo Special / 'Cept Old Bill / Rhythm Twins / Dan'l Boone / Hold On! I'm Comin'
04/2004
CD SUGAR HILL 3987 (US)
KING OF MY WORLD - Puppies 'n Knapsacks / A Better Man / Eight More Miles To Louisville / They're Gonna Miss Me When I'm Gone / Bananas / King Of The World / Spirit Is The Journey / Majestic / Bless His Heart / The Mahavishnu Mountain Boys / The Wizard Of Oz
2005
CD HIGH WINDY HW 1259 (US)

Let It Slide - David HOLT with Sam Bush & Doc WATSON - Let It Slide / Hole In My Heart / Steel Guitar Blues / Got No Use For Lonely / Slowfood / Shotgun Wedding / Whistlin' Asheville Blues / I Got You / John Hartford's Farewell / Top Of The World / Louise / Trouble In Mind / Sara Jane's Tune

06/2006
CD SUGAR HILL 4013 (US)
LAPS IN SEVEN - The River's Gonna Run (with Emmylou HARRIS) / Bringing In The Georgia Mail / The Dolphin Dance / On The Road / Ridin' That Bluegrass Train (with Tim O'BRIEN) / I Wanna Do Right (with Shaun MURPHY) / Where There's A Road / New Country (with Jean-Luc PONTY) / Ballad For A Soldier / River Take Me / White Bird / Laps In Seven
08/2008
CD KOCH 4553 (US)
GLIDE - Bounce (with Jerry DOUGLAS & Edgar MEYER) / Glide / Marriage Made In Hollywood (with Travis TRITT) / Route Irish / Sway Sur La Rue Royale / Unfolding / Long Hard Road (The Sharecropper's Dream) (with Rodney CROWELL) / Home Sweet Home (with Earl SCRUGGS & Tony RICE) / Two Small Cars In Rome (with Lloyd GREEN) / Trouble On Alum / Pushed Too Far
10/2009
CD SUGAR HILL 4055 (US)
CIRCLES AROUND ME - Circles Around Me / Diamond Joe / You Left Me Alone / The Old North Woods / Roll On Buddy, Roll On / The Ballad Of Springbean & Estelle / Blue Mountain / Out On The Ocean / Gold Heart Locket / Junior Heywood / Midnight On The Stormy Deep / Apple Blossom / Souvenir Bottles / Whisper My Name
06/2016
CD SUGAR HILL SUG00011 (US)

Storyman - Play By Your Own Rules / Everything Is Possible (harmony vocals - Deborah Holland) / Transcendental Meditation Blues / Greenbrier / Lefty's Song (harmony vocals - Alison Krauss) / Carcinoma Blues / Bowling Green / Handmics Killed Country Music (harmony vocals - Emmylou Harris) / Where's My Love / It's Not What You Think / I Just Wanna Feel Something
© Rocky Productions 16/08/2022