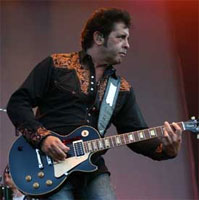 Chanteur Rockabilly et Country US né William Beau Burnette III, le 8 Mai 1953 à Memphis (Tennessee). Billy Burnette est le fils de Dorsey Burnette et ancien membre du groupe Fleetwood Mac.

Born May 8, 1953, in Memphis, Billy Burnette began his career as a country performer at the tender age of seven. Due to his father Dorsey's fame as a rockabilly star (not to mention his uncle Johnny), Billy cut "Hey Daddy (I'm Gonna Tell Santa on You)" for Dot Records with Ricky Nelson's band in 1960. Billy followed his recording debut with another session in 1964, and toured with Brenda Lee soon after. He moved to Memphis in 1969 to work as a guitarist and producer, and began his solo career three years later with a self-titled album for Entrance Records.
Billy Burnette led his father's backing band during the '70s, while his songwriting talent gradually came to the fore through covers by Dolly Parton and Kin Vassy. Burnette signed with Polydor in 1979, and recorded a second self-titled album. "What's a Little Love Between Friends" was a modest chart entry that year. Between Friends was released in 1980, and after Burnette signed with Columbia, he issued his third eponymous album. Gimme You followed in 1981.
In 1985, Eddy Raven and Ray Charles both charted Burnette songs, and Burnette himself charted with "Ain't It Just Like Love" and "Try Me." The action earned him honors as the ACM's Best New Male vocalist, but he dropped out of country music for several years when Fleetwood Mac offered him a spot replacing Lindsay Buckingham. He appeared on Fleetwood Mac's Greatest Hits (1988) and Behind the Mask (1990), and toured with the band constantly.
Billy Burnette returned to country music in 1992 with a contract from Warner Bros. and the charting single "Nothin' to Do (And All Night to Do It)." He moved to Capricorn later that year, and released Coming Home. After a long absence, Burnette resurfaced in the spring of 2000 with Are You with Me Baby, followed by Memphis in Manhattan in 2006 and Bluegrass Elvises, Vol. 1, a collaboration with fellow country crooner Shawn Camp, in 2007.
https://en.wikipedia.org/wiki/Billy_Burnette
Talents : Vocals, Songwriter, Guitar
Style musical : Rockabilly, Country Rock, Contemporary Country, Country-Pop

http://youtu.be/6Jrb9Xm3hO4
Years in activity :
| | | | | | | | | | | | |
| --- | --- | --- | --- | --- | --- | --- | --- | --- | --- | --- | --- |
| 1910 | 20 | 30 | 40 | 50 | 60 | 70 | 80 | 90 | 2000 | 10 | 20 |
DISCOGRAPHY
Singles
10/1961
SP DOT

45-16281 (US)

.
Billy BEAU - Santa's Coffee / Hey Daddy (I'm Gonna Tell Santa On You)
06/1964
SP A&M 743 (US)
.

Young Billy Beau - Kids / Little Girl, Big Love

1965
SP Magic Lamp

ML 613 (US)

.
Billy J.

Burnette

- Miss Ping Pong / Strange As It Seems
08/1969
SP WARNER BROS. / SEVEN ARTS 7327 (US)
.

Frog Prince / One Extreme To The Other

1973
SP ENTRANCE 7515 (US)
.

Broken Hearted / I'm Always Wondering

02/1976
SP A&M

1794 (US)

.
Billy BURNETTE

& J

AWBONE -

Baby / Just Another Love Song

01/1979
SP POLYDOR

PD 14530 (US)

.

Dreamin' My Way Back To You / Shoo-Be-Doo

1979
SP POLYDOR

PD 14549 (US)

.

Believe What You Say / Mississippi Line

09/1979
SP POLYDOR

PD 2024 (US)

.

What's A Little Love Between Friends / Precious Times

10/1980
SP COLUMBIA

1-11380 (US)

.

Don't Say No / Rockin' L.A.

01/1981
SP COLUMBIA

11-11432 (US)

.

Oh Susan / Sittin' On Ready

03/1981
SP CBS

CBS 9460 (NL)

Don't Say No / Rockin' L.A.

06/1981
SP CBS

CBS A1283 (UK)

Tear It Up / Oh Susan

09/1981
SP COLUMBIA

18-02527 (US)

.

Let The New Love Begin / I Don't Know Why

01/1982
SP COLUMBIA

18-02699 (US)

.

The Bigger The Love (The Harder The Fall) / I Don't Know Why

1982
SP 33 t. Quad Teck OT-1982 (US) (promo)
.
Trend (BLASTERS) / Mighty Fire (Billy BURNETTE)
1985
SP MCA

/

CURB

MCA-52626 (US)

.

Ain't It Just Like Love / Guitar Bug

10/1985
SP MCA

/

CURB

MCA-52710 (US)

.

Who's Using Your Heart Tonight / It Ain't Over

12/1985
SP MCA

/

CURB

MCA-52749 (US)

.

Try Me / It Ain't Over

1986
SP MCA

/

CURB

MCA-52852 (US)

.

Soldier Of Love

1990
CD Grand Avenue GAR-7001-2 (US)

Today Is Elvis' Birthday / I Got Busted

1992
SP CAPRICORN 7-18751 (US)
.

Tangled Up In Texas / Into The Storm

02/1992
SP WARNER BROS.

7-19042 (US)

.

Nothin' To Do (And All Night To Do It) /

Can't Get Over You
01/1993
SP CAPRICORN

7-18751 (US)

.
Tangled Up In Texas / Into The Storm
1993
SP CAPRICORN 7-18525 (US)
.

I Still Remember (How To Miss You) (edit) / I Recovered, I Survived (album version)

1997
SP ALMO SOUNDS AMSS7-89009 (US)
.

Bekka & Billy - Patient Heart / And Then Some

2000
CD Free Falls CDP 002 (US) (promo)

Are You With Me Baby
Albums
05/1972
LP 12" ENTRANCE 31228 (US)
BILLY BURNETTE - In Just A Heartbeat / Oh Susan / Danger Zone / Don't Say No / Rockin' La / Honey Hush / Rockin' With Somebody New / One Night / Sittin' On Ready / Angeline / Tear It Up
01/1979
LP 12" POLYDOR

PD-1-6187

(US)

BILLY BURNETTE - Shoo-Be-Doo / You Brought Me Back / Niki Hoeky / Living Out Our Fantasies / Walkin' Marsha Home / Believe What You Say

/

I Ain't No Spaceman / Take A Listen-Listen To Your Heart / Dreamin' My Way Back To You / Mississippi Line
11/1979
LP 12" POLYDOR

PD-1-6242 (US)

BETWEEN FRIENDS -

What's A Little Love Between Friends / All My Life / Are You Dreamin' The Same Dream / Out-Run The Sun / Sittin' On The Dock Of The Bay / Help Is On The Way / Hey, You Got A Way / Love Is In Motion / Rain Dance / Precious Time
09/1980

LP 12"

COLUMBIA

NJC 36792 (US)
BILLY BURNETTE - In Just A Heartbeat / Oh Susan / Danger Zone / Don't Say No / Rockin' La / Honey Hush / Rockin' With Somebody New / One Night / Sittin' On Ready / Angeline / Tear It Up
1981
LP 12" COLUMBIA

FC 37460

(US)

GIMME YOU - Whatcha Gonna Do When The Sun Goes Down / Gettin' Back (To You And Me) / The Bigger The Love (The Harder The Fall) / I Don't Know Why / Gimme You / Love Ain't Easy / Let The New Love Begin / I Don't Wanna Know / Gone Again /

Take You Around The World (In My Arms)

1985
LP 12" MCA

MCA-5604

(US)

TRY ME - Try Me / Ain't It Just Like Love / It Ain't Over / Guitar Bug / I'm Not Me / Roll Over / Who's Using Your Heart Tonight / Talkin' Love / The Letter / Rock And Roll Lullaby
1986
CD MCA

MCA-5678

(US)

SOLDIER OF LOVE - Soldier Of Love / You Leave It Up To Me / We'll Take It Day By Day / Lets Take A Drive / Slave To Your Love / I've Just Seen A Face / What A Perfect Way / Blonde Ambition / Looks Like It's Gonna Rain Today / Little Bit Of Them In Me

1988
CD CURB ALCB-346

(US)

BROTHER TO BROTHER -

Brother To Brother / Ain't It Just Like Love / It Ain't Over / Looks Like It's Gonna Rain Today / Try Me / I've Just Seen A Face / Soldier Of Love / Lets Take A Drive / Guitar Bug / Roll Over

02/1993
CD CAPRICORN 9 42007-2 (US)
COMING HOME - Tangled Up In Texas / Into The Storm / This Love (Ain't Long For This World) / Sugar Babe / The Bigger The Love / I Recovered, I Survived / Walk With Me / Let Your Heart Make Up Your Mind / I Still Remember (How To Miss You) / The Light Of Love
04/1997
CD ALMO SOUNDS AMSD-80012 (US)
BEKKA & BILLY - Bekka BRAMLETT & Billy BURNETTE - Patient Heart / Soul Searchin' / True Blue Love / Deal With It / Better Days / God Knows I Love You / Through The Walls / Heart To Call Home / Born To Be Loved By You / Old Hickory Lake / Made For Each Other / And Then Some
08/1999
CD GRAND AVENUE 7005 (US)
ALL NIGHT LONG - All Night Long / Memphis Blues / Burnin' Up / Ride This Train / Ain't Got The Heart / Good Kind Of Blues / Need Ya Baby / The Mailman / Goes To Show / I Got Busted / Today Is Elvis' Birthday
05/2000
CD FREE FALLS 7009 (US)
ARE YOU WITH ME BABY - Are You With Me Baby / Believe What You Say / To Get Next To You / Didn't Start Livin' / What A Woman Feels / Life And Death / Can't Get Over You / Highway Of Love / Gimme You / Too Much Information / Love Me Back / Edge Of Love / (Can't Stop) Got A Little Rock In My Shoe
2006
CD CHESKY 229 (US)
MEMPHIS IN MANHATTAN - Memphis Blues / My Love Will Not Change / Everything Is Broken / Oh Well / Big Hunk Of Love / Faded Love / Can't Wait To Get Back Home / It's Late / Tryin' To Get Away / Tear It Up / Bye Bye Love
08/2007
CD THIRTY TIGERS 206536 (US)
THE BLUEGRASS ELVISES - VOL. 1 - Shawn CAMP & Billy BURNETTE - 2007 - A Bluegrass Oddity / Don't Be Cruel / All Shook Up / Little Sister / Jailhouse Rock / Good Rockin' Tonight / Burnin' Love / Are You Lonesome Tonight / A Big Hunk O' Love / Mystery Train / That's Alright Mama / Hound Dog / Blue Suede Shoes
2011
CD ROCK 'N' ROLL WITH IT 664832 (US)
ROCK N ROLL WITH IT - Rock n Roll With It / My Love Will Not Change / Beautiful Distraction / Wrong One Right / Only The River Knows / Hot Rod Hillbilly / High Rollin' / Keep On Keeping On / Ready All Ready / Karaoke Queen / Rollercoaster Ride / Armed And Dangerous
10/2017
CD ROCK 'N' ROLL WITH IT ? (US)

Crazy Like Me - Tear It Up / (All I Can Do Is) Dream You / Crazy Like Me / Oh Well / When I Remember You / It's Late / Nothing to Do (And All Night To Do It) / Ghost Town / Do I Ever Cross Your Mind / She's Burning the Honky Tonks Down / She's Going To Win Your Heart / River Of Love / All Nighter / Anywhere You Go
© Rocky Productions 3/07/2022