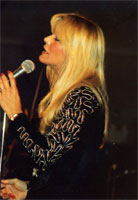 Chanteuse Country US née le 14 Mars 1954 à Anderson (Indiana).

A singer/songwriter whose eclectic body of work has embraced both retro-styled honky tonk and tough, bluesy lyrical introspections, Jann Browne is an artist with the talent to craft a mainstream success — and the guts and integrity to walk away from Nashville when she grew uncomfortable with the music industry.
Jann Browne was raised in Indiana and developed a taste for country music from her grandparents, who were members of a square dancing troupe that often performed at bluegrass festivals. However, Browne's own musical impulses leaned more toward rock & roll and blues, and as a teenager she began performing with local rock bands. In the late '70s, Browne pulled up stakes and moved to California, where she began writing and performing new songs with a stronger country influence. After a brief stint as a vocalist with Asleep at the Wheel, Browne moved to Nashville, and her material caught the ear of an A&R executive at Curb Records; in 1990, Browne was signed to the label and she released her debut album, Tell Me Why, that same year. Tell Me Why was a surprise success, spawning two hit singles, "Tell Me Why" and "You Ain't Down Home," and earned Browne a nomination as Female vocalist of the Year by the Academy of Country Music. However, Browne — a maverick who felt at home with such off-mainstream country & western artists as Emmylou Harris and Iris DeMent, both of whom have recorded with her — very soon discovered she had little taste for the politics of the major-label music industry. After her second album, 1991's Only When I Laugh, failed to sell as well as her debut, she opted out of her contract with Curb and moved back to California. Browne still had a substantial audience in Australia and Europe, and in 1995, she recorded her third album, Count Me In, for Red Moon Records, an independent label in Europe (it later received an American release from the independent Cross Three label). The album displayed a rawer sound that had more to do with blues and rock than mainstream country, and while it didn't find a large audience in the United States, it won a number of enthusiastic reviews and re-established Browne as a singer/songwriter with a sharp and distinctive vision. For her fourth album, 2001's Missed Me by a Mile, Browne continued to re-assert her independence by co-producing the album herself, and releasing it in America on her own label, Plan B Records.
https://en.wikipedia.org/wiki/Jann_Browne
Talents : Vocals, Songwriter
Style musical : Contemporary Country, Roots Rock

https://youtu.be/nBdmSsx-_0k
Years in activity :
| | | | | | | | | | | | |
| --- | --- | --- | --- | --- | --- | --- | --- | --- | --- | --- | --- |
| 1910 | 20 | 30 | 40 | 50 | 60 | 70 | 80 | 90 | 2000 | 10 | 20 |
DISCOGRAPHY
Singles
| | | |
| --- | --- | --- |
| 06/1989 | SP CURB CRB-10530 (US) | You Ain't Down Home / I'll Never Grow Tired Of You |
| 06/1989 | SP CURB CRB-10530 (US) (promo) | You Ain't Down Home (long version) / You Ain't Down Home (short version) |
| 11/1989 | SP CURB CRB-10568 (US) | Tell Me Why / There Ain't No Train |
| 11/1989 | SP CURB CRB-10568 (US) (promo) | Tell Me Why / Tell Me Why |
| 05/1990 | SP CURB NR-76815 (US) | Mexican Wind / The One You Slip Around With |
| 05/1990 | SP CURB NR-76815 (US) (promo) | Mexican Wind / Mexican Wind |
| 08/1990 | SP CURB NR-76835 (US) | Louisville / Lovebird |
| 08/1990 | SP CURB NR-76835 (US) (promo) | Louisville / Louisville |
| 03/1991 | SP CURB NR-76858 (US) (promo) | Better Love Next Time / Better Love Next Time |
| 05/1991 | SP CURB NR-76879 (US) | It Only Hurts When I Laugh / Who's Gonna Be Your Next Love |
| 05/1991 | SP CURB NR-76879 (US) (promo) | It Only Hurts When I Laugh / It Only Hurts When I Laugh |
Albums
| | | | |
| --- | --- | --- | --- |
| 02/1990 | CD CURB D2-77251 (US) | | TELL ME WHY - Tell Me Why / Ain't No Train / Till A Tear Becomes A Rose / Louisville / Mexican Wind / Losing You / You Ain't Down Home / One You Slip Around With / I Forgot More Than You'll Ever Know / Lovebird |
| 05/1991 | CD CURB D2-77451 (US) | | IT ONLY HURTS WHEN I LAUGH - Better Love Next Time / I Wish It Would Rain / It Only Hurts When I Laugh / I Knew Enough To Fall In Love With You / Blue Heart In Memphis / My Shoes Keep Walkign Back To You / Who's Gonna Be Your Next Time / I Don't Do Floors / Where The Sidewalk Ends / Where Nobody Knows My Name |
| 1994 | CD Suisa RM-CD 1010 (AUS) | | COUNT ME IN - Hearts On The Blue Train / Ain't No Promise / I Have No Witness / Trouble's Here / Red Moon Over Lugano / One Tired Man / Dear Loretta / Count Me In / Baby Goodbye / Long Time Gone / When The Darkest Hours Pass / White Roses |
| 1994 | CD Red Moon RM-CD 1010 (AUT) | | COUNT ME IN - Hearts On The Blue Train / Ain't No Promise / I Have No Witness / Trouble's Here / Red Moon Over Lugano / One Tired Man / Dear Loretta / Count Me In / Baby Goodbye / Long Time Gone / When The Darkest Hours Pass / White Roses |
| 10/1995 | CD CROSS THREE CTR-9503 (US) | | COUNT ME IN - Hearts On The Blue Train / Ain't No Promise / I Have No Witness / Trouble's Here / Red Moon Over Lugano / One Tired Man / Dear Loretta / Count Me In / Baby Goodbye / Long Time Gone / When The Darkest Hours Pass / White Roses |
| 1996 | CD Massive Country 7310332 (AUS) | | COUNT ME IN - Hearts On The Blue Train / Ain't No Promise / I Have No Witness / Trouble's Here / Red Moon Over Lugano / One Tired Man / Dear Loretta / Count Me In / Baby Goodbye / Long Time Gone / When The Darkest Hours Pass / White Roses |
| 1997 | CD Swiss Radio International SRI CD 002.2 (SWI) | | 4 On The Floor - Jann Browne, Matt Barnes, Joy Lynn White, Pat Gallagher - No One Hears Me Callin' / I Would Rather Be Lonely / It's Over / To Catch A Glimpse Of Her / The Moment I Get Over You / Get Right With God / Dear Ole' Dad / Times Ten / Cold Here In London / You Lost A Lot / Two Can Play / When I Get Home / Special Bonus Track : Red Moon Over Lugano |
| 10/2001 | CD PLAN B PBR081501 (US) | | MISSED ME BY A MILE - Can't Build A Better Love / Cold Here In London / Change Your Mind / Missed Me By A Mile / Don't Be Mad / Heart You Can't Ignore / Lucky Few / Don't Worry Bout Tomorrow / Thought I Had It All / The Lonesome Mile |
| 03/2007 | CD PLAN B ? (US) | | BUCKIN' AROUND - A TRIBUTE TO LEGENDARY BUCK OWENS - Loves Gonna Live Here /Before You Go / Excuse Me (I Think Ive Got A Heartache) / Play Togethher Again, Again / I Dont Care / Think Of Me / Loose Talk / Hot Dog / Sweethearts In Heaven / Waitin In Your Welfare Line / Playgirl (Playboy) |
| 2020 | CD PLAN B PBR0214 (US) | | Arrow - Burn This Desert Down / Can't Be / Hot Mess / Mrs Murphy / Let's Hold Hands / Kill The Light / Personal Life / Lillie Belle / Blue Suitcase / I'll Sing You To Heaven / Somewhere Close To Love / Should You Stray |
© Rocky Productions 30/05/2022