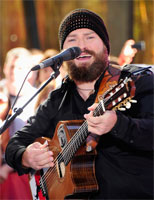 Chanteur Country US né à Cumming (Georgie), le 31 Juillet 1978.



Zac Brown Band became stars in the late 2000s on the strength of the number one country hits "Chicken Fried" and "Toes," songs that seemed like throwbacks to the country-rock of the 1970s. For a while, ZBB continued in that vein, scoring another breezy, beachy hit with "Knee Deep" and underscoring their '70s singer/songwriter heritage with the warm, burnished ballad "Colder Weather," but soon the group proved themselves to be a restless jam band, as eager to crank up the amps as they were to ride a supple groove. This sense of musical adventure led Zac Brown Band to cut a 2014 EP with Foo Fighters rocker Dave Grohl and to dive deep into pop music on 2019's The Owl, yet these creative instincts also helped them cultivate a loyal following who were happy to roll with these changes. Brown would occasionally step out of the Zac Brown Band -- he formed the dance-pop group Sir Rosevelt in 2016 and released his debut solo LP, The Controversy, in 2020 -- but he always returned to the group.
Born in Atlanta, Zac Brown grew up in the Lake Lanier region in the north Georgia mountains. Raised in a blended family -- he lived with his mother and his stepfather, who was a dentist -- Brown was drawn to music at an early age, learning to play his mother's guitar when he was eight. His taste was omnivorous, spanning pop, country, bluegrass, and rock, influences that manifested in his original material. He started playing these songs, along with selected covers, at coffee houses when he was a teenager. While he attended the University of West Georgia, he played concerts with growing frequency.
By 2002, Brown formed the initial version of the Zac Brown Band, who played regularly throughout the South. He founded his own label, Southern Ground (it was originally called Home Grown) in 2003, and his entrepreneurial endeavors didn't stop there. The following year, he and his father opened Zac's Place, a Lake Oconee restaurant that featured local music. It earned the attention of a developer, who bought the establishment; Brown channeled his proceeds into a tour bus and financing his first album, Home Grown, which appeared in 2004.
The Zac Brown Band continued to take shape over the course of 2004, with fiddle player/vocalist Jimmy De Martini joining a lineup that also featured drummer Marcus Petruska. Another member arrived in John Driskell Hopkins, a multi-instrumentalist who produced Home Grown; he joined the group as their bassist. Coy Bowles, a guitarist/pianist, became a permanent member of the Zac Brown Band in 2006, and not long afterward, the group signed to Live Nation Artists Records.
The Foundation, the major-label debut by Zac Brown Band, arrived in 2008. Live Nation Artists Records faltered not long after the release of The Foundation, but Atlantic picked up the band, and the label's support helped their first single, the sun-kissed "Chicken Fried," reach number one on Country Airplay, a feat matched by three other singles from the record: "Toes," "Highway 20 Ride," and "Free." Additionally, "Whatever It Is" reached two on Country Airplay.
Shortly after the release of The Foundation, Petruska was replaced by Chris Fryar; multi-instrumentalist Clay Cook became a member not long afterward. This lineup recorded You Get What You Give, a 2010 album that debuted at number one on Billboard's Top 200 and contained duets with two of Brown's idols: Alan Jackson sang on "As She's Walking Away" and Jimmy Buffett on "Knee Deep," both number one country hits. "Colder Weather" and the loose-limbed "Keep Me in Mind" also reached number one, with "No Hurry" peaking at number two.
Adding percussionist Daniel de los Reyes as a full-time member, Zac Brown Band began to expand their horizons in 2012 with Uncaged, playing music that couldn't strictly be classified as country. As the album entered the Billboard charts at number one, the group still scored number one Country Airplay hits in "Goodbye in Her Eyes" and "Sweet Annie," with "Jump Right In" going to two, but the album found ZBB exploring rock-oriented territory. The group underscored their rock debut by recording an EP with Dave Grohl, the former Nirvana drummer who later led the Foo Fighters. Aptly titled The Grohl Sessions, Vol. 1, the EP appeared in 2014, reaching 25 on the Billboard Top 200. By the time it was released, Zac Brown Band had added bassist Matt Mangano, leaving John Driskell Hopkins to play a variety of instruments.
In 2015, the Zac Brown Band signed a joint deal with Big Machine and Republic Records, releasing Jekyll + Hyde under this new contract. Featuring cameos by Chris Cornell, Sara Bareilles, and Jewel,Jekyll + Hyde debuted at number one on Billboard and produced three number one country hits: "Homegrown," "Loving You Is Easy," and "Beautiful Drug."
Brown continued his musical explorations in 2016 by forming a new dance-pop band called Sir Rosevelt. By the time the Sir Rosevelt album appeared in December 2017, the Zac Brown Band had returned to their laid-back roots on 2017's Welcome Home, an album produced by Dave Cobb. Released on Elektra, its first single, "My Old Man," went to 14 on Country Airplay, with "Roots" peaking at 36.
Moving to BMG, the Zac Brown Band released The Owl in September 2019. Recorded with a variety of splashy big-budget producers, the album debuted at two upon its September 20, 2019 release. A week after The Owl appeared, Brown surprised his fans with the release of The Controversy, his debut solo album; it was recorded with many of the same producers as The Owl. The song "The Man Who Loves You the Most" arrived in June 2020.
Neither The Owl nor The Controversy generated any radio hits -- the non-LP 2020 single "The Man Who Loves You the Most" also didn't create any waves -- so Zac Brown Band changed homes for their next album, The Comeback, aligning themselves with Warner Music Nashville. Preceded by "Same Boat" -- a breezy, beachy tune with echoes of "Toes" and "Chicken Fried" that went to number three Country Airplay -- The Comeback deliberately returned ZBB to their roots; it debuted at 27 upon its October 2021 release.
https://en.wikipedia.org/wiki/Zac_Brown
Talents : Vocals, Guitar, Songwriter
Style musical : Contemporary Country, Pop Rock

http://www.youtube.com/watch?v=yBfcBVt6Etk
Years in activity :
| | | | | | | | | | | | |
| --- | --- | --- | --- | --- | --- | --- | --- | --- | --- | --- | --- |
| 1910 | 20 | 30 | 40 | 50 | 60 | 70 | 80 | 90 | 2000 | 10 | 20 |
DISCOGRAPHY
Single & EP
1999
CD FFE MUSIC ? (US)

Zac BROWN - Far From Einstyne - Heather / Land Down Under / Better Day / Heroes Bend / Clarice

10/2009
CD HOME GROWN 522085-2 (US)

Zac BROWN BAND - Live From Bonnaroo - Toes / Free - Into The Mystic / The Devil Went Down To Georgia / Who Know

2010
CD Southern Ground ‎525560-2 (US)
Z

ac

BROWN BAND - As She's Walking Away (with Alan JACKSON) / Colder Weather
2012
CD Southern Ground ‎? (US) (promo)
.

Island Song

2013
CD Southern Ground ‎? (US)

The Grohl Sessions Vol. 1 - All Alright / Let It Rain / The Muse / Day For The Dead

2014
CD + DVD Southern Ground SGA022 (US)

CD :

The Grohl Sessions Vol. 1 :

All Alright / Let It Rain / The Muse / Day For The Dead
DVD :

Making Of The Grohl Sessions Vol. 1 :

Beginnings / Behind The Song: The Muse / The Muse / Behind The Song: All Alright / All Alright / Dinner Is Served / Behind The Song: Day For The Dead / Day For The Dead / Behind The Song: Let It Rain / Let It Rain / Final Thoughts

2014
CD Southern Ground ‎? (US) (promo)

All Alright (radio edit)
Albums
12/2005
CD ZAC BROWN ? (US)
HOME GROWN - Z

ac

BROWN BAND - Every Little Bit / Whatever It Is / Chicken Fried / On This Train / Better Day / Valentines / Curse Me / Heather / Junkyard / These Days / Tax Man Shoes
11/2008
CD HOME GROWN MUSIC / ATLANTIC 516931 (US)
THE FOUNDATION - Z

ac

BROWN BAND - Toes / Whatever It Is / Where The Boat Leaves From / Violin Intro To Free / Free / Chicken Fried / Mary / Different Kind Of Fine / Highway 20 Ride / It's Not OK / Jolene / Sic 'Em On A Chicken
05/2010
2 CD + 1 DVD SOUTHERN GROUND 523726 (US)

PASS THE JAR - LIVE FROM THE FABULOUS FOX THEATRE IN ATLANTA -

Z

ac

BROWN BAND

:

CD 1 : Whatever It Is / Let It Go / It's Not OK / Jolene / Who Knows / The Night They Drove Old Dixie Down / Sic 'Em On A Chicken / Where The Boat Leaves From - One Love / Trying To Drive / Alabama Jubilee / Blackbird / The Devil Went Down To Georgia
CD 2 : Can't You See / Highway 20 Ride / Whiskey's Gone / Colder Weather / Junkyard / Free - Into The Mystic / America The Beautiful / Chicken Fried / I Shall Be Released / Bar / Toes / We're Gonna Make This Day
DVD : Intro / Whatever It Is / It's Not OK / Jolene / Who Knows / The Night They Drove Old Dixie Down / Sic 'Em On A Chicken / Junkyard / The Devil Went Down To Georgia / Trying To Drive / Alabama Jubilee / Can't You See / Highway 20 Ride / Colder Weather / Free - Into The Mystic / Toes / America The Beautiful / Chicken Fried / We're Gonna Make This Day / Cheater Cheater / All American / My Name Is Money / Money Don't Make You Happy / Say What?

09/2010
CD SOUTHERN GROUND 524722 (US)
YOU GET WHAT YOU GIVE - Z

ac

BROWN BAND - Let It Go / Knee Deep / No Hurry / I Play The Road / Cold Hearted / Whiskey's Gone / Quiet Your Mind / Colder Weather / Settle Me Down / As She's Walking Away / Keep Me In Mind / Who Knows / Martin / Make This Day
2010
CD Southern Ground ‎? (UK) (promo)

You Get What You Give - Zac BROWN BAND - Free / Settle Me Down / Colder Weather / Keep Me In Mind / Cold Hearted / Who Knows

2010
CD MONSANTO ? (US)
RED JESUS - Z

ac

BROWN BAND - Stealing And Dealing / Golden Rein / The End Often Begins / Philosopher Stoned To Death / Supergang / Jiminy X-Mas / Gusty
07/2012
CD SOUTHERN GROUND / ATLANTIC 7567876688 (US)
UNCAGED - Z

ac

BROWN BAND -

Jump Right In / Uncaged / Goodbye In Her Eyes / The Wind / Island Song / Sweet Annie / Natural Disaster / Overnight / Lance's Song / Day That I Die / Last But Not Least

2012
CD SOUTHERN GROUND 530382-2 (US)
UNCAGED - Z

ac

BROWN BAND -

Jump Right In / Uncaged / Goodbye In Her Eyes / The Wind / Island Song / Sweet Annie / Natural Disaster / Overnight / Lance's Song / Day That I Die / Last But Not Least

11/2014
CD ATLANTIC 7567867108 (US)

Greatest Hits So Far... -

Zac BROWN BAND - Chicken Fried / Whatever It Is / Toes / Free / Highway 20 Ride / As She's Walking Away (

Zac Brown Band

/ Zac

Brown

feat: Alan

Jackson

) /

Colder Weather / Knee Deep (

Zac Brown Band

/ Zac

Brown

feat: Jimmy

Buffett

) /

Keep Me In Mind / No Hurry / The Wind / Jump Right In / Goodbye In Her Eyes / Sweet Annie
04/2015
CD Republic 002296202 (US)

Jekyll + Hyde -

Z

ac

BROWN BAND - Beautiful Drug / Loving You Easy / Remedy / Homegrown / Mango Tree (Zac

Brown Band

feat: Sara

Bareilles

) / Heavy Is The Head (Zac

Brown Band

feat: Chris

Cornell

) / Bittersweet / Castaway / Tomorrow Never Comes / One Day / Dress Blues / Young And Wild / Junkyard / I'll Be Your Man (Song For A Daughter) / Wildfire / Tomorrow Never Comes [acoustic version]
05/2017
CD Atlantic 7567866203 (US)

Welcome Home -

Zac BROWN BAND - Roots / Real Thing / Long Haul / 2 Places At 1 Time / Family Table / My Old Man / Start Over / Your Majesty / Trying To Drive / All The Best
09/2019
CD BMG 77559 (US)

The Owl - Zac BROWN BAND - The Woods / Need This / OMW / Someone I Used To Know / Me And The Boys In The Band / Finish What We Started / God Given / Warrior / Shoofly Pie / Already On Fire / Leaving Love Behind

2019
CD Zac Brown Collective NR-001-CD (US)

The Controversy - Zac BROWN - Nowhere Left To Go / Time / Spend It All On You / Swayze / Lion's Den / Dream Sellin' / This Far / Always And Never

10/2021
CD Warner Music 671178 (US)

The Comeback - Zac BROWN BAND - Slow Burn / Out In The Middle / Wild Palomino / Us Against The World / Same Boat / Stubborn Pride / Fun Having Fun / The Comeback / Old Love Song / Any Day Now / Paradise Lost On Me / GA Clay / Love And Sunsets / Closer To Heaven / Don't Let Your Heart
© Rocky Productions 30/05/2022