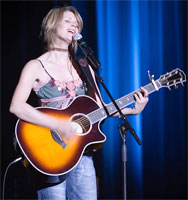 Chanteuse Country Canadienne née Lisa Ann Brokop, le 6 Juin 1973 à Surrey (British Columbia).

Lisa Brokop was born in Surrey, British Columbia, in 1973. Born into a musical family, Brokop was on-stage with her accordion-playing mother by age 7, performing polkas and popular country hits like "The Gambler." By 15, she was gigging throughout the thriving country music scene in Vancouver, both as a singer and guitar player, and soon began issuing her own singles. Her debut Canadian album appeared in 1991, when Brokop was only 17.
A year later, the young country singer headed for Nashville. Making it look easy, a 30-minute showcase at a local club and a performance on TNN's Ralph Emory Show was all it took to land Brokop a deal with Capitol-Nashville, and in 1994 the label issued her proper Nashville debut. Every Little Girl's Dream was produced by Jerry Crutchfield, and found moderate success with its singles Give Me a Ring Sometime and Take That. A self-titled effort followed in 1995, spawning the singles Before He Kissed Me and She Can't Save Him. There was no question that Brokop had already achieved more Nashville success than many who brought their dreams to the city. But at 22, she was burned out. Brokop ended her relationship with Capitol and took some time off to work on her own songwriting.
In 1998, Brokop returned to the spotlight. Now with Columbia, she issued the CD-5/EP When You Get to Be You. While the release did well in her native Canada, Columbia chose not to release it in the U.S. Evidently, the Columbia deal wasn't the right fit either, because when Brokop next surfaced, it was with the 2000 LP Undeniable, released through her own Cosmo label and available only in Canada or through her website. However, the record was a success in her home country, and Brokop continued to tour in support of it through 2003.
https://en.wikipedia.org/wiki/Lisa_Brokop
Talents : Vocals, Songwriter, Guitar, Actor
Style musical : Contemporary Country

http://youtu.be/qkxEyvJkTzg
Years in activity :
| | | | | | | | | | | | |
| --- | --- | --- | --- | --- | --- | --- | --- | --- | --- | --- | --- |
| 1910 | 20 | 30 | 40 | 50 | 60 | 70 | 80 | 90 | 2000 | 10 | 20 |
DISCOGRAPHY
Singles
1994

SP

PATRIOT

18094 (CAN)

Give Me A Ring Sometime / Let Me Live Another Day
1994
CD PATRIOT 79036

(CAN)

Give Me A Ring Sometime
11/1994
CD CAPITOL 58310 (US)
Take That
08/1995
CD CAPITOL 58435 (US)
Who Needs You
11/1995
CD CAPITOL 58502 (US)
She Can't Save Him
03/1996
CD CAPITOL 58557 (US)
Before He Kissed Me
05/1998
CD COLUMBIA

78879 (US)

How Do I Let Go

11/1998
CD COLUMBIA

79012 (US)

When You Get To Be You

1999
CD COLUMBIA

? (US)

Ain't Enough Roses

2005
CD CURB CURBD-1092 (US) (promo)
Jeff

Carson

featuring Lisa

Brokop

- God Save The World
Albums
09/1994
CD CAPITOL

89252 (US)

EVERY LITTLE GIRL'S DREAM - Take That / One Of Those Nights / You Already Drove Me There / Give Me A Ring Sometime / Every Little Girl's Dream / Never Did Say Goodbye / Who Needs You / Not Here In My Arms / Let Me Live Another Day / Never Gonna Be Your Fool Again
02/1996
CD CAPITOL

33875 (US)

LISA BROKOP - Language Of Love / Before He Kissed Me / She Can't Save Him / I Know A Heartache When I See One / Now That We're Not A Family / West Of Crazy / I Know Too Much / At The End Of The Day / That Summer / From The Heart
07/1998
CD COLUMBIA

79012 (CAN)

WHEN YOU GET TO BE YOU - When You Get To Be You / How Do I Let Go / Better Off Broken / What's Not To Love / Cool Summer Night / Rain On The River / Heart Be Still / Love Is / Ain't Enough Roses / Land Of A 1.000 Dances
05/2004
CD COSMO 0043 (US)
UNDENIABLE - I'd Like To See You Try / Timeless / Keep Mom And Dad In Love / (Lisa BROKOP & Hal KETCHUM) / Something Undeniable / It's Me / Say / W&W Foreplay / Whiskey And Wine / Don't Believe Me / Cross My Heart / Dark Side Of The Moon
04/2005
CD EMI 878886 (CAN)
HEY DO YOU KNOW ME - Hey, Do You Know Me / Wildflower / What I'd Miss / Ladylike / Let Me Love Again / One Bad Day / Pearl / Just A Girl / Paper, Rock, Scissors / Lime Green Pacer / Try Me Again / Write A Book About Me / Faith, Hope & Love (Not So Far Away)
08/2008
CD ELBEA ? (CAN)
BEAUTIFUL TRAGEDY - Break It / Beautiful Tragedy / November Trees / Clouds / Band In The Window / 30 ShadesOf Blue / I Can't / So Far / Just Another Song You Won't Hear On The Radio / Rapunzel / Shackin' Up / Just To Be Here
© Rocky Productions 15/10/2011