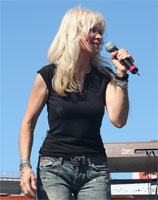 Chanteuse Country US née Lynn Connie Voorlas, le 24 Septembre 1955 à Racine (Wisconsin).

Lane Brody was born in Racine, WI, where her love of singing was established at a very early age. She wrote her first song, "Through the Darkness," at 12, founded an all-girl trio while still in high school, and by age 18 had set out for New York, where she was discovered by vocalist Bobby Whiteside. Eventually, Brody moved to Chicago, where she sang commercial jingles and modeled in print for such products as Harley Davidson motorcycles and Pabst Blue Ribbon beer.
In 1976 she made her recording debut with the single "You're Gonna Make Love to Me" under the pseudonym Lynn Niles. Brody next moved to California, where she in 1981 signed with Liberty and debuted on the singles chart with the self-penned "He's Taken." Her next release, "More Nights," made it to the Top 60. Near the end of the year she had a minor-hit duo with Thom Bresh, "When It Comes to Love." That same year Brody made her television acting debut on the series Taxi and was nominated for an Emmy the following year for singing "Just a Little More Love" in the TV-movie The Gift of Life. Her next chart appearance came in 1983 with a song she co-wrote, the Oscar-nominated "Over You," which was featured in the film Tender Mercies. She scored a number one hit with her 1984 duo with Johnny Lee, "The Yellow Rose," which she and John Weilder adapted from a Civil War standard for use as the theme song to a short-lived TV series.
Brody's self-titled 1985 debut album contained two hits, including Bobby Lee Springfield's "He Burns Me Up." The next year she and Lee recorded another popular duo, "I Could Get Used to This." She then played a country singer on ABC's TV series Heart of the City. Brody continued to tour with Bresh following a joint appearance on a Lee Greenwood special for TNN and their own subsequent special. She also wrote and performed "All the Unsung Heroes" for a documentary on the Vietnam War Memorial in Washington, D.C. Throughout her career Brody was also a frequent performer with the USO, entertaining servicemen and veterans. She continued to perform throughout the late '90s and early 2000s, including appearances on Nashville's Grand Ole Opry. In 1996, she was honored by the Country Music Hall of Fame with her very own star on its famous walkway. Her album Pieces of Life appeared in 2002.
https://en.wikipedia.org/wiki/Lane_Brody
Talents : Vocals, Songwriter, Guitar, Actress
Style musical : Contemporary Country, Country-Pop

https://www.youtube.com/watch?v=izz0_qEl_-E
Years in activity :
| | | | | | | | | | | | |
| --- | --- | --- | --- | --- | --- | --- | --- | --- | --- | --- | --- |
| 1910 | 20 | 30 | 40 | 50 | 60 | 70 | 80 | 90 | 2000 | 10 | 20 |
DISCOGRAPHY
Singles
1982
SP LIBERTY

XW 1457 (US)

.

He's Taken / My Side Of The Bed

1982
SP LIBERTY

XW 1470 (US)

.

More Nights / My Side Of The Bed

1982
SP LIBERTY

XW 1487 (US)

.

Thom BRESH & Lane BRODY -

Somebody Like You / When It Comes To Love

1983
SP LIBERTY

XW 1498 (US)

.

My Side Of The Bed / Over You

1983
SP LIBERTY

XW 1509 (US)

.

It's A Bad Night For Good Girls / It's Another Silent Night

1984
SP LIBERTY

XW 1519 (US)

.

Hanging On / If I Were Loving You Now

1984
SP WARNER BROS.

29375 (US)

.

Johnny LEE & Lane BRODY -

The Yellow Rose

1984
SP EMI AMERICA 8218 (US)

.

Alibis / One Heart Away

1985
SP EMI AMERICA 8266 (US)

He Burns Me Up / Memory Now

1985
SP EMI AMERICA 8283 (US)

.

Baby's Eyes

01/1984
SP WARNER BROS.

7-29375 (US)

.

The Yellow Rose (

Johnny LEE & Lane BRODY)

/

Say When (

Johnny LEE)
01/1985
SP WARNER BROS.

GWB-04

90

(US)

.

The Yellow Rose (Johnny LEE & Lane BRODY) / One More Shot (Johnny LEE)

02/1986
SP WARNER BROS.

7-28747 (US)

.
Johnny LEE & Lane BRODY

- I Could Get Used To This /

It Ain't The Leaving
10/2008
DI GMV 010 (US)
Found In Each Other
2010

CD ? (US)

.
Your Wildest Dreams / Your Wildest Dreams [club mix]
| | |
| --- | --- |
| | |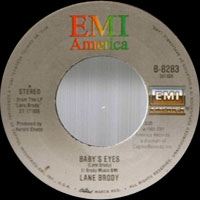 Albums
1985
LP 12" EMI AMERICA ST-17160

(US)

LANE BRODY - He Burns Me Up / Got My Heart Set On You / Dance Away / Stay With Me / Baby's Eyes / Mama Didn't Raise / No Fool / Love It Away / Memory Now / Anything But My Baby / Let It Be Yesterday
07/2001
CD RECORDS ? (US)
FAMILIAR PLACES - ELENI - More Than You Know / Easy Street / Another You / I'll Be Seeing You / Lover / Don't Blame Me / When I'm With You / I Wish You Love / Smile / I Thought About You
04/2002
CD SCREAM MARKETING 11 (US)
PIECES OF LIFE - Till You Found Me / Faster Than The Speed Of Love / I Have To Say I Love You In A Song / Plenty More Love / Every Time I Think Of Losing You / My Mind Wanders / Over You / The Song / Place Outside The World / The Yellow Rose / All The Unsung Heroes / I'll Be Seeing You / White Shadows (with Alison KRAUSS) / You Are The One / The Yellow Rose

[extended version]

/ All the Unsung Heroes
2010
CD GMV 024 (US)
ON THE WINGS OF SONGS - On The Wings Of Songs / Beyond The Blue / Found In Each Other / Flames Turned Blue / Busy Life / That's Where Love Comes In / Your Wildest Dreams / I See Sunshine / Evolution / Go Quickly By / Sweet Sanctuary / Thanks For What You Did
© Rocky Productions 14/10/2011