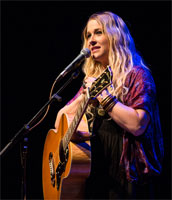 Chanteuse Country Australienne née le 31 Décembre 1984 à Newcastle (New South Wales)

Catherine Britt was born and raised in Newcastle on Australia's eastern coast, where she fell under the spell of country music while still a young child. When she was 11 years old, Britt met singer Bill Chambers before one of his Australian concerts, asking him to sing Jimmie Rodgers' "T.B. Blues." Chambers was stunned that such a youngster would even know the song (or have heard of Rodgers), and ended up inviting her up to sing it with him during the show. Britt clearly was a phenomenal singing talent, and Chambers took her under his wing, producing her In the Pines EP, which was released in 1999. Britt was only 14 when a single from the project, "That Don't Bother Me," which was co-written with Chambers' daughter, Kasey Chambers, dented the country charts.
A full-length album, again produced by Bill Chambers, Dusty Smiles and Heartbreak Cures, was privately released in 2001. The album was picked up by ABC Records and re-released a year later in 2002, and garnered heavy Australian radio play. While touring Australia, Elton John heard Britt's album and began praising it in the press, which led to a meeting between the two singers. With John's help, Britt received several offers from American record companies, and she chose to sign a contract with RCA Records, which released a single, "Upside of Being Down," in 2004. Her first full-length on RCA, Too Far Gone, produced by Keith Stegall and Bill Chambers, was released early in 2005, when Britt was only 19 years old.
http://www.catherinebritt.com/
https://en.wikipedia.org/wiki/Catherine_Britt
Talents : Vocals, Guitar
Style musical : Traditional Country, Country-Pop, Contemporary Country

https://youtu.be/VmXpQOzYic4
Years in activity :
| | | | | | | | | | | | |
| --- | --- | --- | --- | --- | --- | --- | --- | --- | --- | --- | --- |
| 1910 | 20 | 30 | 40 | 50 | 60 | 70 | 80 | 90 | 2000 | 10 | 20 |
DISCOGRAPHY
Singles & EP
| | | | |
| --- | --- | --- | --- |
| 1999 | CD SELF RELEASED CAF001 (AUS) | | That Don´t Bother Me! / It´s All Up To You / In The Pines / Slow And Steady (live) |
| 2002 | CD ABC COUNTRY CB3 (AUS) | . | Dusty Smiles And Heartbreak Cures |
| 2004 | CD Sony / BMG RCA82876-70392-2 (US) | | Catherine Britt & Elton John - Where We Both Say Goodbye |
| 2006 | CD RCA 88697-03598-2 (US) (promo) | | What I Did Last Night / What I Did Last Night / What I Did Last Night |
| 2006 | CD ABC ? (AUS) (promo) | | Swingin' Door |
| 2014 | CD Lost Highway ? (AUS) (promo) | | Good To Bad |
Albums
03/2002
CD ABC MUSIC 12402 (AUS)
DUSTY SMILES & HEART BREAK CURES - 46 Miles From Alice / Nashville Blues / Easy Living / Dusty Smiles And Heartbreak Cures / Help Me I'm Falling / In The Pines / Hillbilly Pickin' Ramblin' Girl / It's Not Love (But It's Not Bad) / Learning To Forgive My Heart / That Don't Bother Me Much / Move It On Over / Drive-In Movie
02/2006
CD ABC COUNTRY 5101113472 (AUS)
TOO FAR GONE - Swingin' Door / Wrapped / Too Far Gone / The Upside Of Being Down / A New Pair Of Shoes / Hot Doggin' / Fallin' Out Of Love With You / I'm Gone / I'm Nobody's Fool / Life's Highway / Poor Man's Pride
01/2008
CD ABC MUSIC 5144252642 (AUS)
LITTLE WILDFLOWER - Little WildFlower / Not Your Cinderella / What I Did Last Night / Dirt Cheap / If Only He Were You / You Run / That Ain't Me / Somewhere Over The Rainbow / Lucky Girl / You're The One I Love / Drive In Movie / Bruised
06/2010
CD ABC MUSIC 73948 (AUS)
CATHERINE BRITT - I Want You Back / Down / Anywhere You Are / Can't Change A Thing / Sweet Emmylou / More Than You Are / Under My Thumb / Call You Back Town / Holy River / Sleepy Town / Since You Slipped Away / Saved Me / Lonely / Where Do You Go?
01/2011
3 CD ABC MUSIC 2760947 (AUS)
DUSTY SMILES & HEARTBREAK CURES / TOO FAR GONE / LITTLE WILDFLOWER :

CD 1 : 46 Miles From Alice / Nashville Blues / Easy Living / Dusty Smiles And Heartbreak Cures / Help Me I'm Falling / In The Pines / Hillbilly Pickin' Ramblin' Girl / It's Not Love (But It's Not Bad) / Learning To Forgive My Heart / That Don't Bother Me Much / Move It On Over / Drive-In Movie
CD 2 : Swingin' Door / Wrapped / Too Far Gone / The Upside Of Being Down / A New Pair Of Shoes / Hot Doggin' / Fallin' Out Of Love With You / I'm Gone / I'm Nobody's Fool / Life's Highway / Poor Man's Pride
CD 3 : Little WildFlower / Not Your Cinderella / What I Did Last Night / Dirt Cheap / If Only He Were You / You Run / That Ain't Me / Somewhere Over The Rainbow / Lucky Girl / You're The One I Love / Drive In Movie / Bruised

07/2012
CD ABC MUSIC 3707827 (AUS)

Big Rock Candy Mountain - The Greatest American Folk Songs - Catherine Britt, Jay Laga'aia - Don't Fence Me In (Catherine BRITT) / On Top Of Old Smokey (Jay LAGA'AIA) / Skip To My Lou (Catherine BRITT) / Camptown Races (Jay LAGA'AIA) / This Land Is Your Land (Catherine BRITT) / Deep In The Heart Of Texas (Jay LAGA'AIA) / Big Rock Candy Mountain (Catherine BRITT) / Home On The Range (Jay LAGA'AIA) / Little Liza Jane (Catherine BRITT) / Oh! Susanna (Jay LAGA'AIA) / Red River Valley (Catherine BRITT) / Yankee Doodle (Jay LAGA'AIA) / You Are My Sunshine (Catherine BRITT) / Clementine (Jay LAGA'AIA) / Casey Jones (Catherine BRITT) / Down In The Valley (Jay LAGA'AIA) / Cotton Eye Joe (Catherine BRITT) / I've Been Working On The Railroad (Jay LAGA'AIA) / John Henry (Catherine BRITT) / Polly Wolly Doodle (Jay LAGA'AIA) / She'll Be Coming 'round The Mountain (Catherine BRITT) / Buffalo Gals (Jay LAGA'AIA) / Swing Low, Sweet Chariot (Catherine BRITT)

08/2012
CD ABC MUSIC 3711894 (AUS)
ALWAYS NEVER ENOUGH -

Always Never Enough / Charlestown Road / Addicted To The Pain / Sally Bones / There's Gotta Be More / I'm Your Biggest Fan / A Good Few Years /

Troubled Man (

Catherine B

RITT

feat. Tim R

OGERS) /

Mind Your Own Business / Our Town / Thank God There Is A Train / She Ain't Going Nowhere (Catherine BRITT

feat. Guy CLARK) /

All I Recall / Sweet Emmylou [acoustic] / Charlestown Road [acoustic] / Always Never Enough [acoustic] / A Good Few Years [acoustic] / I'm Your Biggest Fan [acoustic]

10/2013
CD ABC MUSIC 376 0052 (AUS)

The Hillbilly Pickin' Ramblin' Girl So Far… - Who Cares / That Don't Bother Me! / In The Pines / 46 Miles From Alice / Hillbilly Pickin' Ramblin' Girl / Drive In Movie / The Upside Of Being Down / Too Far Gone / Poor Man's Pride / Swingin' Door / Wrapped / I'm Gone / Little Wildflower / What I Did Last Night / Lucky Girl / Not Your Cinderella / Can't Change A Thing / I Want You Back / Sweet Emmylou / Always Never Enough / Charlestown Road / Troubled Man

05/2015
CD Lost Highway / UNIVERSAL 00602547189882 (AUS)

Boneshaker - Boneshaker / Good To Bad / Happier Day / Nice Girl / Take It Easy / When You're Ready / We're All Waiting / The Way That It Goes / Working Class Man / Let Your Hair Down / You And Me Against The World (Featuring Steve Earle)

07/2018
CD UNIVERSAL 7548614 (AUS)

Catherine Britt & the Cold Cold Hearts - Red Dirt / Too Hot To Just Quit / Met My Match / The River & The Gum / Troubled Kind / Where You Gonna Go / Young In All The Wrong Ways / I'm Not Ready / Bush TV / I Like Trains / Coalmine

01/2021
CD BEVERLEY HILLBILLY 0186402 (AUS)

Home Truths - I Am A Country Song / Fav'Rit Song / Home Truths / Country Fan (Catherine Britt & Lee Kernaghan) / Make A Diamond / Gonna Be Mumma / Mother / Me [Explicit] / Hard To Love / The Original Sin / New Dawn / Long Way Around
© Rocky Productions 20/02/2021