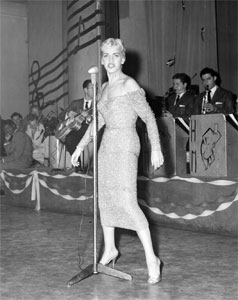 Chanteuse Rock 'n' Roll US née Lillian Biggs le 3 Juin 1932 à Allentown (Pennsylvanie). Au début des années cinquante, Lillian travaille comme conductrice de camion et joue du trombone dans un orchestre de fille. En 1952, le disc jockey Alan Freed lui demande de jouer dans un des ses shows à New York. Lors de ce spectacle elle fait sensation avec sa tenue en lamée or et elle est signée par le label Epic. Son premier 45 tours est publié en 1955 avec « I Want You to Be My Baby » (Epic 91115) il va se vendre a plus d'un million d'exemplaires et se classé dans le top 20 du Bilboard l'automne 1955. « I want You to Be My Baby » est publié en France sur un EP Philips « Rock and Roll N°1 » avec « Can't Stop » et deux titres des Treniers
Suite a ce succès elle apparaît dans de nombreux shows TV, mais ne se classe plus dans les hit parades malgré d'excellentes chansons.
Son second EP Français « Rock and Roll N°2 » intitulé « La grande prêtresse du rock and roll » est la réplique du EP américain « The High Priestess of Rock 'n' roll » de 1956
Il contient « Rock'n'roll Poly Santa Claus » extrait de son troisième simple Epic et deux faces du quatrième, le fougueux « Follow the Leader » et « That's The Only Way To live » et un titre du sixième 45 tours US le mid tempo « The Gypsy Goofed ». Sur le recto du 45 tours on trouve un commentaire surréaliste signé Boris Vian !
Lillian Briggs tournera aussi dans le film de Jerry Lewis "Ladies Man" (Le tombeur de ces dames) et enregistrera de nombreuses B.O. de films
Elle se retire du show business au début des années 70. Elle est décédée le 11 Avril 1998 à Miami des suites d'un cancer du poumon

Rockabilly bombshell Lillian Briggs was born in 1932 and raised in Allentown, PA. She was splitting duties playing trombone in Joy Cayler's All-Girl Orchestra with her day job driving a laundry truck when in 1952 she was discovered by legendary DJ Alan Freed, who featured Briggs in a series of his New York stage shows. Seemingly poured into her skin-tight silver and gold lamé dresses, the singer immediately became a crowd favorite, and in 1954 talent scout Jack Petrill helped land her a solo contract with Epic. Briggs' punchy 1955 debut single "I Want You to Be My Baby" went on to sell over a million copies, and she became a staple of the variety show circuit, appearing on Jack Paar's Tonight Show and The Steve Allen Show and graduating to the big screen for the 1961 Jerry Lewis vehicle The Ladies Man. However, Briggs' recording career stalled, and a series of novelty singles — including "Boogie Blues," "The Teens in Jeans From New Orleans," and "Rock and Roly-Poly Santa Claus" — went nowhere. She also recorded for the Coral and Sunbeam labels before retiring from music in the early '70s. Briggs then relocated to Miami Beach, where she became a partner in the waterfront resort Turnberry Isle; her business dealings made her a very wealthy woman, and she lived the high life during the decades to follow. Her many personal connections also made her a footnote to one of the biggest scandals of the 1980s — Briggs regularly loaned her yacht "Monkey Business" to various friends and contacts, and it was aboard the ship that aspiring Presidential candidate Gary Hart was photographed with mistress Donna Rice, bringing his political aspirations to a swift end. Briggs died of lung cancer in Miami on April 11, 1998.
https://en.wikipedia.org/wiki/Lillian_Briggs
Talents : Vocals, Trombone
Style musical : Rockabilly, Rock 'n' Roll
Years in activity :
| | | | | | | | | | | | |
| --- | --- | --- | --- | --- | --- | --- | --- | --- | --- | --- | --- |
| 1910 | 20 | 30 | 40 | 50 | 60 | 70 | 80 | 90 | 2000 | 10 | 20 |
DISCOGRAPHY
78 t., Singles & EP
| | | | |
| --- | --- | --- | --- |
| 1955 | 78 t. EPIC 9115 (US) | . | I Want You To Be My Baby / Don't Stay Away Too Long |
| 1955 | SP EPIC 5-9115 (US) | . | I Want You To Be My Baby / Don't Stay Away Too Long |
| 1955 | SP EPIC 5-9120 (US) | . | Give Me A Band And My Baby / It Could've Been Me |
| 1955 | SP EPIC 5-9138 (US) | . | Rock 'n' Roll-y Poly Santa Claus / Can't Stop |
| 1956 | SP EPIC 5-9141 (US) | . | Follow The Leader / That's The Only Way To Live |
| 1956 | SP EPIC 5-9151 (US) | . | Eddie, My Love / The Teen In Jeans From New Orleans |
| 1956 | SP EPIC 5-9166 (US) | . | The Gypsy Goofed / Too Close For Comfort |
| 1956 | SP EPIC 5-9190 (US) | . | I'll Be Gone / Mean Words |
| 1956 | EP EPIC EG 7163 (US) | | THE HIGH PRIESTESS OF ROCK `N ROLL - I Want You To Be My Baby / It Could've Been Me / Can't Stop / Give Me A Band And My Baby |
| 1956 | EP PHILIPS 425004 (AUS) | | LILLIAN BRIGGS - I Want You To Be My Baby / Don't Stay Away Too Long / Give Me A Band And My Baby / It Could've Been Me |
| 1956 | EP PHILIPS 426020 (F) | | ROCK AND ROLL 1 - Lilian BRIGGS : I Want You To Be My Baby / The TRENIERS : Good Rockin' To Night / Rock 'n' Roll Call / Lilian BRIGGS : Can't Stop |
| 1956 | EP PHILIPS 426020 (NL) | | LILLIAN BRIGGS - I Want You To Be My Baby / Don't Stay Away Too Long / Follow The Leader / Thats The Only Way To Live |
| 1956 | EP PHILIPS 426032 (F) | | LA DEESSE PRETRESSE DU ROCK AND ROLL - Follow The Leader / That's The Only Way To Live / Rock 'n' Roll Poly Santa Claus / The Gypsy Goofed |
| 1957 | SP EPIC 5-9214 (US) | . | Sugar Blues / Boogie Blues |
| 1957 | SP EPIC 5-9249 (US) | . | I / She Sells Seashells |
| 1958 | SP SUNBEAM 104 (US) | . | Come Here / Will We Meet Again |
| 1958 | SP SUNBEAM 114 (US) | . | Hey Ba Ba Re Bop / I've Got Your Heart |
| 1959 | SP CORAL 9-62108 (US) | . | Rag Mop / Smile For The People |
| 1959 | SP CORAL 9-62136 (US) | . | Blues In The Night / Is There A Man In The House |
| 1959 | SP CORAL 9-62156 (US) | . | Hooray For The Rock / Diddy Boppers |
| 1960 | SP CORAL 9-62193 (US) | . | Be Mine / Not A Soul |
| 1960 | SP CORAL 9-62223 (US) | . | I Care For You / That's What It's Like To Be Lonesome |
Album
| | | | |
| --- | --- | --- | --- |
| 1962 | LP 12" CORONET CSX-218 (US) | | SCREAMIN' JAY HAWKINS AND LILIAN BRIGGS - Screamin' Jay HAWKINS & Lillian BRIGGS - Hear Voices / Handy Man / Just Don't Care / Why Did You Lie / Follow That Girl / Come Here / We Will Meet / Fly Too High / We'll Meet Again / Nobody Knows / Dixieland Band |
© Rocky Productions 6/10/2011