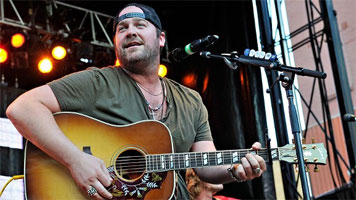 Chanteur Country US né Kenneth Mobley Brice Jr., le 10 Juin 1979 à Sumter (Caroline du Sud).

At the dawn of the 2010s, a time when mainstream country teemed with buff hunks singing party-hearty anthems, Lee Brice offered a subtler alternative. Also raised on a combination of contemporary rock and post-Garth Brooks country, Brice gravitated toward craft, not bluster. He wasn't adverse to good times -- he had a country hit in 2013 called "Parking Lot Party" -- but he specialized in heart-on-sleeve ballads like "A Woman Like You," "Hard to Love," "I Drive Your Truck," and "I Don't Dance," Top Ten country singles that showcased his supple, weathered voice and skilled song structure. The latter is what first brought him attention in Nashville -- he penned songs for Jason Aldean, Tim McGraw, and his idol Brooks -- but the former is what turned him into a star in the early years of the 2010s.
By that point, Brice had been toiling away at a career for the better part of a decade. A native of Sumter, South Carolina, he learned how to sing at church and when he was seven, he began playing piano. Next came the guitar, and by the age of ten he had started writing his own songs, partially under the influence of his father's favorite artists, the Oak Ridge Boys and Alabama. The performing bug bit him in high school, where he won the school's talent contest for three straight years, and he started to expand his horizons, spending time listening to rock & roll but settling on Garth Brooks as his idol. In addition to music, Brice played football. He earned a scholarship to Clemson University, but once he suffered an arm injury he decided to devote himself to music. On the advice of Doug Johnson, Brice moved to Nashville, where Johnson would later sign the fledgling songwriter to a publishing contract as soon as he became an A&R man at Curb Records. Brice began placing songs with major-league artists, starting with a tune for the rock band Sister Hazel in 2006, which led to Jason Aldean recording "Not Every Man Lives" for his 2007 album Relentless, and Garth Brooks cutting "More Than a Memory" for a bonus track on 2007's The Ultimate Hits.
Things were beginning to break Brice's way behind the scenes but he was having a harder time in front of the microphone. In 2007, he signed with Curb as a recording artist and cut an album called Picture of Me but none of the released singles -- "She Ain't Right," "Happy Endings," and "Upper Middle Class White Trash" -- made waves on the charts. He spent 2008 writing professionally as he retooled his own music, re-emerging in 2009 with "Love Like Crazy." He had finally hit the right formula: the single stayed on the charts for over a year, eventually reaching number three on the Billboard country chart on its way to platinum certification. An album, also called Love Like Crazy, showed up in June 2010 and while it wasn't a smash, the hit single laid down the foundation for a successful career. Brice returned in late 2011 with "A Woman Like You," the first single from 2012's Hard 2 Love. "A Woman Like You" became his first number one single and opened the door for the success of Hard 2 Love, which went gold on the strength of the Top Ten country singles "Hard to Love" and "I Drive Your Truck," as well as the gold single "Parking Lot Party" which peaked at 11.
With this success under his belt, Brice returned with his third album, the self-produced I Don't Dance, in 2014. It was preceded by the title track, which became a Top Ten country single in the summer of 2014, whetting the appetite for the record's September release. Upon its release, I Don't Dancedebuted at number one on the Billboard country chart and five on the Top 200. "Drinking Class" and "That Don't Sound Like You" remained on the charts into 2015; that summer, Brice released the EP Mixtape: 'Til Summer's Gone. Brice spent 2016 working on new music, returning in the summer of 2017 with "Boy," the first single from his eponymous album, which arrived in November. "Boy" reached 16 on Billboard's Country Airplay, a position eclipsed by the slow-burning "Rumor." The soulful tune reached number one on Country Airplay on its way to a platinum certification by the RIAA. Brice began 2020 by duetting with Carly Pearce on "I Hope You're Happy Now," a single pulled from her eponymous album. After it reached number one on Billboard's Country Airplay, Brice released "One of Them Girls," the first single from his fifth album, Hey World, which appeared in November 2020.
https://en.wikipedia.org/wiki/Lee_Brice
Talents : Vocals, Guitar, Songwriter
Style musical : Contemporary Country, Traditional Country, Americana, Outlaw Country

http://www.youtube.com/watch?v=pP9dhM3t3i8
Years in activity :
| | | | | | | | | | | | |
| --- | --- | --- | --- | --- | --- | --- | --- | --- | --- | --- | --- |
| 1910 | 20 | 30 | 40 | 50 | 60 | 70 | 80 | 90 | 2000 | 10 | 20 |
DISCOGRAPHY
Albums
06/2010
CD CURB D2-78977 (US)
LOVE LIKE CRAZY - Picture Of Me / Love Like Crazy / Some Things / Power Of A Woman / Beautiful Every Time / She Ain't Right / Falling Apart Together / Sumter County Friday Night / Carolina Boys / Four On The Floor / These Last Few Days / Happy Endings
04/2012
CD CURB 79316 (US)
HARD 2 LOVE - Hard To Love / A Woman Like You / That's When You Know It's Over / Parking Lot Party / Don't Believe Everything You Think / I Drive Your Truck / See About A Girl / Friends We Won't Forget / Life Off My Years / Seven Days A Thousand Times / Beer / That Way Again / One More Day
09/2014
CD CURB 79392 (US)

I Don't Dance -

I Don't Dance / No Better Than This / Show You Off Tonight / Always The Only One / Good Man / Drinking Class / That Don't Sound Like You / Girls In Bikinis / Sirens / Somebody's Been Drinking / Hard To Figure Out (The Airport Song) / My Carolina / Panama City
09/2014
CD CURB 1018413 (US) (deluxe edition)

I Don't Dance -

I Don't Dance / No Better Than This / Show You Off Tonight / Always The Only One / Good Man / Drinking Class / That Don't Sound Like You / Girls In Bikinis / Sirens / Somebody's Been Drinking / Hard To Figure Out (The Airport Song) / My Carolina / Panama City / More My Style / Closer / Whiskey Used To Burn
11/2017
CD CURB 79452 (US)

Lee Brice -

What Keeps You Up At Night / Little Things / American Nights / Boy / They Won't Forget About Us / I Don't Smoke / You Can't Help Who You Love / Rumor / The Locals / Songs In The Kitchen / Story To Tell (Little Bird) / Have A Good Day / Eyes Closed / Dixie Highway / The Best Part Of Me
11/2020
CD CURB 79537 (US)

Hey World - Atta Boy / One Of Them Girls / More Beer / Memory I Don't Mess With / Save The Roses / Good Ol' Boys / Don't Need No Reason / Do Not Disturb / Soul / Sons And Daughters / Country Knows / Lies / If You / I Hope You're Happy Now (featuring Carly Pearce) / Hey World
© Rocky Productions 21/11/2020