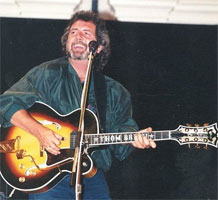 Guitariste et chanteur Country US né Thomas Charles Bresh, le 23 Février 1948 à Hollywood (Californie).

The versatile Thom Bresh played no less than nine instruments, including the tuba and the steel guitar; he also sang, acted, and did impressions of celebrities. Although involved in country music since the early '70s, with many hits, Bresh never made it to the loftiest heights of superstardom. The son of country hero Merle Travis, Bresh was born in Hollywood, where he debuted at the age three singing "Your Cheatin' Heart" at the Carriganville Movie Ranch. He made his feature film debut at age seven and was already learning to play guitar. At age 15, he replaced Roy Clark in Hank Penny's band and eventually replaced Hank when he retired. Bresh then became an actor/stuntman for about ten years, also playing with the Crescents in the mid-'60s.
In 1970, he formed his own road band, toured, and eventually returned to L.A., appearing in musicals such as The Music Man. He next moved to Seattle to run Merilee Rush's recording studio and co-hosted the Canadian television show Nashville Swings. He cut the single "D.B. Cooper, Where Are You" in 1972 for Kapp, recorded two singles for MGM three years later, and moved to the Farr label in 1976. There he recorded the album Homemade Love, whose title cut became a Top Ten hit and was followed by a string of Top 40 hits. In late 1977, Bresh began a four-year association with ABC/Dot Records, where he cut two albums, Kicked Back (1977) and Portrait (1978). Bresh signed to Liberty in 1983 and released a minor hit duo with Lane Brody, "When It Comes to Love." He and Brody continued working and touring together, even starring in their own TV special.
https://en.wikipedia.org/wiki/Thom_Bresh
Talents : Vocals, Actor, Songwriter, Guitar, Clarinet, Trumpet, Saxophone, Tuba, Trombone, Banjo, Bass, Steel Guitar
Style musical : Traditional Country, Contemporary Country, Nashville Sound/Countrypolitan / Finger/Picked Guitar
Years in activity :
| | | | | | | | | | | | |
| --- | --- | --- | --- | --- | --- | --- | --- | --- | --- | --- | --- |
| 1910 | 20 | 30 | 40 | 50 | 60 | 70 | 80 | 90 | 2000 | 10 | 20 |
DISCOGRAPHY
Singles
197?
SP KAPP ? (US)

D. B. Cooper, Where Are You ? / ?

1972
SP KAPP 2160 (US)

Apple Pie / + D. B. C

OOPER

1975
SP MGM

14783

(US)
Tom BRESH -

You're The Best Daddy In The World / ?

1975
SP MGM

14824

(US)
Tom BRESH -

Soda Pop And Gumball Days / ?

1976
SP FARR FR-004 (US)
Tom BRESH -

Homemade Love / California Old Time Song

1976
SP FARR FR-009 (US)
Tom BRESH -

Sad Country Love Song / While We Make Love Together

1977
SP FARR FR-0

12

(US)
Tom BRESH -

Hey Daisy (Where Have All The Good Times Gone) / Where Was I

1977
SP ABC

/

DOT 17703 (US)
Tom BRESH -

Until I Met You / Wonder What It's Like

1977
SP ABC

17720 (US)
Tom BRESH -

Start All Over Again / That Old Cold Shoulder

1978
SP ABC

17738

(US)
Tom BRESH -

If Everyone Was Happy / Smoke! Smoke! Smoke! (That Cigarette)

1978
SP ABC

1

2352

(US)
Tom BRESH -

Huckleberry Week-End / Ways Of A Woman In Love

1978
SP ABC

12389

(US)
Tom BRESH -

First Encounter Of A Close Kind / Woman Who Will

1982
SP LIBERTY

XW 1487

(US)
Tom BRESH

-

Somebody Like You / When It Comes To Love

1983
SP LIBERTY

XW 1

502

(US)

I'd Love You To Want Me / Somebody Like You

1983
SP LIBERTY

XW 1510

(US)

Somebody Like You / Whatever Blows Your Dress Up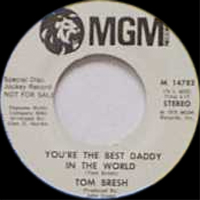 | | |
| --- | --- |
| | |
Albums
1976
LP 12" FARR

FL 1000 (US)

HOMENADE LOVE - TOM BRESH - Sad Country Love Song / Hey Daisy (Where Have All The Good Times Gone) / While We Make Love Together / If I Were A Carpenter / Homemade Love / Buford's One & Only Funky Country Music Disco Band / You're My Home / Where Was I / Show Me / There's Always Something Missing
1977
LP 12" ABC / DOT DOSD-2084 (US)
KICKED BACK - TOM BRESH - That Old Cold Shoulder / Start All Over Again / Knee Deep In Loving You / Until I Met You / Make It Pretty For Me Baby / Heart Of The Country / I Wonder What It's Like / If We Can Make It / The Way I Feel Tonight / Mother Country Music / Pickin' And Foolin' (instr.)
1978
LP 12" ABC PARAMOUNT AA-1055 (US)
PORTRAIT - TOM BRESH - Makin' Love Feelin' No Pain / A Woman Who Will / My Better Half / Huckleberry Week-End / Smoke Smoke Smoke (That Cigarette) / Ways Of A Woman In Love / If Everyone Was Happy / My Lickskillet Indiana Home / Let It Go / Saturday Night
07/2001
CD SOLID AIR SACD2025 (US)
200?
CD ? (US)
SON OF A GUITAR PICKIN' MAN - Son Of A Guitar Pickin' Man / Blue Smoke / Guitar Rag / Walkin' Backwards / Dance Of The Golden Rod / Cascade / Childhood Memories / White Heat / Whatever Blows Your Dress Up / Rock-A-Bye / Bugle Call Rag / I'll Cry Instead / Bullshot! / My Guitar Heroes / Guitar In The Window
200?
CD DCM DIGITAL (US)
LIVE & PICKIN' - Hangin - Jelly Roll / Merle Travis Salute-5 songs / My Band.. 4 Guitar songs / Ageless, Timeless Love / Poke Salad / duo with Buster B. JONES / The Godin Synth Guitar / Back To You / Achey Breaky Voices / Lost John / That's All
200?
CD ? (US)
WIRES TO THE WOOD - Mr. Guitar, My Friend / Wasn't He A Dandy / Bar B Que / Long Lost John / Christian & Nicole / Happy Again / Buster Upper / Midnight / Janet's Planet / Me & Ole Paul / Wires To The Wood / Mira MacGuire / Take Another Swing At Me / Marcel's Thumb / Muhlenberg Moon / My Brother Thom / Heather's Hideaway / Cold Cold Heart / Clawin' / Diana
20??
CD ? (US)
DOWN & NOT TOO DIRTY - I'm The Man, She's The Boss / The Grand Opening / Job Like That / Brown Eyed Women / I'm A Good Ol' Boy / Take Another Swing At Me / The Man My Dog Thinks I Am / S.O.B. / He Bit Him On The Ear / Standard Oil / Hillbilly Hell / Mr. Guitar My Friend / White Trash Christmas / Underpants / Kelson's Gas Station / Country Questions
20??
CD ? (US)
@ HOME - Boogie Woogie Feelin' / Past Life / Bar School / Coffee Break (instr.) / Cookie Jar / If Cheaters Never Win / Waiting In The Wings / The Cat Came Back / Mi Amigo (instr.) / Reed Between The Strings / My Baby Lives In Austin / Peace In The Valley / Vermillion (instr.) / My Better Half
© Rocky Productions 29/09/2011