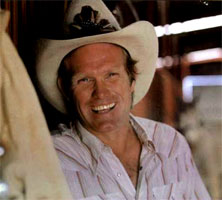 Chanteur Country US né Terry Paxton Bradshaw, le 2 Septembre 1948 à Shreveport (Louisiane).

Terry Bradshaw (born Terry Paxton Bradshaw, September 2, 1948, Shreveport, LA) was the second of three sons born into a family whose loving parents provided strong parental guidance and religious upbringing. He had always felt driven by some strange force about which neither he nor anyone else around him had any awareness. It wasn't until Bradshaw was well into adulthood that he arranged to have himself tested to determine why he had always been so overly burdened by anxiety. The results uncovered a condition known as Attention Deficit Disorder (ADD). Realizing this, he was able to look back over his childhood and gain a better understanding as to why he had such a hard time sitting still without fidgeting. If he played baseball, he had to be the pitcher. If he played football, he had to be the quarterback. If he was in a band, he had to be the lead singer, which, during one brief segment of his life, he was.
Bradshaw quarterbacked the Pittsburgh Steelers to victory in Super Bowls IX, X, XIII, and XIV and just after his first world title, he recorded the country album I'm So Lonesome I Could Cry, released in 1976 on Mercury. His live singing debut took place at the famed Palomino Club in North Hollywood, CA. Just before his performance, Bradshaw was standing in the wings motionless, expressionless, with eyes glazed over, awaiting his introduction and looking as though he was about to dash out of a tunnel onto a gridiron. The spectacle attracted all of the major local television crews who surrounded the small stage with a barrage of lights, cameras, and technicians, making it virtually impossible for the audience to see the show. Upon taking the stage, his backup band began playing the intro to his opening song, but the words wouldn't come for what seemed an eternity. The band repeated the intro over and over, then finally, to everyone's relief, he eventually gained enough composure to proceed and launched into the title song. Bradshaw's cover of Hank Williams' "I'm So Lonesome I Could Cry" was beginning to pick up significant airplay by this time and shortly thereafter was certified a Top Ten hit by Billboard Magazine. But the mood during Bradshaw's performance seemed to indicate that the house was filled with those who came to see the football player, not the country & western singer. The show lasted 15-20 minutes, then Bradshaw was quickly ushered to his dressing room, which was adorned with fan paraphernalia and flower arrangements, the most conspicuous: a large, elaborate floral wreath from Burt Reynolds.
Bradshaw came out with another single, "You Never Know How Good You Got It 'til You Ain't Got It No More," in collaboration with Glen Campbell, then later during the mid-'90s he would record a Christmas album, called Terry Bradshaw Sings Christmas Songs for the Whole World. This was not his proudest accomplishment. Clearly, Bradshaw does not define himself as a singer, but a football player who enjoyed singing in the choir since childhood, only to enter the recording profession on a bet hedged by his fame as a Super Bowl victor.
https://en.wikipedia.org/wiki/Terry_Bradshaw
Talents : Football, Vocals, Songwriter
Style musical : Traditional Country, Gospel

https://youtu.be/0bAZ_e_PZZc
Years in activity :
| | | | | | | | | | | | |
| --- | --- | --- | --- | --- | --- | --- | --- | --- | --- | --- | --- |
| 1910 | 20 | 30 | 40 | 50 | 60 | 70 | 80 | 90 | 2000 | 10 | 20 |
DISCOGRAPHY
Singles
1976
SP MERCURY

73760 (US)

I'm So Lonesome I Could Cry / Making Plans

1976
SP MERCURY

73808 (US)

The Last Word In Lonesome Is Me / Less And Less

1976
SP MERCURY

73856 (US)

Here Comes My Baby Back Again / Take These Chains From My

1980
SP BENSON 2001 (US)

Until You /

Dimestore Jesus
1982
SP HEARTWARMING 5395

(US)

Getting Free / Less And Less
Albums
1976
LP 12" MERCURY

SRM-1-1073 (US)

I"M SO LONESOME I COULD CRY - I'm So Lobesome I Could Cry / Absence / Slowly / Making Plans / A World I Can't Live In / Four Walls / The Last Word In Lonesome Is Me / Less And Less / Here Comes My Baby Back Again / Burning Bridges / Take These Chains From My Heart
1980
LP 12" BENSON R-3702 (US)
UNTIL YOU - I'm Living For Jesus (He Died For Me) / What A Difference (His Love Light Can Make) / Dimestore Jesus / Your Love Is Morning To Me / River Called Jordan / Until You / He Was There All The Time / This Ole House / May The Good Lord Bless And Keep You / Learning To Learn
1981
LP 12" HEARTWARMING

R 3735 (US)

HERE IN MY HEART - Here In My Heart / Lay Them Down / Getting Free / Create In Me / In The Middle Of The Night / What A Way To Go / The Best / You Gotta Care / So Much From So Little / He's The Man I'm Looking For
10/1996
CD DOVE 3162 (US)
TERRY BRADSHAW SINGS CHRISTMAS SONGS FOR THE WHOLE WORLD
11/1996
CD CHORDANT 25398 (US)
TERRY & JAKE - Terry BRADSHAW & Jake HESS - Sweeter As The Days Go By / When He Was On The Cross (I Was on His Mind) / Right Place, Right Time / My Room Of Prayer / I Just Feel Like Something Good Is About To Happen / He's Still Working On Me / This Savior I Sing Of Today / If The Lord Wasn't Walking By My Side / What A Day That Will Be / There's Something About That Name
© Rocky Productions 9/09/2011