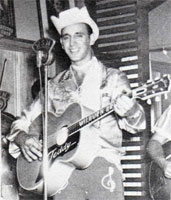 Chanteur Country US né le 29 Mars 1930 à Harlan County (Kentucky). Jack Bradshaw fit ses débuts en 1954 pour Decca puis Mar-Vel Records de Hammond (Indianna). Il oscillait entre un Hillbilly teinté de Rockabilly et la ballade Country où sa jolie voix intimiste prenait toute son ampleur.

Affiliated with the country scene of Indiana, Jack Bradshaw was a good-natured country singer who released a series of singles in the '50s, all showing promise that never quite translated into success. He may never had a hit as a performer, but he wrote songs covered by Carl Smith ("Don't Tease Me") and Kitty Wells (whose "Searchin' (For Someone Else)" was patterned on Bradshaw's "Searchin'"), he continued performing in Indiana for decades and those '50s sides, collected on a 2012 Bear Family compilation called Saturday Night Special, are ingratiating.
Martin Hawkins tells the tale of Jack Bradshaw in some detail in the liner notes for Saturday Night Special but the rough outline of his career is this. Born in Kentucky on March 29, 1930, Bradshaw was raised in Tennessee, falling in love with music and learning guitar as a child. He played all manners of local gatherings, winding up on touring revues when he was a teen. He and his brother Jack spent some time in Texas, doing manual labor and playing local shows and radio stations as part of a band called the Tennessee Ramblers. In 1949, he was drafted into the Army to serve in Korea but he failed the medical exam, so he headed back to Tennessee, scraped together some cash, and headed out to La Porte, Indiana, which would become his home base for the next 60 years. While in LaPorte, he played local gigs, building up a reputation, eventually earning the attention a promoter called Harry Glenn, who owned a label called Mar-Vel Records. Bradshaw recorded four songs for Glenn in 1954, with "Don't Tease Me"/"Don't Cause Me to Hate You" being the first single to appear. It performed well locally, thanks in part to strong promotion from Glenn. Carl Smith heard "Don't Tease Me" and soon covered it, by which time the second Bradshaw single "My Heart, My Heart"/"Searching" appeared in the summer of 1955. Kitty Wells heard and appropriated the B-side for her song "Searching (For Someone Else)" in 1956. This attention helped Bradshaw land a contract with Decca Records, albeit in a roundabout way involving another label called 4-Star, where his first session was produced by Owen Bradley and he cut a new version of "My Heart, My Heart" with Nashville pros. Backed by "Flirting with You," the new version sounded fuller, richer but it didn't become a hit, 4-Star's allegiance with Decca fell apart and Bradshaw was back on the local circuit, playing regularly throughout 1956 and 1957. The next year, he went back to Harry Glenn's Mar-Vel records, cutting two singles where he played around with rockabilly and female support singers: "Naughty Girls"/"It Just Ain't Right," which appeared in May 1958, with "Jo-Jo"/"Men Are Weak" following three months later. Bradshaw returned to country in 1959 with "No No"/"Welcome Heart," a 45 released on Glenn's new imprint Glenn Records. A couple more singles appeared, "I Got What You Need"/"You Hurt Me" and "Saturday Night Special"/"Out of the Picture," appeared on Glenn and Mar-Vel over the next couple of years, then Bradshaw decided to leave professional recording behind. He got a job at Budd Automotive in Gary, Indiana in 1960 and he worked there for 24 years, spending his spare time writing and playing, transitioning to religious music in 1974. In 1977, he self-released a religious single called "One Day Christian"/"Bar Stool to the Cross," but otherwise contented himself with performance alone.
Talents : Vocals, Guitar
Style musical : Traditional Country
Years in activity :
| | | | | | | | | | | | |
| --- | --- | --- | --- | --- | --- | --- | --- | --- | --- | --- | --- |
| 1910 | 20 | 30 | 40 | 50 | 60 | 70 | 80 | 90 | 2000 | 10 | 20 |
DISCOGRAPHY
Singles
Album
| | | | |
| --- | --- | --- | --- |
| 1984 | LP 12" COWBOY CARL CCLP 109 (US) | | THE JACK BRADSHAW STORY - Don't Tease Me / Don't Cause Me To Hate You / Searchin' / My heart, My Heart / It Just Ain't Right / Naughty Girls / Joe, Joe / Man Are Weak / Saturday Night Special / Out Of The Picture / No No / Welcome Heart / I Got What You Need / You Hurt Me / Flirting With You / Let's Baby / Two Hearts / Two Rocka Four / Unfinished Love Affair |
| 10/2012 | CD BEAR FAMILY BCD 17272 (GER) | | HONKY TONK HEROES - SATURDAY NIGHT SPECIAL - Don't Tease Me / Don't Cause Me To Hate You / My Heart, My Heart / Searching / Joe - Joe / Men Are Weak / Saturday Night Special / Out Of The Picture / It Just Ain't Right / Naughty Girls / Oh Careless Me / Let's Baby / No No / Welcome Heart / You Hurt Me / I Got What You Need / My Heart, My Heart / Flirting With Me / What's The Matter With My Heart / Two Hearts / Two Rocka Four / Unfinished Love Affair |
© Rocky Productions 23/09/2012