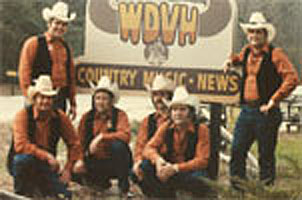 Groupe Bluegrass US formé en 1973 et comprenant Aubrey Holt, Jerry Holt, Tommy Holt, Harley Gabbard, autres membres : Rod Case, Noah Crase, Jeff Murray, Randall Collins, Glenn Duncan, Sam Jeffries, Paul Mullins, Bill Thomas, Steve Williams et Frank Godbey.

From their inception in 1973, Boys From Indiana remained one of the most original bluegrass bands on the festival circuit. The core of the band was comprised of the three Holt brothers: guitarist/bassist/vocalist Aubrey, bassist/vocalist Jerry, and bassist/guitarist/vocalist/mandolin player Tommy. Born and raised in rural Indiana, the brothers were surrounded by traditional music for most of their lives, and were influenced by Bill Monroe, Flatt and Scruggs, and Hank Williams. Aubrey formed his first bluegrass band with banjo-picking uncle Harley Gabbard when he was just in his teens. "Family Reunion," one of the singles they recorded for Starday, was later covered by Carl Story and the Rambling Mountaineers and went on to become a minor bluegrass standard. The band eventually dissolved, and Gabbard began playing dobro and worked as a session musician and sideman for groups like the Osborne Brothers and the Goins Brothers. Meanwhile, Aubrey tried to sell songs in Nashville, but publishers felt that his compositions were too old-fashioned.
Holt and Gabbard reunited in 1973 to form the Boys from Indiana. The original lineup also included bassist Jerry Holt, fiddler Paul "Moon" Mullins, and Noah Crase on banjo. Their first album consisted of gospel songs, many written by Aubrey. They recorded their next album for King Bluegrass and began touring the bluegrass circuit, where Aubrey's songs and the band's tight Vocals harmonies made them a hit with audiences. Through the late 1970s, the band recorded three more albums featuring Holt's songs, and occasionally tunes from Crase and Mullins. In 1979, Crase and Mullins were replaced by Rod Case and Billy Thomas. Tommy Holt, having just finished a military stint, also joined. During the '80s, the Boys began organizing their shows around thematic concepts; two of their most popular segments paid tribute to pioneers of bluegrass and to American soldiers. The band recorded six albums during the '80s on their Heritage label. In 1992, they recorded Touchin' Home.
Talents : Aubrey : Guitar, Bass, Vocals - Jerry Holt : Bass, Vocals - Tommy Holt : Mandolin, Bass, Guitar, Vocals - Harley Gabbard : Dobro, Banjo, Fiddle, Guitar, Vocals - Autres membres : Rod Case : Banjo - Noah Crase : Banjo - Jeff Murray : Banjo - Randall Collins : Fiddle - Glenn Duncan : Fiddle - Sam Jeffries : Fiddle - Paul Mullins : Fiddle - Bill Thomas : Fiddle - Steve Williams : Fiddle - Frank Godbey : Mandolin
Style musical : Bluegrass

http://youtu.be/xp8rynPMXds
Years in activity :
| | | | | | | | | | | | |
| --- | --- | --- | --- | --- | --- | --- | --- | --- | --- | --- | --- |
| 1910 | 20 | 30 | 40 | 50 | 60 | 70 | 80 | 90 | 2000 | 10 | 20 |
DISCOGRAPHY
Single
| | | |
| --- | --- | --- |
| 1974 | SP KING BLUEGRASS 741035 (US) | Atlanta Is Burning / I Miss My Indiana |
Albums
| | | | |
| --- | --- | --- | --- |
| 1973 | LP 12" JEWEL LPS 310 (US) | | WE MISSED YOU IN CHURCH LAST MORNING - THE BOYS FROM INDIANA WITH PAUL MULLINS - I'll Be A Friend To Jesus / Count The Milestones / I'll Be Somewhere Listening For My Name / What A Wonderful Saviour Is He / We Missed You In Church Last Sunday / I Feel Like Travelling On / Let The Lower Lights Be Burning / The Kingdom Of Heaven Is At Hand / When I've Gone The Last Mile Of The Way / Stairway Of Gold / Family Reunion / That Little Old Country Church House |
| 1974 | LP 12" KING BLUEGRASS KB 530 (US) | | ATLANTA IS BURNING - My Night To Howl / Kentucky In The Morning / Girl In The Blue Velvet Band / Ambush / Good Times Blues / I Miss My Indiana / Atlanta Is Burning / Feeling Blue / Lamplighting Time In The Valley / Cotton Eyed Joe / I'll Remember You Love In My Prayers / Little Community Church |
| 1975 | LP 12" KING BLUEGRASS KB 539 (US) | | BLUEGRASS MUSIC IS OUT OF SIGHT - Headin' South / Play Hank's Song Once Again / You'll Never Find Another So True / Lady Of The Lake / She's Not There Anymore / Put My Little Shoes Away / Bluegrass Music Is Out Of Sight / I Need A Rainbow / Jimalicia / Help Me Decide / Pretty Polly / World Of Memories |
| 1976 | LP 12" KING BLUEGRASS KB 545 (US) | | ONE MORE BLUEGRASS SHOW - The Grand Ole Opry Show / Happy Go Lucky / I'll Keep Old Glory Waving High / It Won't Work This Time / My Red River Home / Old Home Place Of Mine / Old Joe Clark / One More Bluegrass Show / Scramble / These United States / Waiting To Hear You Call Me Darling / West Virginia Rain |
| 1977 | LP 12" KING BLUEGRASS KB 561 (US) | | MEMORIES AND DREAMS - Shaking The Grate / Waiting For A Train / Cory Is Gone / The Sad Wind Sighs / You Can Mark It Down / Pocket Full Of Money / Homeward Bound / Carolina Jane / These Memories Of Mine / How Will I Explain About You / Salt Creek / Harley's Dream |
| 1980 | LP 12" OLD HERITAGE 8001 (US) | | AN AMERICAN HERITAGE - A TRIBUTE TO THE PIONEERS OF BLUEGRASS - Are You Missing Me / Ballad Of Jed Clampett / Blue Moon Of Kentucky / Blue Moon Of Kentucky / Fair And Tender Ladies / Foggy Mountain Breakdown / I Know You're Married / Love Letters In The Sand / Martha White Theme /Salty Dog Blues / They Were Walking My Lord (Up Calvary's Hill) / Twenty Twenty Vision / Uncle Pen / Watermelon Hanging On The Vine / White Dove |
| 1980 | LP 12" REBEL 1594 (US) | | ATLANTA IS BURNING - My Night To Howl / Kentucky In The Morning / Girl In The Blue Velvet Band / Ambush / Good Times Blues / I Miss My Indiana / Atlanta Is Burning / Feeling Blue / Lamplighting Time In The Valley / Cotton Eyed Joe / I'll Remember You Love In My Prayers / Little Community Church |
| 1981 | LP 12" OLD HERITAGE OHR 8101 (US) | | SHOW ME MY HOME - Truck Driving Jack / My Heritage / Is Someone Going Through Alabama / Springtime Flowers / Ramblin' Bill / Back To The Country / These Memories Of Home / Rambler's Call / Show Me My Home / Where The Wildflowers Grow |
| 1981 | LP 12" REBEL 1596 (US) | | THE BEST OF THE BOYS FROM INDIANA - West Virginia Rain / My Red River Home / The Sad Wind Sighs / Lady Of The Lake / I'll Keep Old Glory Waving High / The Grand Ole Opry Show / You Can Mark It Down / Headin' South / How Will I Explain About You / These Memories Of Mine / Old Joe Clark / Play Hank's Song Once Again / One More Bluegrass Show Tonight / Homeward Bound |
| 1982 | LP 12" OLD HERITAGE LP JRC 88039 (US) | | DID YOU FORGET GOD TODAY - Satisfied / Walk Through The Valley / Teach Me Of Jesus / Sing Sing Sing / My Jesus Walks / Yes I Cried / Wandering Soul / Get Right With God / Did You Forget God Today / Where Will You Be |
| 1984 | LP 12" OLD HERITAGE 004 (US) | | SHOWTIME - Tribute To The American Soldier / Sweet To Be Remembered / I've Been Everywhere / The Fiddler / Harley's Dream |
| 1985 | LP 12" ATTEIRAM AP I 1638 (US) | | LIFE ON THE ROAD - Bring Back The Good Ole Days / Don't Kick Me / Have I Just Been Wasting My Time / Life On The Road / Lilly / Listen To My Hammer Ring / My Old Hound Dog / She Won't Be Coming Back / Spring Time / Think That I Like |
| 1988 | CD OLD HERITAGE JRC 88036 (US) | | LIVE AT THE GILLEY'S - JOIN CHUBBY WISE - Katy Hill / Shakin' The Grate / Rebel Soldier / Auctioneer / Lee Highway Blues / I'm So Lonesome I Could Cry / Mansion On The Hill / Honky Tonkin' / Banks Of The Ole Pontchartrain / Footprints In The Snow / Blue Moon Of Kentucky / Jimmie Brown The Newsboy / Old Shep / Movin' On / Orange Blossom Special |
| 1988 | LP 12" OLD HERITAGE JRC 88060 (US) | | GUIDE THIS SILVER EAGLE - Happy Go Lucky / Rock Me To Sleep / Cold Rainy Morning In Wheeling / No Mother Or Dad / We'll Head Back To Harlan / America's Son / Silver Eagle / I'm Just Here To Get My Baby Out Of Jail / The Hobo / When The Bluebirds Sing |
| 08/1994 | CD REBEL CD 1695 (US) | | TOUCHIN' HOME - Wildwood Valley / Call This Country Boy Home / So My Tears Won't Show / What Happened To The Cowboy / You Don't Have To Love Me / Singin' A Blue Song / Jellico Mountain / Big Silver Moon Over Dallas / Party On The Bayou / Forgiveness Just Ain't In Her Plan / Will Heaven Be Like Kentucky / Cajun Fiddle |
| 04/2005 | CD REBEL CD 7514 (US) | | GOOD TIME BLUES - Good Time Blues / Headin' South / Atlanta Is Burning / How Will I Explain About You / These Memories Of Mine / My Night To Howl / Lady Of The Lake / Feeling Blue / The Sad Wind Sighs / The Girl In The Blue Velvet Band / Play Hank's Song Once Again / My Red River Home / You Can Mark It Down / Little Community Church |
© Rocky Productions 11/08/2011