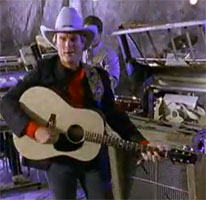 Chanteur Country US né le 7 Juin 1956 à Cooper City (Floride).

Larry Boone was born in Cooper City, FL, on June 7, 1956. He set off for Nashville in 1981, after financing a stint at Florida Atlantic University with singing gigs in local Florida honky tonks. At first, Music City was unkind to the young singer/songwriter. Boone busked on the city streets, substitute taught, and even worked as a sportswriter before finally landing a songwriting gig with MTM. In 1985, Marie Osmond charted with his song "Until I Fall in Love Again," and the exposure led to more of his songs finding singers. Nashville nice guy John Conlee would even perform Boone's "American Faces" on NBC during the 1988 Olympic Games.
In 1986, Boone signed with Mercury as a solo artist, but his initial singles didn't make much noise. Nevertheless, the label issued his full-length debut in 1988, hoping to chip some success off of the formula popularized by country hunks like Garth Brooks and Clint Black. Neither Boone nor his album found that level of fame, but the single "Don't Give Candy to a Stranger" did find the Top Ten in 1988. Meanwhile, Boone's songwriting career continued to flourish. That same year, Kathy Mattea took his "Burnin' Old Memories" to number one, and "Old Coyote Town" was a Top Ten hit for Don Williams. Boone recorded two more lukewarm LPs for Mercury before jumping to Columbia, where his 1993 album, Get in Line, was a minor chart hit. He continued to work as a songwriter, and in 1998, Lonestar hit number one with the Boone composition "Everything's Changed."
https://en.wikipedia.org/wiki/Larry_Boone
Talents : Vocals, Songwriter, Guitar
Style musical : Contemporary Country, Traditional Country

http://youtu.be/A68kDgMDQSM
Years in activity :
| | | | | | | | | | | | |
| --- | --- | --- | --- | --- | --- | --- | --- | --- | --- | --- | --- |
| 1910 | 20 | 30 | 40 | 50 | 60 | 70 | 80 | 90 | 2000 | 10 | 20 |
DISCOGRAPHY
Singles
| | | | |
| --- | --- | --- | --- |
| 06/1986 | SP MERCURY 884 858-7 (US) | . | Stranger Things Have Happened / Our Paths May Never Cross |
| 10/1986 | SP MERCURY 888 044-7 (US) | . | She's The Trip That I've Been On / Honky Tonk Song |
| 02/1987 | SP MERCURY 888 427-7 (US) | . | Back In The Swing Of Things Again / Bottom Dollar |
| 05/1987 | SP MERCURY 888 598-7 (US) | . | I Talked A Lot About Leaving / I Don't Feel Much Like A Cowboy Tonight |
| 10/1987 | SP MERCURY 870 086-7 (US) | . | Roses In December / It's Too Late Now |
| 02/1988 | SP MERCURY 870 267-7 (US) | . | Stop Me / Back In The Swing Of Things Again |
| 05/1988 | SP MERCURY 870 454-7 (US) | . | Don't Give Candy To A Stranger / Back In The Swing Of Things |
| 10/1988 | SP MERCURY 872 046-7 (US) | . | I Just Called To Say Goodbye Again / Reason For The Rain |
| 02/1989 | SP MERCURY 872 728-7 (US) | . | Wine Me Up / Old Coyotte Town |
| 06/1989 | SP MERCURY 874 538-7 (US) | . | Fool's Paradise / Under A Lone Star Moon |
| 01/1990 | SP MERCURY 876 426-7 (US) | . | Everybody Wants To Be Hank Williams / Lovesick Blues |
| 04/1990 | SP MERCURY 875 320-7 (US) | . | Too Blue To Be True / Hard Time Taking The Easy Way Out |
| 01/1991 | SP COLUMBIA 38-73710 (US) | . | I Need A Miracle / Rock On The Road |
| 05/1991 | SP COLUMBIA 38-73813 (US) | . | To Be With Me / I Still Do |
| 09/1991 | SP COLUMBIA 38-73992 (US) | . | It Wouldn't Kill Me / Keeper Of My Heart |
| 04/1993 | SP COLUMBIA 38-74913 (US) | . | Get In Line / Watermelon Time In Georgia |
| 1993 | SP COLUMBIA AX159 DJ (US) | | Get In Line / Get In Line (live) |
| 06/1993 | SP COLUMBIA 38-74994 (US) | . | Hotel Coupe De Ville / King Of The Mountain |
| | |
| --- | --- |
| | |
Albums
| | | | |
| --- | --- | --- | --- |
| 12/1987 | CD MERCURY 834377 (US) | | LARRY BOONE - Strangest Things Have Happened / Don't Give Candy To A Stranger / It's Too Late Now / Stranger's Point Of View / Reason For The Rain / Roses In December / Stop Me If You've Heard This One Before / American Faces / Honky Tonk Song / I Talked A Lot About Leaving |
| 1989 | CD MERCURY 836710 (US) | | SWINGIN' DOORS, SAWDUST FLOORS - I Just Called To Say Goodbye Again / Blue Collar Dollar / It's Our Year To See The Bluebird / Wine Me Up / Fool's Paradise / Beyond The Blue Neon / I'm Not Fool Enough To Fool Around / Old Coyote Town / Ten Times Texas / Under A Lone Star Moon |
| 01/1990 | CD MERCURY 8342256 (US) | | DOWN THAT RIVER ROAD - Everybody Wants To Be Hank Williams / Hard Time Taking The Easy Way Out / I Know Who Drove Her There / Too Blue To Be True / Best Performance By A Fool / Quarter At A Time / Gettin' Nowhere (Gettin' Over You) / Down That River Road / Moon Over Georgia / Crow Hill Road |
| 03/1991 | CD COLUMBIA 47050 (US) | | ONE WAY TO GO - Rock On The Road / I Need A Miracle / One Way To Go / It Wouldn't Kill Me / Keeper Of My Heart / Standing In The River / To Be With You / All I Have To Offer You Is Me / I Still Do / Where My Heart Aches To Be |
| 03/1993 | CD COLUMBIA 48968 (US) | | GET IN LINE - Daddy's Honky Tonk Heart / Call Me When The Sun Goes Down / Bad Intentions / Her Only Bad Habit Is Me / I Still Got (What You Got Over) / Get In Line / Hotel Coupe De Ville / She's A Yum Yum / King Of The Mountain / Watermelon Time In Georgia |
© Rocky Productions 27/10/2004