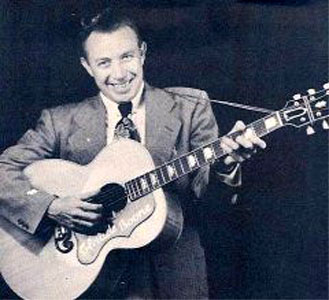 Chanteur Country US né le 18 Février 1916 à Yancey County (Caroline du Nord). Claude Boone est décédé le 23 Février 2007

Born 18 February 1916, near Asheville, Yancey County, North Carolina, USA. Although usually remembered for his songwriting abilities, Boone has performed as a singer and is also a talented guitarist. In the mid-30s, he played in Cliff Carlisle's band at WWNC Asheville and recorded with him for Bluebird and Decca Records. On 3 June 1938, working with Leon Scott as the Elk Mountain Boys, he recorded ten Decca tracks in Charlotte, including such tear-jerkers as "Don't Dig Mother's Grave Before She Is Dead" and "I'm Just A Drunkard's Child". He played WCHS Charleston with Carlisle for a time but returned to Asheville in 1939, to join Carl Story, with whom he became associated for almost 30 years. He served in the US Navy during World War II but returned to work, mainly at Knoxville, with Story's Rambling Mountaineers on his discharge. He played guitar or bass on countless Starday, Mercury, Columbia, and other recordings with the band, as well as singing harmony and some lead Vocals. At a time when all bands were expected to have a comedian, Boone created a character called Homeless Homer to fill the void. He recorded for Mercury as a solo artist in 1949, with musical backing provided by Jethro Burns, Homer Haynes (Homer And Jethro) and Anita Carter. In the mid-60s, although continuing to make some appearances with Carl Story, Boone became a staff musician at WBIR-TV Knoxville and appeared on the daily Cas Walker Show until the programme ended in 1983. Boone then decided he should concentrate on his fishing and basically retired. His numerous songs include "You Can't Judge A Book By The Cover", "Have You Come To Say Goodbye", "Heaven's My Home", "Why Don't You Haul Off And Get Religion" and "Wedding Bells". However, it appears that he actually bought the latter, which was recorded for King Records in 1947 by Bill Carlisle, from Arthur Q. Smith (James Arthur Pritchett) for $25. In view of the fact that it became a smash hit for Hank Williams and Margaret Whiting and Jimmy Wakely, it proved a very smart purchase and he later stated that he built his retirement home with the royalties. "Don't Dig Mother's Grave Before She Is Dead" was later reissued by MCA Japan on Old Timey Music (VIM 4013).
http://www.hillbilly-music.com/artists/story/index.php?id=11523
Talents : Vocals, Songwriter, Guitar, Bass Fiddle, Electric Bass
Style musical : Old-Time, Bluegrass, Honky-Tonk
Years in activity :
| | | | | | | | | | | | |
| --- | --- | --- | --- | --- | --- | --- | --- | --- | --- | --- | --- |
| 1910 | 20 | 30 | 40 | 50 | 60 | 70 | 80 | 90 | 2000 | 10 | 20 |
DISCOGRAPHY
78 t.
© Rocky Productions 2/04/2005