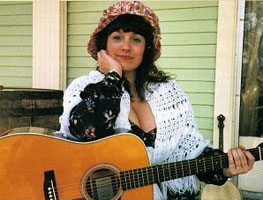 Chanteuse Country US né Ginger Kay Hammond, le 21 Septembre 1944 à Columbus (Mississippi).

Singer and bluegrass performer Ginger Boatwright was born Ginger Kay Hammond in Columbus, MS, on September 21, 1944. As a child, Ginger sang bluegrass tunes with her father, Hap Hammond, and his Magic Circle Ramblers. She grew up studying piano, but switched to guitar while studying history and sociology at the University of Alabama-Birmingham. At a 1966 Grant Boatwright concert, the guitarist invited Ginger on-stage to play. That impromptu performance led to a creative partnership, which in turn led to marriage.
By 1969, a cancer diagnosis had forced Ginger to quit the university. She focused instead on music, and made her duo with husband Grant a trio with the addition of cousin Dale Whitcomb. Christening themselves Red, White & Blue (Grass), the trio released Pickin' Up! in 1974 and a self-titled effort that same year. The group found some success outside of normal bluegrass circles, and even garnered a Grammy nomination for its debut album. Meanwhile, Ginger was also signed to the GRC imprint as a solo act, and had a hit single there in 1972 with "The Lovin's Over." (That year she also purchased The Pickin' Parlour, a Nashville club and gathering place for musician types, which she owned until 1981.) While both Ginger and Red, White & Blue (Grass) were signed to Mercury throughout the latter part of the 1970s, neither found very much success with the label. In 1979 Red, White & Blue (Grass) dissolved, and Ginger and Grant Boatwright divorced.
Ginger's next project was the Bushwhackers, an all-female countrified bluegrass band comprised of banjoist Susie Monick, bassist April Barrows, and Ingrid Reese on fiddle and guitar. The Bushwhackers' one album was issued in 1980 on Laser Lady, and they supported the record with a series of successful college tours. After the Bushwhackers broke up in 1981, Ginger joined up with banjoist Doug Dillard's backing band, where she stayed until the mid-'90s, appearing on most of the band's releases for Flying Fish. Her solo career flourished as well; 1991's Fertile Ground featured contributions from Dillard and bluegrass master Sam Bush. Boatwright also released an interesting bluegrass-jazz hybrid LP in 1994 entitled Sentimental Journey. The album featured her old pal Monick on banjo, the fiddle of Vassar Clements, and clarinetist Woody Herman. She returned in 2000 with the traditional bluegrass release Sipsey, and continued to perform sporadically with the Doug Dillard Band.
Talents : Vocals, Songwriter, Guitar, Piano
Style musical : Bluegrass, Traditional Country

http://youtu.be/FJvVqsdrjYQ
Years in activity :
| | | | | | | | | | | | |
| --- | --- | --- | --- | --- | --- | --- | --- | --- | --- | --- | --- |
| 1910 | 20 | 30 | 40 | 50 | 60 | 70 | 80 | 90 | 2000 | 10 | 20 |
DISCOGRAPHY
Singles
| | | |
| --- | --- | --- |
| 1974 | SP GRC 2034 (US) | Jukebox Band / The Lovin's Over |
| 1975 | SP GRC 2075 (US) | (David) If I Give Myself To You / ? |
| 197? | SP GRC 1008 (US) | Jukebox Band / The Lovin's Over |
| 197? | SP GRC 1010 (US) | I'm In The Middle (mono) / I'm In The Middle |
Albums
| | | | |
| --- | --- | --- | --- |
| 1974 | LP 12" GRC GA-5002 (US) | | VERY POPULAR - High Ground / July, You're A Woman / The Lovin's Over / Whittlin' / Little Bessie / Ginseng Sullivan / Johnson's Crook / Mountain Lady - Linda Ann / Make Me A Pallet / Nine Years Waltz |
| 1980 | LP 12" LASER LADY ? (US) | | THE BUSHWACKERS |
| 1991 | CD FLYING FISH FF7-550 (US) | | FERTILE GROUND - Give A Little Bit Back / Reason To Believe / Where Does All The Love Go (When It's Gone) / Nashville In The Rain / Shine Your Light / Roseville Fair / High Ground / City Ties / Get 'Em Up / Back Home To You / On My Own & Lonely / As Long As There's You |
| 1994 | CD LASERLIGHT 17027 (US) | | SENTIMENTAL JOURNEY - THE BLUEGRASS-JAZZ EXPERIENCE - One Woman's Heaven / Honey, Honey / Prisoner Of The Past / Outlaw / Sentimental Journey / Squirrel Hill / You Knock At My Memory's Door (Smoke Filled Bar) / Cover Me / 'til Love Becomes A Memory / Come To Me Gently / One Broken Heart |
| 01/2000 | CD ? (US) | | SIPSEY - Sipsey / So Long, Farewell, Goodbye / West Texas Wind / February Snow / Lonely Dreams / Loving You / Rolling Like Those Hills / If It Never Rains / Angelina Baker / This Old Train / If I Needed You / I Forgot To Think Of You Again / Ocean |
| 04/2007 | CD GFA ? (US) | | INSIDE THE GATE - Inside The Gate / In The Garden (The Passion Play) / Keep On The Firing Line / How Far Is Heaven / At Calvary / Broken Old Tree / Old Country Church / Robes Whiter Than Snow / Victory In Jesus / Supper Time / Hand In Hand With Jesus / He Took Your Place / Almost Persuaded |
© Rocky Productions 29/03/2005