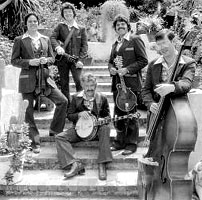 Groupe Country US formé en 1974 à Los Angeles (Californie), composé de Don Parmley, David Parmley, Larry Stephenson, Mike Hartgrove et Dale Perry. Ancien membres : Norman Wright et John Davis. Bluegrass Cardinals s'est dissous en 1997.

The Bluegrass Cardinals came together in Los Angeles in 1974 when banjoist Don Parmley and mandolinist Randy Graham teamed up with Parmley's 15-year-old son, David, to form what was to become a successful bluegrass trio who wielded considerable influence from the latter half of the '70s through the early '90s. Don Parmley and Randy Graham's partnership had preceded the official start of the band by seven years when they started a musical friendship after the demise of Parmley's previous group, the Hillmen (whose leader, Chris Hillman, found success as a member of the Byrds), and so it seemed natural to grow into a trio with the addition of the younger Parmley. In 1976, the three moved from southern California to Virginia and cut their self-titled debut album for Sierra Records, followed by their 1977 Rounder offering, Welcome to Virginia. These two albums quickly cemented the oft-described "Cardinal sound," which dealt mainly with the intricate harmonies centered around David Parmley's lead Vocals, his dad's baritone, and Graham's high tenor.
Almost off the bat, the Bluegrass Cardinals shuffled through countless lineups and proved a springboard for many bluegrass musicians, including fiddler Dennis Fetchet, bassist Bill Bryson, and mandolinist Larry Stephenson. They recorded several albums in the late '70s and early '80s for the CMH label with these and a slew of other fine musicians as well as making several appearances on the Grand Ole Opry before settling with Sugar Hill Records for three albums between 1983-1986. In 1991, Don and David took a short hiatus to record Parmley and McCoury — Families of Tradition with Del McCoury and his two sons, Ronnie and Rob McCoury, and by 1992, David chose to leave the Cardinals and pursue his own solo career. He recorded three albums under his own name and then reunited with original Bluegrass Cardinal fiddler Randy Graham in 1995 to form the Continental Divide. The Bluegrass Cardinals continued on until 1997, when Don Parmley announced his retirement from the music business. In late 2002, CMH Productions released a collection put together by David Parmley titled The Essential Bluegrass Cardinals.
https://en.wikipedia.org/wiki/Bluegrass_Cardinals
Talents : Don Parmley : Banjo, Baritone Vocals - David Parmley : Guitars, Lead & Harmony Vocals - Larry Stephenson : Mandolin, Guitar, Tenor Vocals - Mike Hartgrove : Fiddle, Harmony Vocals - Dale Perry : Bass Guitar, Bass Vocals - Norman Wright : Mandolin, Lead Guitar, Lead & Harmony Vocals - John Davis : Acoustic Bass, Harmony Vocals
Style musical : Bluegrass

https://youtu.be/Nhrcdgc3TWc
Years in activity :
| | | | | | | | | | | | |
| --- | --- | --- | --- | --- | --- | --- | --- | --- | --- | --- | --- |
| 1910 | 20 | 30 | 40 | 50 | 60 | 70 | 80 | 90 | 2000 | 10 | 20 |
DISCOGRAPHY
Single
| | | |
| --- | --- | --- |
| 1979 | SP CMH 1523 (US) | Tribute To Lester Flatt / Lester's Gone |
Albums
03/1976
LP 12" BRIAR 4205 (US)
THE BLUEGRASS CARDINALS - Roll On Muddy River / She Keeps Hangin' On / Journey To My Savior's Side / Lorene / We Know The Man / Cora's Gone / Ridin' The L And N / Blue Eyed Boston Boy / Plant Some Flowers / Darcy Farrow / Jesus Lead Me Evermore / Mississippi River Man
1977
LP 12" ROUNDER 97 (US)
WELCOME TO VIRGINIA -

Roll On Muddy River / She Keeps Hangin' On / Journey To My Savior's Side

/

Lorene

/

We Know The Man

/

Cora's Gone

/

Ridin' The L And N

/

Blue Eyed Boston Boy

/

Plant Some Flowers

/

Darcy Farrow

/

Jesus Lead Me Evermore

/

Mississippi River Man

12/1978
LP 12" CMH 6229 (US)
LIVIN' IN THE GOOD OLD DAYS - I Think We're Livin' In The Good Old Days / Knee Deep In Loving You / Dedication To Lester Flatt / Sweet Hour Of Prayer / On Down The Line / I Wonder Where You Are Tonight / First One To Love You / Greener Pastures / You Took All The Ramblin' Out Of Me / Uncle Billy Play Your Fiddle For Me
08/1979
LP 12" CMH 6235 (US)
CARDINAL SOUL - Low And Lonely / Nothing Can Stop My Loving You / With Half A Heart / Blue Is The Color Of Lonesome / I Feel Good / Gift Of Love / Don't Give Up On Me / 32 Acres / Old Man In The Park / I've Had A Time / Mountain Laurel
1980
LP 12" CMH 6247 (US)
SUNDAY MORNIN' SINGIN' - Sunday Mornin' Singin' / Crossing Of Jordan / He Is Near / Carpenter Of Wood / Shine Hallelujah Shine / March Around The Throne / Touch Of God's Hand / Angel Rock Me To Sleep / From Craddle To Cross To Crown / Just A Little Talk With Jesus / Sailing For Glory / Sweet Hour Of Prayer / First Time I Heard About Heaven / Where Rainbows Touch Down / I Hope That My Lord Will Let Me In / Old Fashioned Preacher / Don't Give Up On Me / That's The Way I Want To Go
06/1980
LP 12" CMH 9023 (US)
LIVE AND ON STAGE - Pretty Red Wing / Ramblin' Fever / Day I Lose My Mind / 18 Wheels / Tribute To Lester Flatt / Leather Britches / Don't Come Running / Sing A Family Song / Old Fashioned Preacher / Riverdale Flash / Somewhere Tonight / Mansion On The Hill / Take Your Shoes Off Moses / Feudin' Banjos / I Love You Because / Banjo Signal / Time Changes Everything / East Tennessee Blues / Draggin' The Bow / Dear Old Dixie / Village Bells Hornpipe / Lil' Liza Jane / Earl's Breakdown / Come Walk With Me / Carry Me Back To Old Tennessee / I Know You're Married (But I Love You Still) / Lee Highway Blues
1981
LP 12" CMH 6259 (US)
WHERE THE RAINBOWS TOUCH DOWN - Where Rainbow Touch Down / Morristown / Lifegate / Apple Trees And Honey Bees / Wasting Away / First Time I Heard About Heaven / Running Around / I Hope My Lord Will Let Me In / I Know It's Wrong To Love You / Lee Berry Rye
10/983
LP 12" SUGAR HILL 3731 (US)
CARDINALS CLASS - Puylleybone Gayden / Warm Kentucky Sunshine / Rolling Away / Is Your Heart Right With God / Country Poor And Country Proud / Way Out There / Thistles And Roses / Up And Down The Mountain / That Home Above / I've Heard The Wind Blow / Gravel In Your Shoe
08/1984
LP 12" SUGAR HILL 3741 (US)
HOME IS WHERE THE HEART IS - Be Good To My Little Baby Girl / Rebel's Last Request / I Don't Believe You've Met My Baby / Home Is Where The Heart Is / Wicked Path Of Sin / Slowly / Five Days Of Heaven / Slowly Getting You Out Of The Way / It Rained / Tiny Broken Heart / Colorado / It's Mighty Dark To Travel
1986
LP 12" SUGAR HILL 3751 (US)
SHINING PATH - Wash The Feet Of Jesus / Bring Him Your Talents / Just Let Me Fall / Live Beyond The Grave / Shining Path / My Lord's Been A Walkin' / I Will / Way Down Deep In My Soul / Carpenter Shop / What Would I Do Without Your Son / That's The Way I Want To Go / Land Of The Living / Packin' Up And Gettin' Ready
02/1997
CD COOPER CREEK 153 (US)
THE BLUEGRASS CARDINALS - Bird Dog / Girl At The Crossroads Bar / I Couldn't Believe It Was True / Baby Rocked Her Dolly / Prisoner's Song / Where No One Stands Alone / Are You Missing Me / Leaving Harlan / There Is A Fountain / My Aching Heart / Never Ending Sea Of Love / Rollin' On
11/2002
CD CMH 8415 (US)
THE ESSENTIAL BLUEGRASS CARDINALS - Knee Deep In Lovin' You / I Wonder Where You Are Tonight / Blue Is The Color Of Lonesome / I've Had A Time / 32 Acres / Morristown / Where Rainbows Touch Down / Old Man In The Park / Mountain Laurel / With Half A Heart / Don't Give Up On Me / Shine Hallelujah Shine / Carpenter Of Wood / Crossing Of Jordan / Angels Rock Me To Sleep / Sweet Hour Of Prayer / First Time I Heard About Heaven / Pretty Red Wing / Eighteen Wheels / Don't Come Running / Jubilee Road / I Know It's Wrong To Love You / Lee Berry Rye / Uncle Billy Play Your Fiddle For Me
© Rocky Productions 12/04/2011