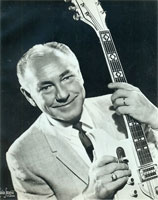 Chanteur Country US né Donald F. Blanchard, le 24 Juillet 1914 à Pittsville (Wisconsin). Red Blanchard est décédé le 24 Février 1980.

Donald (Red) Blanchard was known to be a comic extraordinaire. Not to mention also being the Honorary Mayor of Pittsville, Wisconsin. Red was emcee of a show called "Smile-A-While" and he was heard on many other programs, too. He was also said to have played some 'weird' instruments (though none were described, so we'll keep researching this...) and was said to be just as funny off the air as we was on the air. Red had an easy manner with any audience, with a simple 'over-the-back-fence' attitude that kept the audience in constant chuckles and laughter.
He was born in Pittsville, Wisconsin on July 24, 1914 (Cowboy Songs No. 20 May 1952 infers the date to be "July 2th"). When he was four, his family moved out to a farm. There, he started learning the banjo and mandolin while his mom would play the reed organ (the neighbors were out of earshot then, so practice he could). He made his first public appearance at the Methodist Church, with his brother. He strummed the banjo while his brother Mervyn played the mandolin and their mom was in the first pew to help signal Red when to change chords.
Cowboy Songs No. 20 lets Red remember when he spent all of $1.50 for that first guitar. When he finally got so he was able to play "The Wreck of the Old 97" to the point where he could play and sing at the same time, he went over to his neighbors so they could hear him; he was proud of that moment.
Red's early musical inspirations came from the old Blue Yodeler Jimmie Rodgers as well as Bradley Kincaid and others at WLS.
He did have an ambition to be a cowboy singer. He went so far as to learn how to do rope tricks like the cowboys back then did on stage. He got to be pretty good and his reputation got around town. So good in fact that the town had him come along as part of a booster caravan to go on down to the annual Indiana Pow-wow. All of that led to Red's first radio appearance on WLBL in Stevens Point, Wisconsin.
When he was 16, he moved to Milwaukee and stayed with his two brothers who were already there, Hillis and Nolney. Red stepped right into performing then, too - entering amateur contests and singing on station WISN. Right about then, the manager of the Roof Ballroom in Milwaukee, George Devine, got interested in Red's talents and then took him to the Riverside theatre where he was booked with the Weaver Brothers and Elviry. About that time it seemed like Red might be starting to be in the big time. But, he ended up turning down his first professional offer as the Weavers were going to California and Red, even though he was only in Milwaukee, was homesick. California was out of the question then.
But, George Devine wasn't one to give up. He kept nudging Red along. It seems about that time George had an act from WLS booked up there - Rube Tronson and his Texas Cowboys. And proceeded to have Red perform with them. Folks took a liking to Red and after a long spell of about a week, he joined Tronson's crew and was known as "The Texas Yodeler". Red traveled in about a 500 mile radius around Chicago with Rube Tronson's crew from 1931 to 1938 - when Rube died and the group broke after that. He joined three other guys and went West about that time.
Then, seems like he might be heading back home again. A cousin, Carl Otto, was editor of a newspaper back in Wisconsin Rapids and had just started up radio station WFHR. Red said his cousin was kind and hired him as the talent director for the station.
Like so many during those times, World War II entered his life. He entered basic training at Fort Lewis, Washington. WFHR gave him a big old send-off and had special farewell programs from all three of their studios in Wisconsin Rapids, Stevens Point and Marshfield. After that stint in basic training, he was put into public relations and was also on war bonds shows with an outfit known as the "Stars and Gripes". That group went out to the Pacific arena and along went Red with them too as the emcee and comedian. They did shows on hundreds of ships at the Admiralty Islands, at mess halls and barracks, gunemplacements, hospitals and even the Philippine Islands. While he was out in the Pacific, Red ran into Jack Benny, the comedy legend, who said Red was the finest natural comedian he had ever seen. Ever talented, during those times, he also produced "Your Date With Fort Lewis", a feature of the Western Division of the Mutual Network.
When the war ended, Red went on to WLS around 1946. There he met a little square dancer named Marcella, but everyone called her Sally. They said he "...indulged in a long, tedious 17-day courtship" and they were married on August 11, 1946. He often joked about his large family of "keeds" but Sally and he had only one son, Donald, Jr.
Red was heard on the Murphy Jamboree that was on from 8:30-9:00, on the Pequot Barn Dance Show from 10:30-11:00 and was the emcee on the 10:00-10:30 portion of the National Barn Dance. He was also heard each weekday at 5:00am on the WLS show, "Smile-A-While". On top of that, he was also featured on the Monday program called "Bob Atcher Presents".
Like many stars of the National Barn Dance back then, he toured extensively with many of the cast. He was seen by thousands who visited the Prairie Farmer tent at the midwest state fairs.
You can also hear Red's emcee talents on the Kapp LP entitled "Saturday Night At The Old Barn Dance" (Kapp KS-3442). This captures the Barn Dance along about the time it had moved to WGN in Chicago, so that would place it in the 1960s.
http://www.hillbilly-music.com/artists/story/index.php?id=12115
https://en.wikipedia.org/wiki/Red_Blanchard
Talents : Vocals, Songwriter, Guitar
Style musical : Country & Western / Comedy
Years in activity :
| | | | | | | | | | | | |
| --- | --- | --- | --- | --- | --- | --- | --- | --- | --- | --- | --- |
| 1910 | 20 | 30 | 40 | 50 | 60 | 70 | 80 | 90 | 2000 | 10 | 20 |
DISCOGRAPHY
78 t. & Singles
| | | |
| --- | --- | --- |
| 07/1954 | 78 t. COLUMBIA 40280 (US) | Red Blanchard Dig That Crazy Mixed-Up Kid / Captain Hideous (King Of Outer Space) |
| 07/1954 | SP COLUMBIA 4-40280 (US) | Red Blanchard Dig That Crazy Mixed-Up Kid / Captain Hideous (King Of Outer Space) |
| 1956 | SP Kahill KA 1019 (US) | Oklahoma Hills (Dolph Hewitt & Red Blanchard) / Blue Tennessee Rain (Dolph Hewitt) |
| 08/1956 | 78 t. DOT 15485 (US) | Ape Call (Nervous NORVUS / Ape Calls: Red BLANCHARD) / Wild Dog Of Kentucky (Nervous NORVUS) |
| 08/1956 | SP DOT 45-15485 (US) | Ape Call (Nervous NORVUS / Ape Calls: Red BLANCHARD) / Wild Dog Of Kentucky (Nervous NORVUS) |
| 10/1956 | 78 t. DOT 15500 (US) | The Fang (Nervous NORVUS & Red BLANCHARD & The SMOGROLLERS) / The Bullfrog Hop (Nervous NORVUS) |
| 10/1956 | SP DOT 45-15500 (US) | The Fang (Nervous NORVUS & Red BLANCHARD & The SMOGROLLERS) / The Bullfrog Hop (Nervous NORVUS) |
| 10/1957 | SP COLUMBIA 4-41051 (US) | Captain Hideous (King Of Outer Space) / Zorch! |
| 01/1959 | SP DOT 45-15901 (US) | Open The Door Richard (Part I) / Open The Door Richard (Part II) |
Albums
| | | | |
| --- | --- | --- | --- |
| 196? | LP 12" EVERGREEN EGLP-3005 (US) | | DONALD "RED" BLANCHARD'S COMMAND PERFORMANCE BEFORE HIS FAN CLUB - Donald "The Hunter" / Donald "The Policeman" / Donald "The Fisherman" / Donald "The Fireman" / Donald "The Athlete / She's Went And Gone Away / Too Many People / The Cow Song / How Can I Miss You, If You Won't Go Away / It's Lonesome In The Saddle, Since My Old Horse Died |
| 04/2014 | CD Righteous 2520533 (UK) | | Zorch! Transfusion Time With Nervous Norvus And Red BLANCHARD - Nervous NORVUS : Transfusion / Dig / Ape Call / Wild Dog Of Kentucky / The Fang / Nervous NORVUS & Red BLANCHARD & The SMOGROLLERS : Bullfrog Hop / Nervous NORVUS : Stoneage Woo / I Like Girls / The Plaster Song / Cowboy Soldier / Wa-Hoo / Nervous NORVUS & His Guitar : Does A Chinese Chicken Have A Pigtail? / Singing Jimmy DRAKE : Stop Your Foolin' / Jimmy DRAKE : Kibble Kobble (The Flying Saucer Song) / The Lean Green Vegetable Fiend (From 'Tuther Side Of The Moon) / FOUR JOKERS : Transfusion / The PARIS SISTERS with Jimmy DIAMOND & His SPARKLING MUSIC : Zorch Boogie / The Bully Bully Man / Red BLANCHARD : Zorch! / Red BLANCHARD with Paul WESTON & His Orchestra : Dig That Crazy Mixed-Up Kid / Nervous NORVUS : The Bully Bully Man / Jimmy DRAKE : Orphan's Christmas Song / Scatman CROTHERS : Transfusion |
© Rocky Productions 21/07/2023