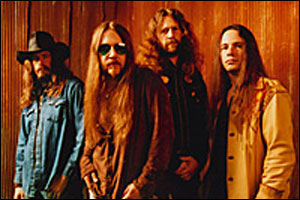 Groupe Southern Rock US fondé en 2000 et basé à Atlanta (Georgie). Les Blackberry Smoke se compose de Charlie Starr, Paul Jackson, Richard Turner, Brandon Still et Brit Turner.



Blackberry Smoke brought Southern rock into the 21st century by ignoring fashion and sticking to the gospel according to Lynyrd Skynyrd. The Atlanta, Georgia-based quintet led by singer/songwriter Charlie Starr adapted Skynyrd's greasy blend of hard rock, blues, and country to their own ends, developing a muscular, straight-ahead sound that was showcased well on 2012's The Whippoorwill. Their first album to chart -- it reached 40 on Billboard's Top 200 and number eight on its country charts -- it lay the foundation for a strong, steady career, one that Blackberry Smoke cultivated with constant touring and steady recording. By 2021, when they released You Hear Georgia on Thirty Tigers, the band had two number one Country albums to their name -- 2015's Holding All the Roses and the following year's Like an Arrow -- and were known as a reliable quantity, a band who continued to deliver the kind of rock & roll that was made back in the good old days of the 1970s.
Blackberry Smoke -- singer/guitarist Charlie Starr, guitarist/singer Paul Jackson, bassist/singer Richard Turner, keyboardist Brandon Still, and drummer Brit Turner -- formed in Atlanta, Georgia in 2000 and quickly built a loyal fan base on the Southern tour circuit, opening for such top-tier acts as Lynyrd Skynyrd, ZZ Top, the Zac Brown Band, George Jones, and others.
The group released a debut album, Bad Luck Ain't No Crime, in 2004 on Cock of the Walk Records, then followed it with the self-released EP New Honky Tonk Bootlegs in 2008. A second EP, Little Piece of Dixie, appeared from Big Karma Records that same year. A full-length album, this one also called Little Piece of Dixie, was released in 2009 by BamaJam Records. The band then signed with Zac Brown's Southern Ground Records, which released The Whippoorwill in 2012. The album was picked up by Earache, which formally signed the band in 2013. A deluxe live audio and video package titled Leave a Scar: Live North Carolina was issued in the summer of 2014.
Later that year, the band left Brown's label and signed a deal with Rounder in the U.S. (Earache remained the group's European label). Taking a short break from touring, they entered the studio with producer Brendan O'Brien and emerged less than two weeks later with Holding All the Roses, then went straight back to working on the road. The album was released in February of 2015, debuting at number one on the Billboard country charts. Blackberry Smoke returned in the autumn of 2016 with Like an Arrow, their second album for Rounder. Throughout the following year, they were on the road to support it and returned to the studio to record their sixth full-length. The resulting Find a Light -- which saw them joined by guests pedal steel player Robert Randolph, violinist and vocalist Amanda Shires, and folk outfit the Wood Brothers -- was released in spring 2018. The set entered the Top Three of the U.S. country and indie charts, peaking just outside the Top 30 on the Billboard 200. A concert album, Homecoming: Live in Atlanta, appeared the next year and was recorded at the band's hometown venue, The Tabernacle. Another live set, this time captured at Macon, Georgia's famed Capricorn Studios, was released as the 2020 EP Live from Capricorn Sound Studios. For the recording of their seventh studio album, 2021's You Hear Georgia, Blackberry Smoke decamped to Nashville with the multi-Grammy Award-winning Dave Cobb. Jamey Johnson and Warren Haynes made guest appearances on "Lonesome for a Livin'" and "All Rise Again," respectively, while the title track challenged common stereotypes of their Georgia homeland.
http://www.myspace.com/blackberrysmoke
https://en.wikipedia.org/wiki/Blackberry_Smoke
Talents : Charlie Starr : Vocals, Guitar - Paul Jackson : Guitar - Richard Turner : Basse - Brandon Still : Keyboard - Brit Turner : Drums
Style musical : Southern Rock, Traditional Country, Country-Rock

http://www.youtube.com/watch?v=Z1foKI85AZc
Years in activity :
| | | | | | | | | | | | |
| --- | --- | --- | --- | --- | --- | --- | --- | --- | --- | --- | --- |
| 1910 | 20 | 30 | 40 | 50 | 60 | 70 | 80 | 90 | 2000 | 10 | 20 |
DISCOGRAPHY
Single & EP
2003
CD BamaJam BJAM-01005 (US)

New Honky Tonk Bootlegs - Son Of A Bourbon / Lesson In A Bottle / Keep On Keepin On / The Only Thing She Left Behind / Livin Hell / Livin Hell (dirty version)

2007
CD Auto-Production (US)
MEMPHIS SPECIAL BLUE GRASS - Will My Soul Pass Through The Southland / Cradle Of Love / Memphis Special
10/2008
CD ANDRENALINE ? (US)
LITTLE PIECE OF DIXIE - THE EP - Up In Smoke / Good One Coming On / I'd Be Lying / Shake Your Magnolia / Lesson In A Bottle (video)
2008
CD ANDRENALINE ? (US) (promo)

Good One Coming On

11/2013
EP 12" 33 t. Southern Ground Artists ? (US)
Lynyrd Skynyrd &

Blackberry Smoke

‎–

Live 12" Vinyl Split -

Lynyrd Skynyrd

(live Solvesburg, Sweden 6/9/12) :

What's Your Name /

That Smell / Simple Man /

Blackberry Smoke

(Live Winston Salem, NC 4/12/13) :

Six Ways To Sunday /

Pretty Little Lie / Ain't Much Left Of Me

02/2014
CD Earache ? (EUR) (promo)

Shakin' Hands With The Holy Ghost

2014
CD Earache ? (EUR) (promo)

Let Me Help You (Find The Door) (radio edit) / Let Me Help You (Find The Door) (album version)

2014
CD Earache ? (EUR) (promo)

Too High

2014
CD Earache ? (EUR) (promo)

Pretty Little Lie - Pretty Little Lie (radio edit) / Pretty Little Lie (album version)

2014
CD Earache ? (EUR) (promo)

One Horse Town (radio edit)

2015
EP 10" Rounder 11661-37014-01 (US) (limited edition)

Wood, Wire & Roses - Too High / Living In The Song / Woman In The Moon / Lay It All On Me / Let Me Help You (Find The Door) / Old Shoes (And Picture Postcards)

2015
CD Rounder 11661-36947-02 (US)

Rock And Roll Again / Too High

2015
CD Rounder PRO-RO-0622 (US) (promo)

Too High (Radio Edit) -

Too High (album version) / Too High (acoustic version)
2015
CD Earache ? (EUR) (promo)

Rock 'n' Roll Again

2016
SP 10" 3 Legged LG-07 (F)

Pearls / The Rover

2016
CD Earache ? (EUR) (promo)

Let It Burn

2017
CD Earache ? (EUR) (promo)

Pretty Little Lie / Believe You Me

10/2019
EP 10" 3 Legged 3LG10LP (EUR)

The Southern Ground Sessions -

Run Away From It All / Medicate My Mind / Let Me Down Easy / Best Seat In The House / You Got Lucky / Mother Mountain
10/2018
CD 3 Legged 3LG10CD (EUR)

The Southern Ground Sessions - Run Away From It All / Medicate My Mind / Let Me Down Easy / Best Seat In The House / You Got Lucky / Mother Mountain

2018
CD Earache ? (EUR) (promo)

Find A Light - Let Me Down Easy (featuring - Amanda Shires) / Best Seat In The House / Run Away From It All

06/2020
EP 12"33 t. 3 Legged 860003617502 (US)

Live From Capricorn Sound Studios - Take The Highway / Grits Ain't Groceries / Keep On Smiling / Southern Child / Revival / Midnight Rider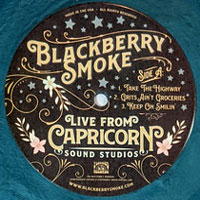 Albums
2006
CD Auto-Production (US)
BAD LUCK AIN'T NO CRIME - Testify / Sanctified / Another Chance / Nothing For You / Normaltown / Train Rollin' / Angeline / Sure Was Good / Scare The Devil / Muscadine / Freeborn Man
09/2009
CD STROUDAVARIOUS 01001 (US)
LITTLE PIECE OF DIXIE - Good One Comin' On / Like I Am / Bottom Of This / Up In Smoke / Sanctified Woman / Who Invented The Wheel / I'd Be Lyin' / Prayer For The Little Man / Restless / Shake Your Magnolia / Freedom Song
08/2012
CD SOUTHERN GROUND SGA0122 (US)
THE WHIPPOORWILL - Six Ways To Sunday / Pretty Little Lie / Everybody Knows She's Mine / One Horse Town / Ain't Much Left Of Me / The Whippoorwill / Lucky Seven / Leave A Scar / Crimson Moon / Ain't Got The Blues / Sleeping Dogs / Shakin' Hands With The Holy Ghost / Up The Road
06/2014
2 CD 3 Legged 00160 (US)

Leave a Scar - Live North Carolina :

CD 1 : Shakin' Hands With The Holy Ghost / Sanctified Woman / Testify / Good One Comin' On / Six Ways To Sunday / Ain't Got The Blues / Lucky Seven / Pretty Little Lie / Restless / Up In Smoke / Crimson Moon / The Whippoorwill / Son Of The Bourbon
CD 2 : Everybody Knows She's Mine / One-Horse Town / Lesson In A Bottle / Ain't Much Left Of Me / Leave A Scar / Sleeping Dogs / Payback's A Bitch / Up The Road / Shake Your Magnolia

07/2014
2 CD + DVD Earache MOSH 520CD (US)

Leave a Scar - Live North Carolina :

CD 1 : Shakin' Hands With The Holy Ghost / Sanctified Woman / Testify / Good One Comin' On / Six Ways To Sunday / Ain't Got The Blues / Lucky Seven / Pretty Little Lie / Restless / Up In Smoke / Crimson Moon / The Whippoorwill / Son Of The Bourbon
CD 2 : Everybody Knows She's Mine / One-Horse Town / Lesson In A Bottle / Ain't Much Left Of Me / Leave A Scar / Sleeping Dogs / Payback's A Bitch / Up The Road / Shake Your Magnolia
DVD : Introduction - Band History / Shakin' Hands With The Holy Ghost / Sanctified Woman / Testify / The Turner Brothers / Good One Comin' On / Six Ways To Sunday / The Band Grows / Ain't Got The Blues / Lucky Seven / Paul & Brandon / The Pretty Little Lie / Restless / The Tour Family / Up In Smoke / Crimson Moon / Hat Contest / The Whippoorwill / Son Of The Bourbon / Charlie Starr / Everybody Knows She's Mine / One Horse Town / To The Wind / Lesson In A Bottle / Ain't Much Left Of Me / Leave A Scar

02/2015
CD Earache MOSH 537CD (US)

Holding All the Roses -

Let Me Help You (Find The Door) / Holding All The Roses / Living In The Song / Rock And Roll Again / Woman In The Moon / Too High / Wish In One Hand / Randolph County Farewell / Payback's A Bitch / Lay It All On Me / No Way Back To Eden / Fire In The Hole
10/2016
CD 3 Legged 97013 (US)

Like an Arrow -

Waiting For The Thunder / Let It Burn / The Good Life / What Comes Naturally / Running Through Time / Like An Arrow / Ought To Know / Sunrise In Texas / Ain't Gonna Wait / Workin' For A Workin' Man / Believe You Me / Free On The Wing
04/2018
CD 3 Legged / Thirty Tigers 3LG 09CD (US)

Find a Light - Flesh And Bone / Run Away From It All / The Crooked Kind / Medicate My Mind / I've Got This Song / Best Seat In The House / I'll Keep Ramblin' / Seems So Far / Lord Strike Me Dead / Let Me Down Easy / Nobody Gives A Damn / Till The Wheels Fall Off / Mother Mountain

11/2019
2 CD 3 Legged 3LG11 (US)

Homecoming - Live In Atlanta, Georgia 2018 :

CD 1 : Nobody Gives A Damn / Waiting For The Thunder / Pretty Little Lie / Let It Burn / Best Seat In The House / Medicate My Mind / Sleeping Dogs / Run Away From It All / Running Through Time / Lord Strike Me Dead /

Mother Mountain

CD 2 : Ain't Got The Blues / Free On The Wing / One Horse Town / I'll Keep On Ramblin / Flesh And Bone / Not Fade Away / Ain't Much Left Of Me /

Bonus Tracks :

Up The Road / Payback's A Bitch / Space Captain

12/2019
3 LP 12" 3 Legged MOSH631LP (US)

Homecoming - Live In Atlanta, Georgia 2018 :

DISC 1 : Nobody Gives A Damn / Waiting For The Thunder / Pretty Little Lie / Let It Burn / Best Seat In The House / Medicate My Mind / Sleeping Dogs
DISC 2 : Run Away From It All / Running Through Time / Lord Strike Me Dead /

Mother Mountain /

Ain't Got The Blues / Free On The Wing
DISC 3 : One Horse Town / I'll Keep On Ramblin / Flesh And Bone / Not Fade Away / Ain't Much Left Of Me

05/2021
CD 3 Legged 3LG14CD (US)

You Hear Georgia - Live It Down / You Hear Georgia / Hey Delilah / Ain't The Same / Lonesome For A Livin' (with Jamey JOHNSON) / All Rise Again (with Warren HAYNES) / Old Enough To Know / Morningside / All Over The Road / Old Scarecrow

11/2021
LP 12" 3 Legged 3LG15LP

Stoned - All Down The Line / Sway / Can't You Hear Me Knockin' / Tumbling Dice / Just My Imagination (Running Away With Me) / I Got The Blues / Street Fighting Man
© Rocky Productions 26/03/2022