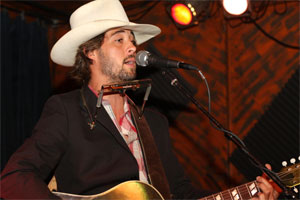 Chanteur Country US né le 31 Mars 1981.à Hobbs (Nouveau Mexique).

Americana singer/songwriter Ryan Bingham was raised in rural Texas, where years of hardscrabble ranch work and competitions on the rodeo circuit would eventually surface in the dusty riffs of his country-styled debut, Mescalito. Living alone since his mid-teens, Bingham shuttled back and forth between Southwestern border towns and relatives' homes, often sleeping in his truck after nightly rodeo gigs. It was during those treks that he began entertaining friends with the guitar, an instrument he'd learned at the age of 17 from a mariachi neighbor. Drawing inspiration from Bob Dylan, Marshall Tucker, and Bob Wills — all of whom populated the jukebox of The Halfway Bar, a roadhouse owned by Bingham's uncle (whose musical tastes influenced those of his nephew) — Bingham fashioned a road-weary sound that soon piqued the interest of a barroom proprietor in Stephenville, TX. Bingham was offered a weekly residency at the bar; soon after, he began issuing such self-released albums as Lost Bound Rails and Wishbone Saloon. The popular material was brought to the attention of Nashville heavyweights Lost Highway Records, who signed Bingham and issued his major-label debut, Mescalito (featuring production by Marc Ford, former guitarist for the Black Crowes), in October 2007.
Mescalito was well received by critics, with Rolling Stone aptly comparing Bingham's raw, scratchy voice to that of "Steve Earle's dad." After supporting the album with ample tour dates, the songwriter reprised his relationship with Marc Ford, who produced 2009's Roadhouse Sun. Later that year, he joined another music veteran -- producer/songwriter T-Bone Burnett -- in contributing music to the film Crazy Heart. Revolving around the the attempted comeback of a down-and-out country singer, Crazy Heart became one of the year's highest-praised films and won a Golden Globe and an Oscar for "The Weary Kind," one of Bingham's original compositions written with T-Bone Burnett, the soundtrack's musical director and producer. Bingham and his band the Dead Horses followed it with the album Junky Star in September of 2010, produced by Burnett. Bingham left Lost Highway after three albums and released 2012's Tomorrowland, recorded in Malibu, CA and co-produced by Bingham and Justin Stanley, on Bingham's own newly created Axster Bingham Records imprint.
http://www.myspace.com/ryanbingham
https://en.wikipedia.org/wiki/Ryan_Bingham
Talents : Vocals, Guitar, Songwriter
Style musical : Americana, Country Folk

http://www.youtube.com/watch?v=zelvaxvTaUk
Years in activity :
| | | | | | | | | | | | |
| --- | --- | --- | --- | --- | --- | --- | --- | --- | --- | --- | --- |
| 1910 | 20 | 30 | 40 | 50 | 60 | 70 | 80 | 90 | 2000 | 10 | 20 |
DISCOGRAPHY
Singles & EP
2007
CD LOST HIGHWAY MRNR-02821-2 (US) (promo)
Southside Of Heaven

[radio edit]

/ Southside Of Heaven

[radio edit] /

Southside Of Heaven

[radio edit]

2007
CD LOST HIGHWAY RBSOUTHCDP1 (EUR) (promo)
.
Southside Of Heaven

[radio edit]

2008
CD LOST HIGHWAY MRNR-02846-2 (US) (promo)
.
Bread And Water

[radio edit]

/ Bread And Water

[radio edit]

/ Bread And Water

[radio edit]

2008
CD LOST HIGHWAY RBWATERCDP1 (EUR) (promo)
.
Bread And Water

[radio edit]

11/2014
EP 10" AXSTER BINGHAM ? (US) (limited edition)

Bootleg No 1 - Radio (album version) / For Anyone's Sake (alternate version) / My Diamond Is Too Rough (original demo) / Island In The Sky (original demo)
Albums
2002
CD

Not On Label ?

(US)
LOST BOUND RAILS - Oil Field Man / Hang On / The Water Hole / Lost Bound Rails / Won't You Come Down / Moonshine / Running Wide Open / I Been Burned / Pearl Street / Texas Song / Pocket For Change / Lonnie Mack / Las Vegas / Boys Town / No Federales In Sight
2002
CD

Not On Label ?

(US)

Wishbone Saloon - Freight Train / Wishbone Saloon / Bandito / Roadhouse Gypsy / Hurricane / Boys Town / Honey / Honkytonk Man / Long Way From Georgia / Southside Of Heaven / The Highway

05/2006
CD LONE STAR MUSIC ? (US)
DEAD HORSES - Big Country Sky / Dollar A Day / Sunrise / Long Way From Georgia / Ghost Of Travelin' Jones / Barochos Station / Southside Of Heaven / Other Side / Don't Wait For Me / Ever Wonder Why
2006
CD

Not On Label ?

(US)

Poor Boy's Amen - Southside Of Heaven / Low And Sweet / Cowboys And Coyotes / Bad Case Of Gone / Honkytonks Call My Name / In One Place / Pearl St. / Moonshine Sweat / One More / Poor Boy's Amen / Losing My Mind / Halfway / Texas Song

10/2007
CD LOST HIGHWAY 000939602 (US)
MESCALITO - Southside Of Heaven / The Other Side / Bread And Water / Don't Wait For Me / Boracho Station / Sunshine / Ghost Of Travelin' Jones / Hard Times / Dollar A Day / Take It Easy Mama / Long Way From Georgia / Ever Wonder Why / Sunrise / For What It's Worth
2007
CD LOST HIGHWAY MRNR-02811-2 (US) (sampler)
SELECTION FROM MESCALITO - Southside Of Heaven / The Other Side / Bread & Water / Don't Wait For Me / Boracho Station / Dollar A Day
06/2009
CD LOST HIGHWAY 001273902 (US)
ROADHOUSE SUN - Day Is Done / Dylan's Hard Rain / Tell My Mother I Miss Her So / Country Roads / Bluebird / Snake Eyes / Endless Ways / Change Is / Rollin Highway Blues / Hey Hey Hurray / Roadhouse Blues / Wishing Well
08/2010
CD LOST HIGHWAY 14540 (US)
JUNKY STAR - (Ryan BINGHAM & The DEAD HORSES) - The Poet / The Wandering / Strange Feelin' In The Air / Junky Star / Depression / Hallelujah / Yesterday's Blues / Direction Of The Wind / Lay My Head On The Rail / Hard Worn Trail / Self-Righteous Wall / All Choked Up Again
11/2010
2 CD HUMP HEAD 088 (US)
MESCALITO / ROADHOUSE SUN :

CD 1 : Southside Of Heaven / The Other Side / Bread And Water / Don't Wait For Me / Boracho Station / Sunshine / Ghost Of Travelin' Jones / Hard Times / Dollar A Day / Take It Easy Mama / Long Way From Georgia / Ever Wonder Why / Sunrise / For What It's Worth
CD 2 : Day Is Done / Dylan's Hard Rain / Tell My Mother I Miss Her So / Country Roads / Bluebird / Snake Eyes / Endless Ways / Change Is / Rollin Highway / Hey Hey Hurry / Roadhouse Blues / Wishing Well

09/2012
CD AXSTER BINGHAM 456303 (US)

TOMORROWLAND - Beg For Broken Legs / Western Shore / Flower Bomb / Guess Who's Knocking / Heart Of Rhythm / I Heard 'Em Say / Rising Of The Ghetto / No Help From God / Keep It Together / Never Far Behind / The Road I'm On / Neverending Show / Too Deep To Fill

01/2015
CD AXSTER BINGHAM AB4825 (US)

Fear And Saturday Night - Nobody Knows My Trouble / Broken Heart Tattoos / Top Shelf Drug / Island In The Sky / Adventures Of You And Me / Fear And Saturday Night / My Diamond Is Too Rough / Radio / Snow Falls In June / Darlin / Hands Of Time / Gun Fightin Man

2016
CD HUMP HEAD HUMP212 (US)
LIVE - Sunrise / Top Shelf Drug / Depression / Tell My Mother I Miss Her So / Radio / Bluebird / My Diamond Is Too Rough / Nobody Knows My Trouble / The Weary Kind / Hallelujah / Hard Times / Southside Of Heaven / Sunshine / Bread And Water
02/2019
CD AXSTER BINGHAM AB4827 (US)

American Love Song - Jingle And Go / Nothin' Holds Me Down / Pontiac / Lover Girl / Beautiful And Kind / Situation Station / Got Damn Blues / Time For My Mind / What Would I've Become / Wolves / Blue / Hot House / Stones / America / Blues Lady

05/2019
CD

Not On Label

001 (GER)

Live at Freizhalle - Beautiful And Kind / Tell My Mother I Miss Her So / Hard Times / Nothin' Holds Me Down / Dollar A Day / Long Way From Georgia / La Malagueña / Jingle And Go / Got Damn Blues / Hot House / Hallelujah / Situation Station / Wolves / Southside Of Heaven / The Weary Kind / Nobody Knows My Trouble / Bread And Water / Ever Wonder Why
© Rocky Productions 15/03/2022