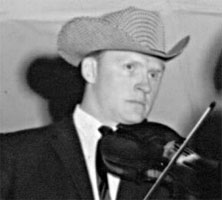 Fiddler et Chanteur Country US né le 6 Juillet 1944 à Caldwell (Kansas). Byron Berline est décédé le 10 Juillet 2021 à Oklahoma City (Oklahoma).

Like his contemporary Vassar Clements, fiddler Byron Berline expanded the sonic possibilities of bluegrass, adding elements of jazz, pop, blues, rock and traditional country to the genre. In addition to being a popular solo act, he performed as a session musician on a number of albums, including records by the Flying Burrito Brothers, Stephen Stills, the Dillards, Gram Parsons, the Nitty Gritty Dirt Band, Emmylou Harris, Kris Kristofferson, and James Taylor.
Berline learned to play from his father, an old-time fiddler. After graduating from high school, he attended the University of Oklahoma, where he played music with a campus folk group. In 1963, the Dillards played a concert on the University of Oklahoma campus. A friend of Berline's arranged an audition for him with Doug Dillard, who was so impressed he invited the young fiddler to join them for a number. Berline then joined the Cleveland Country Ramblers, and in 1964, he appeared on the Dillards' Pickin' and Fiddlin' and won the National Fiddle Championship in Missoula, Missouri. He played the Newport Folk Festival in 1965, where he met Bill Monroe, who told Berline that he wanted him to join the Blue Grass Boys in the future. In 1967, he graduated with a BA in education, but chose to join Monroe; his first appearance with the band was a show at the Grand Ole Opry. Six months after he joined the Blue Grass Boys, he was drafted into the US Army.
Just before Berline was discharged from the Army in 1969, he was invited to join the Dillard and Clark Expedition. He remained with Dillard and Clark until 1971, when the group disbanded. While with them, he played sessions for a number of other artists, including the Flying Burrito Brothers' debut album, The Gilded Palace of Sin. Following the breakup of Dillard and Clark, Berline played with the Dillard Expedition. In 1970, Berline scored the ABC television movie, Run Simon Run, the first of many films he would score. In 1971, he toured with a revamped version of the Flying Burrito Brothers. Following the tour, Berline and fellow Burritos Roger Bush and Kenny Wertz formed the Country Gazette. During this time, he also continued with his session work, appearing on albums by Gram Parsons, Bert Jansch, Ian Matthews and Southern Comfort, and Bill Wyman.
In 1975, Berline left Country Gazette and moved to Los Angeles with his family, where he intended to concentrate on songwriting, session work, and scoring films. Later that year, he founded Sundance with Dan Crary, Jack Skinner, John Hickman, Allen Wald, and Skip Conover; the following year, Vince Gill and Mark Cohen joined the band. Sundance recorded one eponymous album in 1976 before disbanding. In the late '70s, Berline recruited Crary and Hickman for a tour of Japan. Following the tour, the trio recorded three albums for Sugar Hill; concurrently, Berline also founded the LA Fiddle Band.
In 1980, Berline founded the production company BCH with Crary and Hickman, and released a solo album, Outrageous, on Flying Fish. In 1981, the LA Fiddle Band released an eponymous solo album for Sugar Hill. Berline worked on Chris Hillman's 1984 album Desert Rose and also an album of duos with fiddler Hickman in 1986. Two years later, Berline, Crary, and Hickman changed the name of their trio to BCH and added bassist Steve Spurgin to their lineup. The new incarnation of BCH released Now They Are Four in 1988. The group added mandolinist/guitarist John Moore in 1990; following his addition, the group re-named itself California, and released their first album, Traveler, in 1992. Berline also continued releasing solo efforts.
Byron Berline passed away on July 10, 2021 in Oklahoma City, Oklahoma.
https://en.wikipedia.org/wiki/Byron_Berline
Talents : Fiddle, Vocals, Mandolin, Guitar, Sousaphone
Style musical : Traditional Bluegrass, Acoustic Country, Country Rock

http://www.youtube.com/watch?v=UjClzrv54o4
Years in activity :
| | | | | | | | | | | | |
| --- | --- | --- | --- | --- | --- | --- | --- | --- | --- | --- | --- |
| 1910 | 20 | 30 | 40 | 50 | 60 | 70 | 80 | 90 | 2000 | 10 | 20 |
DISCOGRAPHY
Singles
10/1976
SP MCA MCA-40633 (US)

Byron Berline & Sundance - It Hurts So Much / Storm Over Oklahoma

01/1977
SP MCA MCA-40673 (US)
Byron

Berline

&

Sundance

- Best Friends / Lea
Albums
1965
LP 12" ELEKTRA EKL 285 (mono) / KS 7285 (stereo) (US)
PICKIN' AND FIDLIN' - DILLARDS with Byron BERLINE - Hamilton County / Fisher's Hornpipe / Daddy On The Turnpike / Jazz Bow Rag / Apple Blossom / Tom And Jerry / Cotton Patch / Dwrang's Hornpipe / Wagoner / Sally Johnson / Crazy Creek / Drunken Billy Goat / Black Mountain Rag / Twinkle Twinkle / Wild John / Soppin' The Gravy
1968
LP 12" ELEKTRA SWG-7111 (JAP)

Golden Bluegrass - The DILLARDS & Byron BERLINE, Eric Weissberg & Marshall Brickman, Dian & The Greenbriar Boys - The DILLARDS & Byron BERLINE : Somebody Touched Me / Dooley / Lonesome Indian / Rainnin' Here This Morning / Reuben's Train / Dixie Breakdown / Pretty Polly / Black Mountain Rag / DIAN & The GREENBRIAR BOYS : Sally Let Your Gangs Hang Down / Cannon Ball Blues / Brown's Ferry Blues / Master's Bouquet / Eric Weissberg & Marshall BRICKMAN : Rawhide / Mountain Dew / Eigth Of January / Earl's Breakdown

1976
LP 12" O' CONNER CMAC-2 (US)
BYRON BERLINE, SAM BUSH & MARK O' CONNOR IN CONCERT - Huckleberry Hornpipe / Patty On The Turnpike / Beaumont Rag / Teardrops In My Eyes / Oconee / John Hardy / Alabama Jubilee / Cattle In The Cane / Footprints In The Snow / Gold Rush /Sally Goodin / Birmingham Fling
1976
LP 12" MCA MCA-2217 (US)
BYRON BERLINE & SUNDANCE - Lea / It Hurts So Much / Sweet Wanomi / Laid Back Day / Till I Gain Control Again / Best Friends / The World I'm Livin In / Storm Over Oklahoma / Cold In California / Locomotive
1976
LP 12" ROUNDER 100 (US)
DAD'S FAVORITES - Coming Down From Denver / New Broom / Grey Eagle / B And B Bag / Redbird / Ragtime Annie / Lime Rock / Stones Bag / Miller's Reel / Arkansas Traveler / Sweet Memories Waltz / Birmingham Fling
1977
LP 12" TAKOMA D-1061 (US)
LIVE AT THE MCCABE'S - Byron BERLINE & SUNDANCE - Free Wheelin / Tear Drops In My Eyes / Ghost Dance / Good Woman's Love / Free Born Man / Can't You Hear Me Callin' / Hamilton County Breakdown / How Mountain Girls Can Love / Molly And Tenbrooks / Used To Be You / Dixie Breakdown
1977
LP 12" OMAC 2 (US)
IN CONCERT - Byron BERLINE, Sam BUSH & Mark O'CONNOR -

Huckleberry Hornpipe

/

Patty On The Turnpike

/

Beaumont Rag

/

Teardrops In My Eyes

/

Cattle In The Cane

/

John Hardy

/

Alabama Jubilee

/

I Am A Pilgrim

/

Big Sandy

/

Gold Rush

/

Sally Goodin

/

Birmingham Fling

1980
LP 12" SUGAR HILL SH-3716 (US)
BYRON BERLINE & THE L.A. FIDDLE BAND - Roanoke / Dixie Hoedown / I'll Just Stay Around / All The Good Times / Jack Rabbit / Sitting On Top Of The World / Red Haired Boy / Dont Put It Away / On And On / Brown County Breakdown / Uncle Pen
1980
LP 12" FLYING FISH FF-227 (US)
OUTRAGEOUS - Barndance / Fall Creek / Passin' By / Don't Put It Away / Coming Home / Jack Rabbit / Stampede / Byron's Barn / Outrageous / Skippin' Around / Oklahoma Stomp / Funky Deer
1981
LP 12" SUGAR HILL SH-3720 (US)
BERLINE - HICKMAN - CRARY - Fall Creek / Remington Ride / Little Sadie / Weddington St. Rag / Bonaparte's Retreat / Mockingbird / Turkey In The Straw / All Around The Round House / William Socrates / Dusty Miller / Storm Over Oklahoma / Cricket
1984
LP 12" SUGAR HILL SH-3739 (US)
NIGH RUN - BERLINE - HICKMAN - CRARY - Forked Deer / Night Run / Ain't No California / Pistol Pete / Old Time Medley: Billy In The Lowground - Katy Hill - Cripple Creek / Early Times / Daybreak / Two Weeks And A Day / B-C-H Special: Train That Carried My Girl From Town / Last Train To Clarksville
1986
LP 12" SUGAR HILL SH-3750 (US)
DOUBLE TROUBLE - Byron BERLINE & John HICKMAN - Double Trouble / I Don't Love Nobody / Cajun Waltz / Tugboat / Liberty / Blackberry Blossom / Indian See Saw / The Old Rugged Cross / Sugar In The Gourd / Time Changes Everything / Funky Chicken
1986
LP 12" SUGAR HILL SH-3755 (US)
BCH - BERLINE - CRARY - HICKMAN - Henry's Horpipe / Double Eagle / Lonesome Whistle / East Tennessee Blues / Northern Slop / Fisher's Hornpipe / I Let Another Good One Get Away / Cross Tunisia / Goodnight Girl / Cincinnati Rag
1989
CD SUGAR HILL SH-3773 (US)
NOW THEY ARE FOUR - BERLINE - CRARY - HICKMAN - Big Dog / Train Of Memory / Weary Blues From Waitin' / Moonlight Motor Inn / They Don't Play George Jones On MTV / Speak Softly (You're Talking To My Heart) / Santa Ana / Leave Me the Way I Am / Kodak 1955 / Hallelujah Harry
1990
CD SUGAR HILL 3787 (US)
JUMPIN' THE STRINGS - Jumpin' The Strings / Around The World Waltz / Teetotaler's Reel / Honeymoon Waltz / Nickle Creek / Memories Of Scotland / Cryin' Eagle / Midnight Waltz / Cuttin' Horse / Ballerina Waltz / Zig Zag / Pick-A-Dilly / Trail Of Tears Waltz / Leavin' Town / Dance With Me Waltz / Grand River / Okalahoma Waltz / Indian Hill / Shepherd's Waltz / Hummingbird Reel / Plantation Ball Waltz / Mando Mania
08/1995
CD SUGAR HILL SH-CD-3838 (US)
FIDDLE & A SONG - Sally Goodin / Rose Of Old Kentucky / My Dixie Darling / Roly Poly / Faded Love / Skippin' Along On Top / Sweet Memory Waltz / Fiddle Faddle / Second Fiddle / Fiddler's Dream / Were You There? / Cajun Medley : Down At The "Twist & Shout" - Diggy Liggy Low - Jambalaya
07/1997
CD ROUNDER ? (US)
DAD'S FAVORITES - Coming Down From Denver / New Broom / Grey Eagle / B And B Bag / Redbird / Ragtime Annie / Lime Rock / Stones Bag / Miller's Reel / Arkansas Traveler / Sweet Memories Waltz / Birmingham Fling
06/2002
CD SUGAR HILL SUG-CD-3945 (US)
CHAMBERGRASS - A DECADE OF TUNES FROM THE EDGES OF BLUEGRASS - BCH - BERLINE - CRARY - HICKMAN - Forked Deer / Big Dog / Fall Creek / Bonaparte's Retreat / Pistol Pete / Fisher's Hornpipe / Night Run / Turkey In The Straw / Under The Double Eagle / Henry's Hornpipe / Early Times / Storm Over Oklahoma / The Dusty Miller / Old Time Medley / Cricket
02/2011
CD GRC ? (US)
RED WHITE AND BLUE (GRASS) PICKIN' UP - Vassar CLEMENTS & Byron BERLINE -

Voice From On High / It's Mighty Dark To Travel / Tomorrow Is A Long Time / Palmerdale Postal Service / Fixin' To Die / Dark Hollow / California Royalty / This Last Day / Shoutin' Glo / Amazing Grace / Will The Circle Be Unbroken / 350 Bluegrass Ave. / Mariel /

Bitter Weeds

2012
CD Double-Stop Music DS-CD03 (US)

Jammin' With Byron - Brighton's Breakdown / Byron In The Highlands / Cattle In The Cane / Charmaine / Denver Bell / Festival Hornpipe / Hamilton County Breakdown / Coralie's Way / Independence Reel / Lazy River / Leather Britches / Peacock Rag / St. Andrews Reel / Sweet Pickle Rag / Red River Reel / Walkin' In My Sleep / Cotton Patch Rag / Looney Toune / Red Apple Rag / Twinkle Little Star / Amazing Grace / Wild Fiddler's Rag
© Rocky Productions 16/01/2022