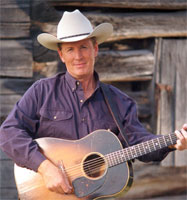 Chanteur Country US né David Alderman Ball, le 9 Juillet 1953 à Rock Hill (Caroline du Sud).

David Ball was born in Rock Hill, SC, on July 9, 1953. The son of a Baptist minister father and musician mother, Ball started playing the ukulele as a young boy, but by age 12 had switched to guitar. After high school, he and hometown friends Walter Hyatt and Champ Hood moved to Nashville, where they scraped out a living as Uncle Walt's Band. The going was tough, and eventually the trio moved to Austin, TX, hoping to find greener pastures. There Ball and his friends matured as musicians, playing covers of popular folk and roots numbers, but also writing and performing their own compositions. Ball played bass, sang lead, and also contributed backup Vocals. Uncle Walt's Band was a hit in Austin, where the music scene was more progressive and hungry young players like Lyle Lovett would pack the group's dancehall shows. The band released three successful albums before breaking up in 1983 as its members pursued solo careers.
Cut loose from Uncle Walt's Band, Ball returned to Nashville, where he gutted it out for most of the 1980s until landing a recording contract with Warner Bros. Success was quick. Thinkin' Problem, his 1994 release for the label, went double platinum and spawned three hit singles. The following year, Ball was nominated for a Male vocalist of the Year Grammy. He returned in 1996 with Starlite Lounge, which continued to display his penchant for dressed-up honky tonk. While his 1999 effort, Play, was shellacked with a Music City sheen, Ball redeemed himself with the dust-caked traditional country of 2001's Amigo, and he kept to the traditional course with 2004's Freewheeler from Wildcatter Records and 2007's Heartaches by the Number from Shanachie Records.
https://en.wikipedia.org/wiki/David_Ball_(country_singer)
Talents : Vocals, Songwriter, Guitar, Bass
Style musical : Traditional Country, Honky Tonk, Progressive Country

https://www.youtube.com/watch?v=YZr2Dao-5oU
Years in activity :
| | | | | | | | | | | | |
| --- | --- | --- | --- | --- | --- | --- | --- | --- | --- | --- | --- |
| 1910 | 20 | 30 | 40 | 50 | 60 | 70 | 80 | 90 | 2000 | 10 | 20 |
DISCOGRAPHY
Singles
| | | | |
| --- | --- | --- | --- |
| 04/1988 | SP RCA 6899-7-R (US) | . | Steppin' Out / I Wish He Was Me |
| 08/1988 | SP RCA 8636-7-R (US) | . | You Go You're Gone / I Wish He Was Me |
| 08/1989 | SP RCA 8975-7-R (US) | . | Gift Of Love / I Wish He Was Me |
| 03/1994 | SP WARNER BROS. 7-18250 (US) | . | Thinkin' Problem / Down At The Bottom Of A Broken Heart |
| 08/1994 | SP WARNER BROS. 7-18081 (US) | . | When The Thought Of You Catches Up / Don't Think Twice |
| 01/1995 | SP WARNER BROS. 7-17977 (US) | . | Look What Followed Me Home / What Do You Want With His Love |
| 08/1995 | SP WARNER BROS. 7-17785 (US) | . | Honky Tonk Healin' / Blowing Smoke |
| 05/1996 | SP WARNER BROS. 7-17639 (US) | . | Circle Of Friends / No More Lonely |
| 08/1996 | SP WARNER BROS. 7-17574 (US) | . | Hangin' In And Hangin' On / If You'd Like Some Lovin' |
| 02/1997 | SP WARNER BROS. 7-17445 (US) | . | I'll Never Make It Through / What Kind Of Hold |
| 04/1999 | SP WARNER BROS. 7-16982 (US) | . | Watching My Baby / Someplace To Forget |
| 08/1999 | SP WARNER BROS. 7-16927 (US) | . | I Want To With You / When I Get Lonely |
| 07/2001 | SP DUALTONE 01120 (US) | . | Riding With Private Malone / Missing Her Blues |
| 2002 | SP DUALTONE 80302-00001-7 (US) | . | She Always Talked About Mexico / Whenever You Come Back To Me |
| 11/2007 | CD REDBIRD ? (US) | | Christmas In Waikiki |
| | |
| --- | --- |
| | |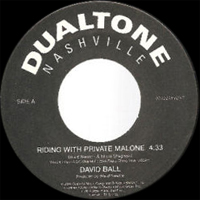 Albums
06/1994
CD WARNER BROS. 45562 (US)
THINKIN' PROBLEM - Thinkin' Problem / Look What Followed Me Home / Blowing Smoke / When The Thought Of You Catches Up With Me / Honky Tonk Healing / Walk On The Wild Side Of Life / Down At The Bottom Of A Broken Heart / What Do You Want With His Love / Don't Think Twice / 12-12-84
11/1994
CD RCA 66563 (US)
DAVID BALL - Gift Of Love / She Were Mine / Message In A Bottle / All Over Me / Listen To My Heart / No More Tears / Texas Echo / Waiting For Somebody New / We're Stepping Out Tonight / I Was Born With A Broken Heart / Cigarettes And Coffee Blues
06/1996
CD WARNER BROS. 46244 (US)
STARLITE LOUNGE - Hangin' In And Hangin' On / Circle Of Friends / I've Got My Baby On My Mind / What Kind Of Hold / I'll Never Make It Through This Fall / Bad Day For The Blues / If You'd Like Some Lovin' / No More Lonely / I Never Did Know / Bottle That Pours The Wine
07/1999
CD WARNER BROS. 47270 (US)
PLAY - Watching My Baby Not Coming Back / I Want To With You / What Do You Say To That / Hasta Luego, My Love / Grain Of Salt / Lonely Town / Going Someplace To Forget / For You / I'm Just A Country Boy / When I Get Lonely
07/2000
CD WARNER BROS. 47794 (US)
SUPER HITS SERIES - Thinkin' Problem / Watching My Baby Not Coming Back

/ Look What Followed Me Home /

When The Thought Of You Catches Up With Me /

What Do You Want With His Love /

Lonely Town /

Hangin' In And Hangin' On /

I'll Never Make It Through This Fall /

Circle Of Friends /

Hasta Luego, My Love
10/2001
CD DUALTONE 109 (US)
AMIGO - Amigo / Missing Her Blues / She Always Talked About Mexico / Riding With Private Malone / Whenever You Come Back To Me / Loser Friendly / Linger Awhile / Trying Not To Love You / New Shiner Polka / Texas Echo / Swing Baby / Just Out Of Reach / When The Devil Wants To Wrestle
11/2004
CD WILDCATTER 792000 (US)
FREEWHEELER - Louisiana Melody / Happy With The One I've Got / Nobody Told Me / Tell Me With Your Heart / I Can See Arkansas / Too Much Blood In My Alcohol Level / Desert Luau / Mr Teardrop / Yours Truly Blue / Girl I Use To Know / Violence And Lies / Freewheeler
03/2007
CD SHANACHIE 6202 (US)
HEARTACHES BY THE NUMBER - Pick Me Up On Your Way Down / Stop The World And Let Me Off / Heartaches By The Number / Sweet Dreams / Please Feed The Jukebox / There Stands The Glass / Faded Love / What's Going On In Your World / Half As Much / Please Help Me I'm Falilng / I'm Walking The Dog
04/2010
CD KOCH E1ECD2303 (US)
SPARKLE CITY - Hot Water Pipe / Country Boy Boogie / Just Along For The Ride / Tulsa / Maybe Tomorrow / What'll I Do If I Don't Have You / Smiling In The Morning / Back To Alabama / On Top Of The World / Houston Again / So Long
© Rocky Productions 20/04/2010