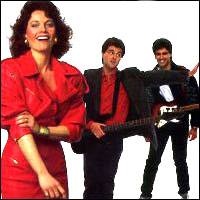 Groupe Country US formé en 1973, comprenant la chanteuse Kathy Baillie, née le 20 Février 1951 à Morristown (New Jersey), Michael Bonagura et Alan LeBoeuf (parti en janvier 1989 et revenu en mars 2000), et les nouveaux membres Lance Hoppen et Johnny Pearce.

Though originally from New Jersey, Kathy Baillie and Michael Bonagura met in Delaware through a friend who gave Bonagura a tape that featured Baillie's vocals. Fans of artists like the Four Tops, the Beatles, the Supremes, Linda Ronstadt, and James Taylor, they developed a strong harmony — both on stage and off: They were married in 1977. Bonagura's buddy, bass player Alan LeBoeuf, joined up, and after a number of years on the Garden State's nightclub circuit, yet another friend — a driver with Allied Van Lines — persuaded them to join him on a trip to Nashville.
They stayed in Music City, and in 1982 they got their first chance to appear on a record, singing backup on Ed Bruce's "My First Taste of Texas." Bonagura co-wrote Marie Osmond's single "There's No Stopping Your Heart," and the trio sang backing Vocals on a number of singles for Dan Seals and Randy Travis. Ultimately, they signed with RCA Records, making their debut in 1987. After completing their second album, LeBoeuf decided their touring schedule was too hectic and left. Baillie and Bonagura retained the original name, though Boys seems a bit misleading.
https://en.wikipedia.org/wiki/Baillie_%26_the_Boys
Talents : Kathie : Lead Vocals, Guitar, Songwriter - Michael : Guitar, Vocals, Songwriter - Alan : Bass, Vocals, Actor - Lance : Bass, Vocals - Johnny : Bass, Vocals
Style musical : Contemporary Country

https://www.youtube.com/watch?v=IQTvLL8_1NU
Years in activity :
| | | | | | | | | | | | |
| --- | --- | --- | --- | --- | --- | --- | --- | --- | --- | --- | --- |
| 1910 | 20 | 30 | 40 | 50 | 60 | 70 | 80 | 90 | 2000 | 10 | 20 |
DISCOGRAPHY
Singles
| | | | |
| --- | --- | --- | --- |
| 02/1987 | SP RCA 5130-7-R (US) | | Oh Heart / Waitin' Out The Storm |
| 06/1987 | SP RCA 5227-7-R (US) | . | He's Letting Go / Heartless Night |
| 10/1987 | SP RCA 5327-7-R (US) | . | Wilder Days / You Fool |
| 08/1988 | SP RCA 8631-7-R (US) | . | Long Shot / You Fool |
| 01/1989 | SP RCA 8796-7-R (US) | . | Only Lonely One / She Deserves You |
| 05/1989 | SP RCA 8944-7-R (US) | . | (I Wish A Had A) Heart Of Stone / Heartache In Motion |
| 09/1989 | SP RCA 9076-7-R (US) | . | I Can't Turn The Tide / Only Lonely Me |
| 02/1990 | SP RCA 2500-7-R (US) | . | Perfect / Lovin' By Numbers |
| 07/1990 | SP RCA 2641-7-R (US) | . | (Now And Then There's A) Fool Such As I / So Strong |
| 12/1990 | SP RCA 2720-7-R (US) | . | Treat Me Like A Stranger / I'd Love You To |
Albums
| | | | |
| --- | --- | --- | --- |
| 1987 | LP 12" RCA 6272 (US) | | BAILLIE AND THE BOYS - Fire In The Wire / Oh Heart / Waitin' Out The Storm / You Fool / Heartless Night / He's Letting Go / Slow All Night / Wilder Days / This Is Where I Came In |
| 1988 | LP 12" RCA 8454 (US) | | TURN THE TIDE - She Deserves You / Safe In The Arms Of Love / I Can't Turn The Tide / Heart Of Stone / Long Shot / Who Will I Be / Honest Love / Lovin' By Numbers / When It Rains It Pours / Heartache In Motion / Only Lonely One |
| 05/1990 | CD RCA 2114 (US) | | LIGHTS OF HOME - Perfect / Fool Such As I / Can't Stand To Be Unhappy / On The Far Side / So Strong / I'd Love To / Lights Of Home / You Better Do Better |
| 10/1991 | CD RCA 3118 (US) | | THE BEST OF BAILLIE & THE BOYS - Read Between The Lines / Fool Such As I / Heart Of Stone / Long Shot / She Deserves You / I Can't Turn The Tide / Oh Heart / Wilder Days / Treat Me Like A Stranger / Perfect |
| 08/1996 | CD INTERSOUND 9214 (US) | | LOVIN' EVERY MINUTE - I've Been There / God's Honest Truth / Some Kind Of Luck / Both Sides Now / You're My Weakness / I Can't Help Myself / I Know A Goodbye / Lovin' Every Minute / If I Didn't Love You / Heartless Night / While The Forgettin's Good |
| 02/2000 | CD SYNERGY 3265 (US) | | THE ROAD THAT LED ME TO YOU - Road That Led Me To You / Feet Of Clay / Treat Me Like A Stranger / Moment / Far Cry From Him / My Love Is Not Blind / I Can't Turn The Tide / Nobody Here To Love / Lights Of Home / Protect Me / Quicksilver / Even Then |
| 03/2007 | CD WHOLE EARTH ? (US) | | VISCAYA - I've Been There / The God's Honest Truth / Some Kind Of Luck / Both Sides Now / You're My Weakness / I Can't Help Myself / I Know A Goodbye / Lovin' Every Minute / If I Didn't Love You / Heartless Night / While The Forgettin's Good |
© Rocky Productions 23/01/2011