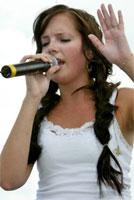 Chanteuse Country US née le 29 Décembre 1983 à Huntington (Tennessee).

Tennessee native Jessica Andrews was born into a musical family, and found singing was her niche in a fourth-grade talent show. Her version of Dolly Parton's "I Will Always Love You" won first prize and set her on a path that took her to local fairs and carnivals — anywhere she could sing.
Word of mouth about Andrews' talents spread, and soon friends of Nashville producer Byron Gallimore insisted he listen to her. Intrigued by her range and tonal control, he and Andrews went into the studio and began choosing songs to record. Gallimore also invited DreamWorks Nashville label representatives to a showcase Andrews performed at, where she was offered a contract immediately. Her debut release for the label, Heart Shaped World, came out in 1999. Who I Am followed two years later. Who I Am followed two years later; the title track earned Andrews her first #1 country single. 2003 saw the release of Now, which introduced a slightly more down-to-earth, grown-up sound.
http://www.jessicaandrews.com/
Talents: Singer, Songwriter, Guitar, Piano
Style musical : Country Pop, Contemporary Country

http://www.youtube.com/watch?v=fXmlwqyAkYQ
Years in activity :
| | | | | | | | | | | |
| --- | --- | --- | --- | --- | --- | --- | --- | --- | --- | --- |
| 1910 | 20 | 30 | 40 | 50 | 60 | 70 | 80 | 90 | 2000 | 10 |
DISCOGRAPHY
Singles
01/1999
SP DREAMWORKS 59021 (US)
.
I Will Be There For You / ?
11/1999
SP DREAMWORKS 459042 (US)
.
Unbreakable Hearts / Unbreakable Hearts (alternate)
2000
CD DREAMWORKS 5241 (US)
Unbreakable Heart

[radio edit #1] /

Unbreakable Heart #

[radio edit #2] /

Unbreakable Heart

[album version]

2000
SP DREAMWORKS 450859 (US)
.
Karma (remix) / Show Me Heaven
11/2000
SP DREAMWORKS 450918 (US)
.
Who Am I / Helplessly Hopelessly
06/2005
SP DREAMWORKS ? (US)
.
Summer Girl
12/2008
DI LYRIC STREET ? (US)
.
Everything

[single version]
Albums
| | | | |
| --- | --- | --- | --- |
| 03/1999 | CD DREAMWORKS DRD 50104 (US) | | HEART SHAPED WORLD - James Dean In Tennessee / You Go First / Riverside / Whatever / Unbreakable Heart / Hungry Love / Heart Shaped World / I'll Take Your Heart / I Do Now / I've Been Waiting For You / Ruby Shoes / I Will Be There For You |
| 02/2001 | CD DREAMWORKS DRD 50248 (US) | | WHO I AM - Now I Know / Every Time / I Don't Like Anyone / Karma / Helplessly Hopelessly / Who I Am / These Wings / Never Had It So Good / Make Me Love You / Wishing Well / Good Friend To Me / Show Me Heaven |
| 04/2003 | CD DREAMWORKS DRD 450356 (US) | | NOW - There's More To Me Than You / When Gentry Plays Guitar / I Wish For You / To Love You Once / I Bring It To You / Never Be Forgotten / They Are The Roses / Sunshine And Love / You're The Man (That Brings The Woman Out Of Me) / Cowboy Guarantee / Now / Second Sunday / Windows On A Train / God Don't Give Up On Us / Good Time / There's More To Me Than You |
| 11/2010 | CD UME B0015005-02 (US) | | ICON - There's More To Me Than You / Good Time / Who I Am / Karma / Summer Girl / Unbreakable Heart / Helplessly, Hopelessly / Good Friend To Me / I Will Be There For You / I Do Now / The Marrying Kind / You Go First (Do You Wanna Kiss) |
© Rocky Productions 8/12/2010