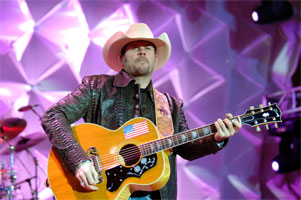 Chanteur Country US né Gary Allan Herzberg, le 5 Décembre 1967 à Montebello (Californie).

Gary Allan hit the honky tonk circuit in his native Southern California at the seasoned age of 12. Playing in and out of the smoky, sweaty bars with his dad's band led Allan to follow in his father's footsteps and start his own band. When Allan returned to those same honky tonks with his own combo, the sound was true Bakersfield country: Merle Haggard, Buck Owens, and the rest. Allan spent most of his twenties honing his skills as a new traditionalist country singer; finally, in 1996, he was picked up by the Decca label. Used Heart for Sale appeared that year, and even if it was a bit timid, the album established Allan as a talented performer with plenty of potential. Two years later, he returned with It Would Be You. This time out, Allan suffered from slick Nashville production, which winnowed away most of his whiskey-soaked barroom charm. Nevertheless, Allan's talent shone through. In 1999, Decca closed its doors. However, Allan's contract was picked up by MCA, which released his Smoke Rings in the Dark later that year. The album combined most of what Allan did best — dusty honky tonk, cracked country ballads — into a solid effort that didn't get too heavy with the Music City sheen. The album even included a rousing cover of the Del Shannon classic "Runaway" that harked back to Allan's younger days on the honky tonk circuit. With 2001's Alright Guy, an accomplished mix of driving, dusty swagger and slow-burn croon, Allan proved that he was only getting better with age. Its single, "Man to Man," became the singer's first number one hit. Allan toured extensively in support of Alright Guy before beginning work on a follow-up album, and when See If I Care appeared in September 2003, it was another solid set of Bakersfield-derived country and poignant balladry. Tough All Over, a Top Ten hit, arrived in 2005. A greatest-hits collection was issued early in 2007, followed by a new studio project, Living Hard, later in the year. The single "Today" arrived in June 2009 and debuted on the chart at number 52, and was followed by the album Get Off on the Pain in early 2010. After a world tour and a rest, Allan went into the studio to record in 2012. The single "Every Storm (Runs Out of Rain)," appeared in September of that year, climbing to number one on the Billboard Country charts just after the January 2013 release of its accompanying album Set You Free.
Allan released a succession of non-LP singles in the mid-2010s -- "Hangover Tonight" appeared in 2015, "Do You Wish It Was Me?" showed up the following year, "Mess Me Up" came out in 2017 -- and none cracked the Country Airplay Top 40. Allan finally released Ruthless, the sequel to Set You Free, in 2021.
https://en.wikipedia.org/wiki/Gary_Allan
Talents : Vocals, Songwriter, Guitar, Actor
Style musical : Contemporary Country, Honky-Tonk

http://www.youtube.com/watch?v=0iaK7Ie_qpM
Years in activity :
| | | | | | | | | | | | |
| --- | --- | --- | --- | --- | --- | --- | --- | --- | --- | --- | --- |
| 1910 | 20 | 30 | 40 | 50 | 60 | 70 | 80 | 90 | 2000 | 10 | 20 |
DISCOGRAPHY
Singles
07/1996
SP DECCA DRNS7-55227 (US)
Her Man / Wake Up Screaming
11/1996
SP DECCA DRNS7-55289 (US)
Forever And A Day / Living In A House Full Of Love
05/1997
SP DECCA DRNS7-72003 (US)
From Where I'm Sitting / Wine Me Up
09/1997
SP DECCA DRNS7-72018 (US)
Living In A House Full Of Love / Of All The Hearts
02/1998
SP DECCA DRNS7-72039 (US)
It Would Be You / Send Back My Heart
06/1998
SP DECCA DRNS7-72059 (US)
No Man In His Wrong Heart / Baby I Will
10/1998
SP DECCA DRNS7-72079 (US)
I'll Take Today / I've Got A Quarter In Pocket
08/1999
SP MCA MCAS7-72109 (US)

Smoke Rings In The Dark /

Right Where I Need To Be
12/1999
SP MCA 088-172140-7 (US)
Lovin' You Against My Will

/ I'm The One

06/2000
SP MCA 088-172180-7 (US)
Right Where I Need To Be

/ Don't Tell Mama

06/2001
SP MCA 088-172213-7 (US)

Man Of Me / Sorry

12/2001
SP MCA 088-172232-7 (US)
One

/ I'm Doin' My Best

06/2002
SP MCA 088-172256-7 (US)

Man To Man / Alright Guy

06/2003
CD MCA B-000946-21 (US)

Tough Little Boys / I Can Love You

2004
CD MCA B-0002358-21 (US)
Songs About Rain
2007
DI UNIVERSAL ? (US)
A Feelin' Like That
2007
DI UNIVERSAL ? (US)
Watching Airplanes
2008
CD MCA 02842 (US)
Learning How To Bend / Learning How To Bend / Learning How To Bend
07/2009
DI MCA ? (US)
Today
Albums
09/1996
CD DECCA DRND 11482 (US)
USED HEART FOR SALE - Send Back My Heart / Her Man / Forever And A Day / Livin' In A House Full Of Love / All I Had Going Is Gone / Used Heart For Sale / Of All The Hearts / From Where I'm Sittin' / Wine Me Up / Wake Up Screaming
05/1998
CD DECCA DRDN 70012 (US)
IT WOULD BE YOU - It Would Be You / No Man In His Wrong Heart / Don't Leave Her Lonely Too Long / I'll Take Today / I Ain't Runnin' Yet / She Loves Me She Don't Love You / I've Got A Quarter In My Pocket / Baby I Will / Red Lips Blue Eyes Little White Lies / It Took Us All Night Long To Say Goodbye / Forgotten But Not Gone / No Judgement Day
10/1999
CD MCA 170111 (US)
SMOKE RINGS IN THE DARK - Smoke Rings In The Dark / Right Where I Nedd To Be / Don't Tell Mama / Lovin' You Against My Will / Sorry, Cryin' For Nothin' / Bourbon Borderline / Runaway / Learning To Live With Me / Cowboy Blues / I'm The One / Greenfields
10/2001
CD MCA 170201 (US)
ALRIGHT GUY - Man To Man / Devil's Candy / What I'd Say / Man Of Me / Adobe Walls / What's On My Mind / Alright Guy / One / I'm Doin' My Best / I Don't Look Back / What Would Willie Do
09/2003
CD MCA 02451 (US)
SEE IF I CARE - Drinkin' Dark Whiskey / Can't Do It Today / Tough Little Boys / See If I Care / Songs About Rain / I Can Love You / Don't Look Away / Guys Like Me / Nothing On But The Radio / You Don't Know A Thing About Me / Showman's Life
10/2005
CD MCA 000371102 (US)
TOUGH AL OVER - Tough All Over / Best I Ever Had / I Just Got Back From Hell / Ring / Promise Broken / Nickajack Cave (Johnny Cash's Redemption) / Life Ain't Always Beautiful / He Can't Quit Her / What Kind Of Fool / Puttin' Memories Away / No Damn Good / Putting My Misery On Display
03/2007
CD MCA 19602 (US)
GREATEST HITS - A Feelin' Like That / Right Where I Need To Be / Songs About Rain / Smoke Rings In The Dark / Her Man / Best I Ever Had / Nothing On But The Radio / Man To Man / The One / Lovin' You Against My Will / It Would Be You / Man Of Me / Tough Little Boys / At The Crow Flies / Life Ain't Alway Beautiful
10/2007
CD MCA 000896202 (US)
LIVING HARD - Watching Airplanes / We Touched The Sun / She's So California / Like It's A Bad Thing / Learning How To Bend / As Long As You're Looking Back / Wrecking Ball / Yesterday's Rain / Trying To Matter / Half Of My Mistakes / Living Hard
10/2007
2 CD UNIVERSAL ? (US)
TOUGH AL OVER / SEE IF I CARE :

CD 1 : Tough All Over / Best I Ever Had / I Just Got Back From Hell / Ring / Promise Broken / Nickajack Cave (Johnny Cash's Redemption) / Life Ain't Always Beautiful / He Can't Quit Her / What Kind Of Fool / Puttin' Memories Away / No Damn Good / Putting My Misery On Display
CD 2 : Drinkin' Dark Whiskey / Can't Do It Today / Tough Little Boys / See If I Care / Songs About Rain / I Can Love You / Don't Look Away / Guys Like Me / Nothing On But The Radio / You Don't Know A Thing About Me /A Showman's Life

03/2010
CD MCA BOO13362 (US)
GET OFF ON THE PAIN - Get Off On The Pain / I Think I've Had Enough / Today / That Ain't Gonna Fly / Kiss Me When I'm Down / We Fly By Night / When You Give Yourself Away / Along The Way / She Gets Me / No Regrets
03/2012
CD MCA 001467102 (US)
ICON - Watching Airplanes / Man To Man / Life Ain't Always Beautiful / Best I Ever Had / Her Man / Smoke Rings In The Dark / Tough Little Boys / The One / It Would Be You / Right Where I Need To Be / Nothing On But The Radio
01/2013
CD MCA B 001717302 (US)
SET YOU FREE - Tough Goodbye / Every Storm (Runs Out Of Rain) / Bones / It Ain't The Whiskey / Sand In My Soul / You Without Me / One More Time / Hungover Heart / No Worries / Drop / Pieces / Good As New
06/2021
CD EMI 002280902 (US)

Ruthless - Temptation / Waste Of A Whiskey Drink / Till It Felt Like You / Slide / Pretty Damn Close / High As I've Ever Been / What I Can't Talk About / Sex / Trouble Knows Trouble / Ruthless / Unfiltered / Little Glass Of Wine / The Hard Way
© Rocky Productions 24/07/2021