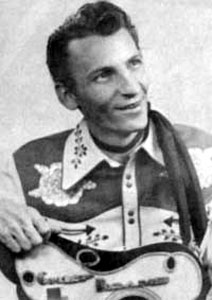 Chanteur Country Canadien né Adam Edward Semeniuk, en 1929 dans une ferme près de Sturgis (Saskatchewan). Chef Adams est décédé le 28 Août 2017 à Lindsay (Ontario).

Adam Edward Semeniuk was born in Sturgis, Saskatchewan, in 1929. He started his musical career by performing little local gigs where ever he could. There wasn't much pay involved in them, so he kept different day jobs to pay the bills. One of those many jobs was in a restaurant, which is where he earned the nickname Chef. He later decided to perform under the name Chef Adams.
In 1953, Adams landed steady work as the front man for a group called the Country Rhythm Kings. Over the next three years the band recorded a couple of singles under the Quality Records label. Around 1963, Adams switched from group format to duo, joining forces with fellow artist Yvonne Terry. The team didn't have a lot of success and only remained together for about a year before calling it quits. There were other bands later, like Chef Adams and the Adams Boys, and a few more singles and albums along the way, but by the time the close of the '70s drew near, so did the end of Adams' two-decade-plus career. His last album, Does the Sunshine Still Remember, was released in 1975. His last single, "It's All Gone," appeared in 1979.
Chef Adams passed away on August 28, 2017 in Lindsay, Ontario.
Talents : Vocals, Guitar, Songwriter, Promoter, Producer
Style musical : Traditional Country

https://youtu.be/AgTMond62Nw
Years in activity :
| | | | | | | | | | | | |
| --- | --- | --- | --- | --- | --- | --- | --- | --- | --- | --- | --- |
| 1910 | 20 | 30 | 40 | 50 | 60 | 70 | 80 | 90 | 2000 | 10 | 20 |
DISCOGRAPHY
78 t. & Singles
| | | |
| --- | --- | --- |
| 1956 | 78 t. QUALITY ? (CAN) | Marilyn Bell Has Done It Again / Now That You're Gone |
| 1965 | SP ARC 45-1087 (CAN) | We Asked For A Heartbreak (Chef ADAMS & Yvonne TERRY) / Walk On By (Chef ADAMS) |
| 1976 | SP BOOT BT. 167 (CAN) | Make Up Your Ever Changin' Mind / My First Complete Memory Free Day |
| 197? | SP CHEYENNE CH. 136 (CAN) | Success / All Gone |
Albums
| | | | |
| --- | --- | --- | --- |
| 1964 | LP 12" Canatal CTLP-4006 (CAN) | | Songs For Country Lovers - Happy Days Happy Times / (The Devil Hides) Behind Your Angel Face / Toe The Mark / Password To The Blues / No Flowers On Mother's Day / The Midnight Train / Are You Really Lovin' Him / I'm Ready To Go / Little Rosa / Now That You're Gone / Goin' Out Tonight / Night Life |
| 1965 | LP 12" ARC A649 (CAN) | | Show Stoppers - Chef Adams & Yvonne Terry - Just Walk On By / My Heart Skips A Beat / We Missed You / We Asked For A Hearbreak / I'm A'Gonna Get You / Second Fiddle To An Old Guitar / When My Blue Moon Turns To Gold Again / Geisha Girl / My Son Calls Another Man Daddy / Jambalya / Blue Canadian Rockies / Caribbean |
| 1968 | LP 12" Paragon ALS 190 (CAN) | | Chef Adams, The Adams Boys And Jennie Reeves - Canadian Pacific / Nobody But A Fool / Delilah / The Lumberjack / Someday Somewhere / Jackson / A Boy Named Sue / No Flowers On Mother's Day / You're The Only One / Who's Gonna Take Your Garbage Out / Lately / She's Breaking Every Bone In My Wallet |
| 1969 | LP 12" Paragon ALS 229 (CAN) | | Singer / Songwriter - My Home In Saskatchewan / What's To Become Of Me / Walk Through This World With Me / Six Days On The Road / Where Will I Go / When My Blue Moon Turns To Gold / The Truck Driver / Three Acres Of Heaven / Destroy Me / If You Want Me To / If She Could See Me Now / The Devil Hides Behind Your Angel Face |
| 1971 | LP 12" MARATHON ALS 344 (CAN) | | I Never Knew Her Name - Tell Me / My Hang-Up Is You / I Never Knew Her Name / Grandma Harp / I'll Be Over You / It's All Gone / Indian Lake / Find Me A Bluebird / Forever Together / Don't Do It Darling |
| 1976 | LP 12" BOOT BOS 7162 (CAN) | | Does The Sunshine Still Remember - Does The Sunshine Still Remember / Mr. And Mrs. Used To Be / What's Wrong Friend / Catfish River / Makin' It Look Good / I've Been To Where You're Going / Make Up Your Ever Changin' Mind / Sherry / My First Complete Memory Free Day / Indian Joe / Gypsy On Wheels / Beer Drinkers, Born Losers, And Me |
© Rocky Productions 26/05/2021