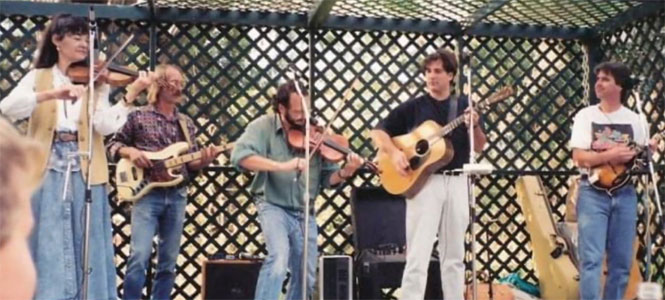 Groupe Bluegrass US formé en 1990 à Santa Barbara (californie), composé de Charl Ann Gastineau, Cyrus Clarke, Phil Salazar, Rick Borella et Mike Mullins.

Formed in Santa Barbara, California in 1990, the Acousticats recorded two albums before disbanding five years later. With a double-fiddle attack, played by Phil Salazar and Charl Ann Gastineau, and original songs by two singer/songwriters, Cyrus Clarke and Mike Mullins, the quintet combined elements of traditional folk music with more contemporary influences. While they spotlighted their musical virtuosity on up-tempo bluegrass and string band instrumentals, the group's sound also included heavy doses of French Canadian and Louisiana-style music.
Down at Evangelina's, the Acousticats' 1992 debut album, included an original Cajun tune, "Hey Hey Evangelina"; a lively treatment of "Come to the Mardi Gras," learned from a 1954 recording by jazz players Oscar Peterson, Ray Brown and Herb Ellis; and a melodic rendition of David Mallett's French Canadian fiddle tune "The Ballad of St. Anne's Reel." Their second album, Cat's Meow, focused exclusively on original songs by Clarke and Mullins.
Since the band's demise, Salazar has remained active as a fiddler. In addition to performing and recording with John McEuen, he's continued to work in California with the Cache Valley Drifters, the Rincon Ramblers and Acadiana.
Style musical : Bluegrass, Cajun, Folk

https://youtu.be/qlPhmQSWWyI
Years in activity :
| | | | | | | | | | | | |
| --- | --- | --- | --- | --- | --- | --- | --- | --- | --- | --- | --- |
| 1910 | 20 | 30 | 40 | 50 | 60 | 70 | 80 | 90 | 2000 | 10 | 20 |
DISCOGRAPHY
Albums
| | | | |
| --- | --- | --- | --- |
| 06/1992 | CD Flying Fish FFCD-583 (US) | | Down At Evangelina's - Hey Hey Evangelina / Rhode Island Bride / Adios Again / Springfield Mountain Coal Miner / Come To The Mardi Gras / My Daddy's Watch / Ballad Of St. Anne's Reel / California Republic / No Msg. Please / Road From Yesterday / Triplett's Reel - Fiddlin' Phil / Telluride / Joanne |
| 12/1995 | CD Ranch 11254 (US) | | ThE Cat's Meow - Trucker's Prayer / Ruidoso Blue / Along The Rio Grande / Mud And Dust And Blood And Silver / Ease On Down The River / In Memory Of Elizabeth Reed / As I Go Marching By / Barbados / Highway - Forever Will Be Mine / Kern County Fandango / Rear View Mirror / Out Of The Depths I Cry - Black Lung / Crazy Cat |
© Rocky Productions 10/08/2021